Celebrity Stylist Leslie Fremar Interview
60 Seconds With Charlize Theron's Stylist, Leslie Fremar
Leslie Fremar is a styling force to be reckoned with — just look to clients Charlize Theron, Julianne Moore, and Reese Witherspoon for further proof. The Hollywood Reporter named Fremar one of the most powerful stylists in Hollywood, and most recently, she's speaking out on the role fashion plays in self-expression. Keeping in mind a recent study conducted by Research Chair of Fashion at Parsons the New School For Design Dr. Hazel Clark and T.J. Maxx about the topic of self-expression and style, Fremar is dishing on what goes into the celeb-styling process and how to keep your personality present in your clothes. And, of course, we couldn't resist asking the woman who dresses some of our favorite A-listers what her Spring must haves are.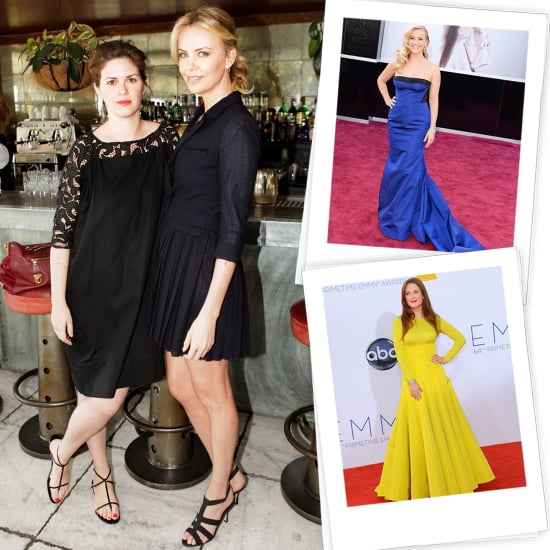 Clockwise from left: Leslie Fremar with client Charlize Theron, Reese Witherspoon at the 2013 Oscars in custom cobalt Louis Vuitton, and Julianne Moore at the 2013 Emmys in citron Raf Simons's Christian Dior
POPSUGAR: What's the collaboration process like working with Charlize Theron and Reese Witherspoon?
Leslie Fremar: I love collaborating with all of my clients. They are smart, accomplished, interesting women, and they have a lot to add to any conversation. They know their bodies and what works for them — I see firsthand that self-expression plays a huge part for women in getting dressed.
PS: How do you make sure each of your client's personalities comes through in the clothes?
LF: Fashion can speak volumes. According to the study, 77 percent of women use fashion to express their personality. So, keeping that in mind, I ask my clients a lot of questions and take the time to get to know them personally before I get to work. I need to select pieces that try to reflect their individuality and give them that added confidence on the red carpet. I value their opinions and realize that when they feel great in something, they look great. It's important to compromise and not get fixated on something that I love personally. If it doesn't work, move on.
Shopping tips, Spring essentials, and more, right this way.
PS: We love T.J. Maxx's "shopping on a budget" mantra, so tell us about one of your current go-to high-low looks.
LF: Everyone shops on a budget, including me! You can easily put together high-low looks without sacrificing quality, and there are tons of options to really rock a look in your own way. Here's an easy way to transform the look: focus on the basics and interchange your accessories.
PS: What are your three must haves for Spring?
LF: For Spring, I will be wearing a lot of stripes, polka dots, white and black combinations, and pale colors.
PS: What's your favorite red carpet moment you've styled thus far?
LF: That is like picking a favorite child — I can't do that!