A Chanel show is always well thought out, from the runway set to the supermodel lineup and the finale moment. Oh, and of course the clothes. Karl Lagerfeld invited his guests back to a familiar spot, the Grand Palais in Paris, to debut his Spring 2017 Haute Couture collection. The looks circled around a mirrored runway, a wink to Coco Chanel's famously mirrored staircase in her old atelier.
While Kendall Jenner, Bella Hadid, and Lily-Rose Depp all made an appearance (Lily as Karl's blushing bride in a voluminous pink wedding gown), we were astounded by the number of red-carpet-worthy dresses we could automatically picture on the likes of Diane Kruger [1], Dakota Johnson [2], and Kirsten Dunst [3]. Most of them were finished with wispy ostrich feathers and silver sequins and had either poufy sleeves or an exaggerated hem — there were no delicate sheaths in sight.
Of course, the glamorous numbers followed Chanel's iconic tweed suits in pastel shades, each secured with a wide square belt, and plenty accessorized with a smart top hat. As you scroll through the standout snaps below, don't miss the beaded thigh-high boots, the flawlessly secured cinnamon bun hairstyle [4], and all the plunging necklines, another trend that is surely sticking around.
The Spring '17 Invites Were Like Mirrored Menus
The Set at the Grand Palais Was Completely Mirrored, Inspired by Coco Chanel's Mirrored Staircase in Her Atelier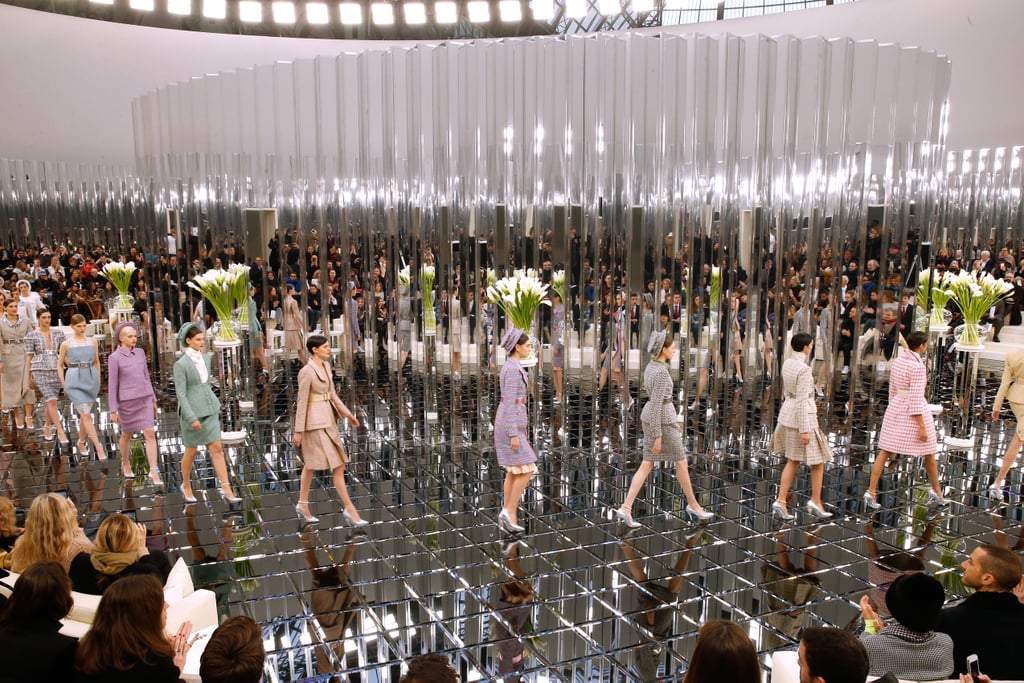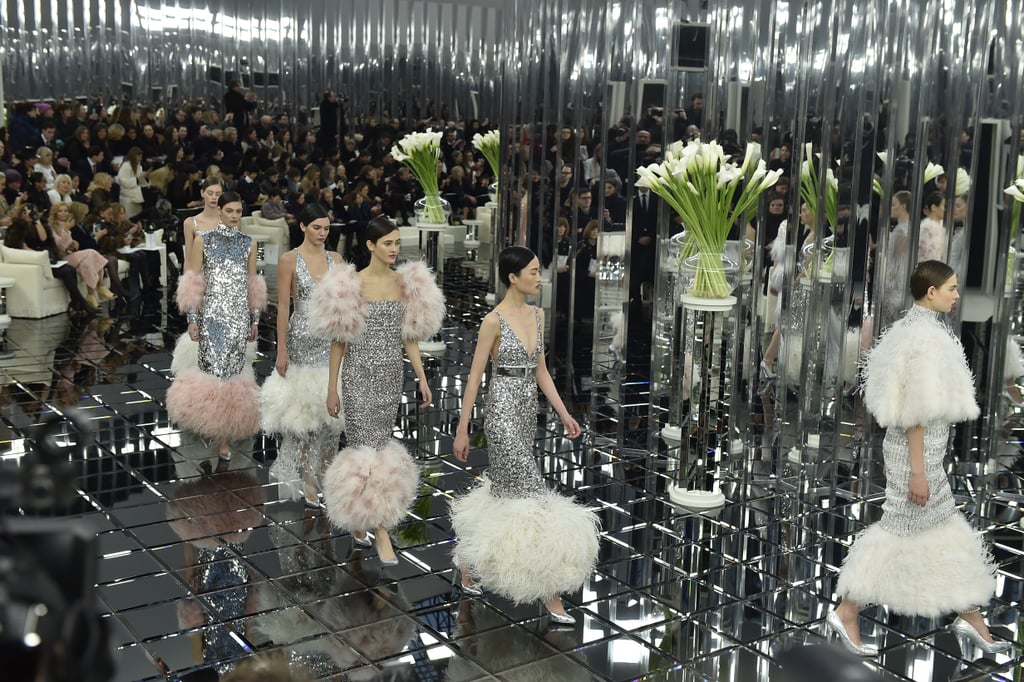 There Was a Lineup of Pastel Suits
Though Some Came in White and Black Too, Topped Off With Smart Hats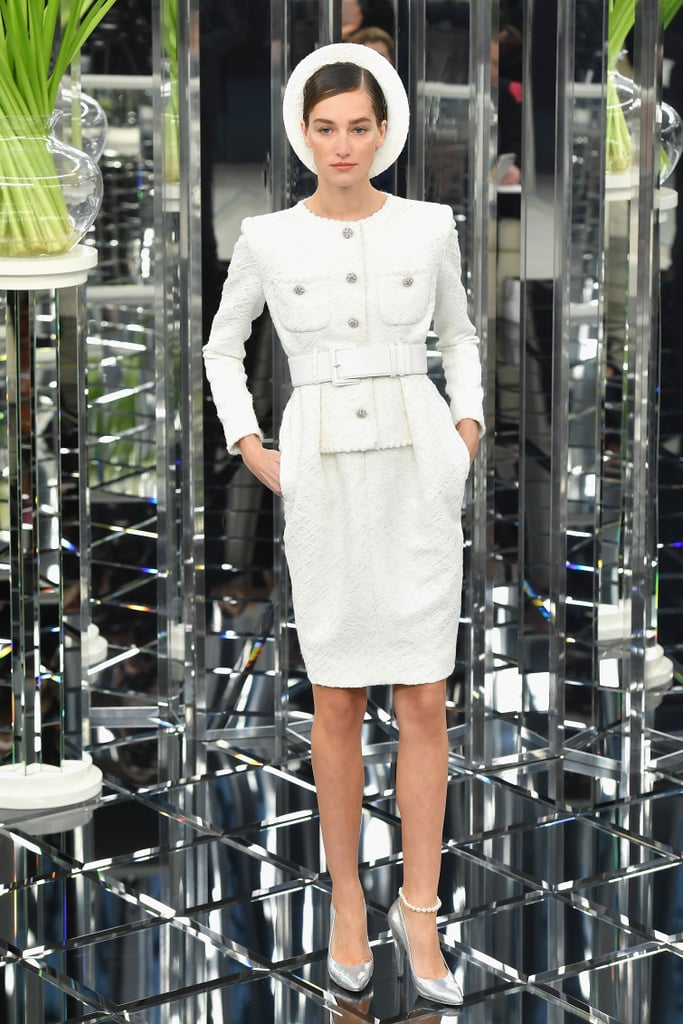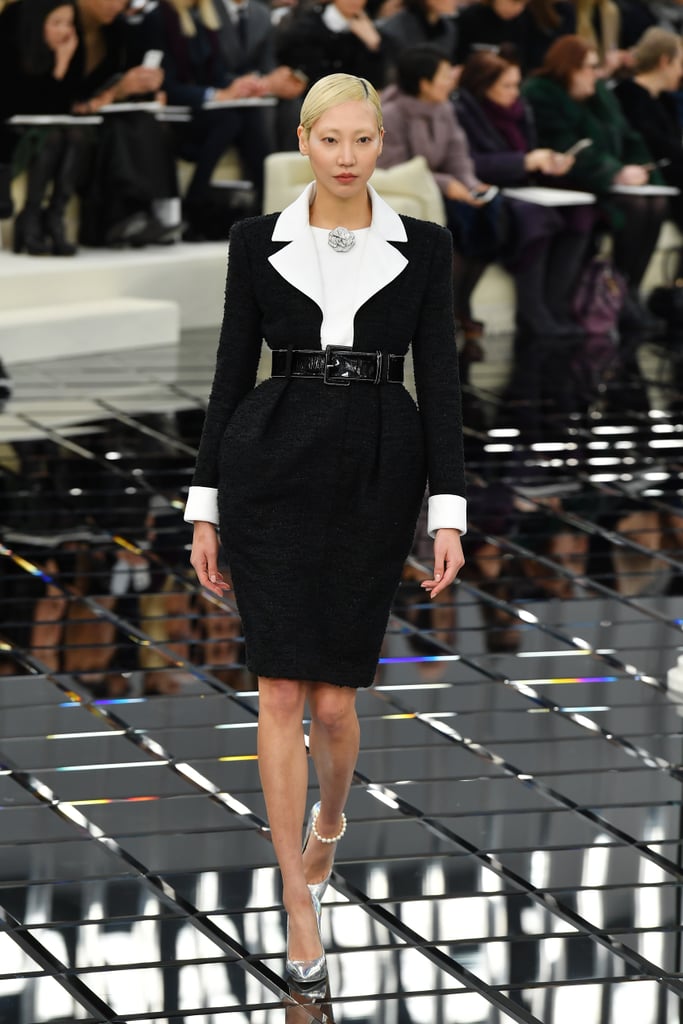 Wide Metallic Belts Finished Almost Every Look in the Collection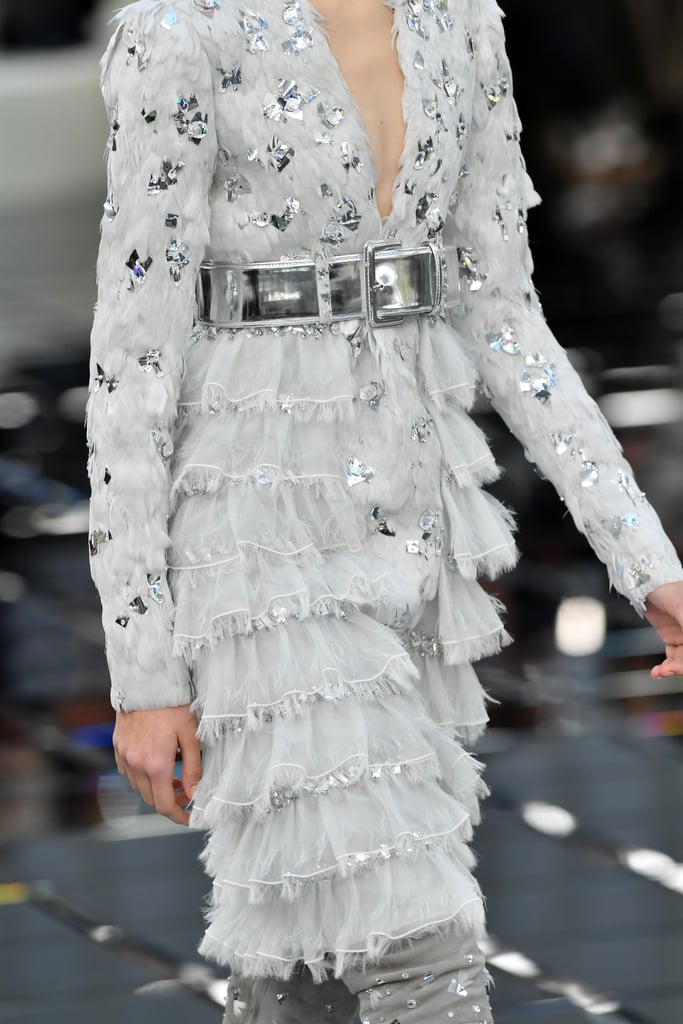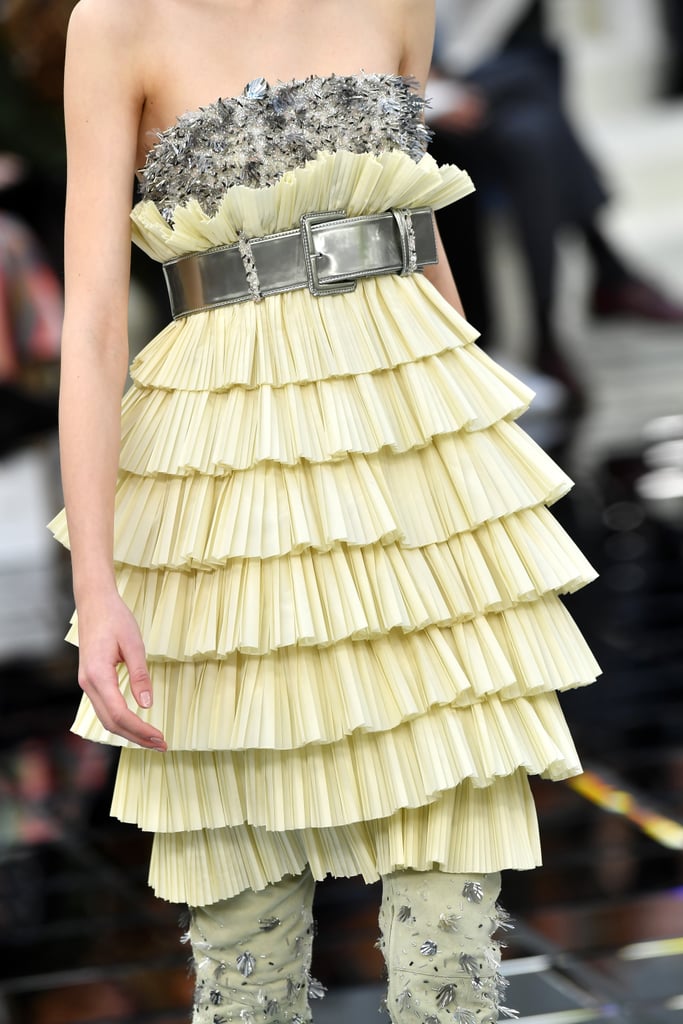 Evening Glamour Came by Way of Ostrich Feathers and Sequins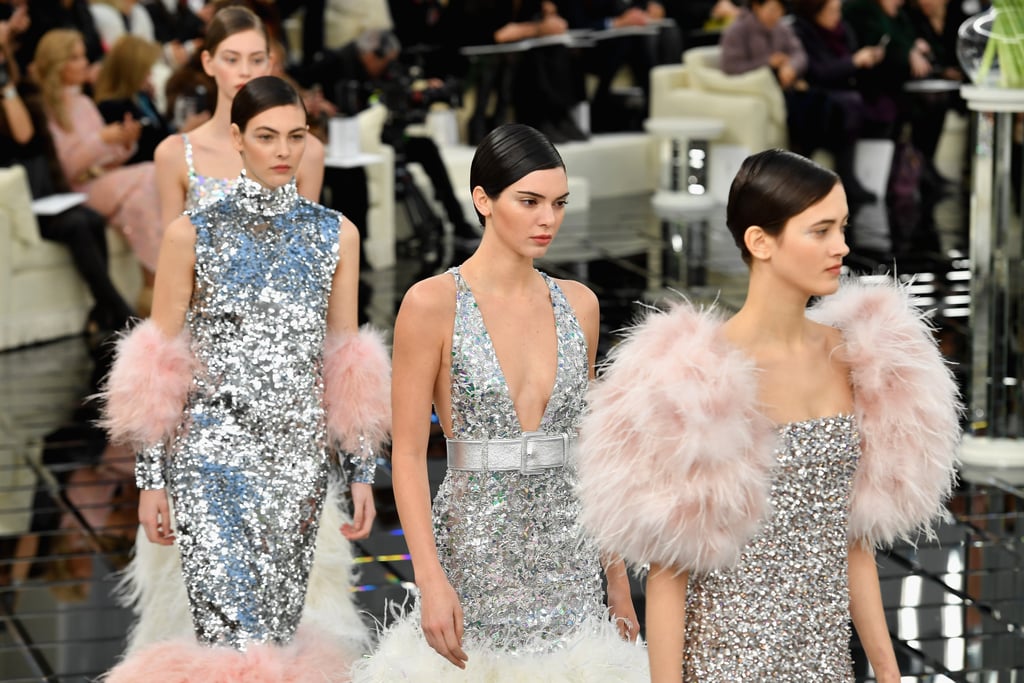 There Were Full Sleeves Made of Wispy Feathers
And Oversize Poufs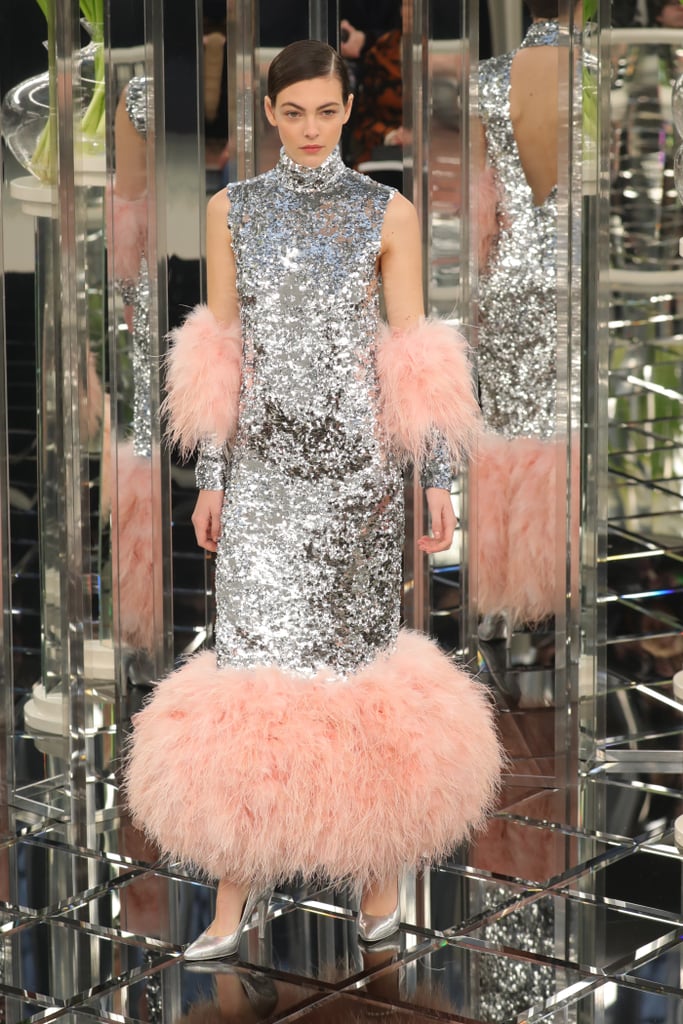 Ostrich Feathers Lined Dresses in Tiers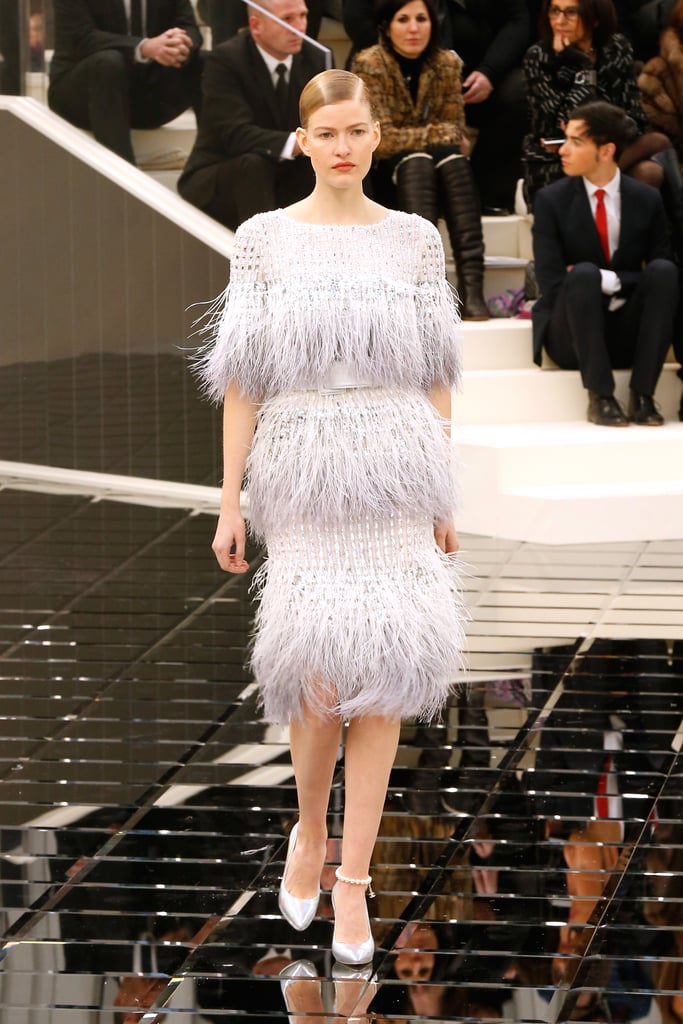 Beads Hung Delicately Off Hemlines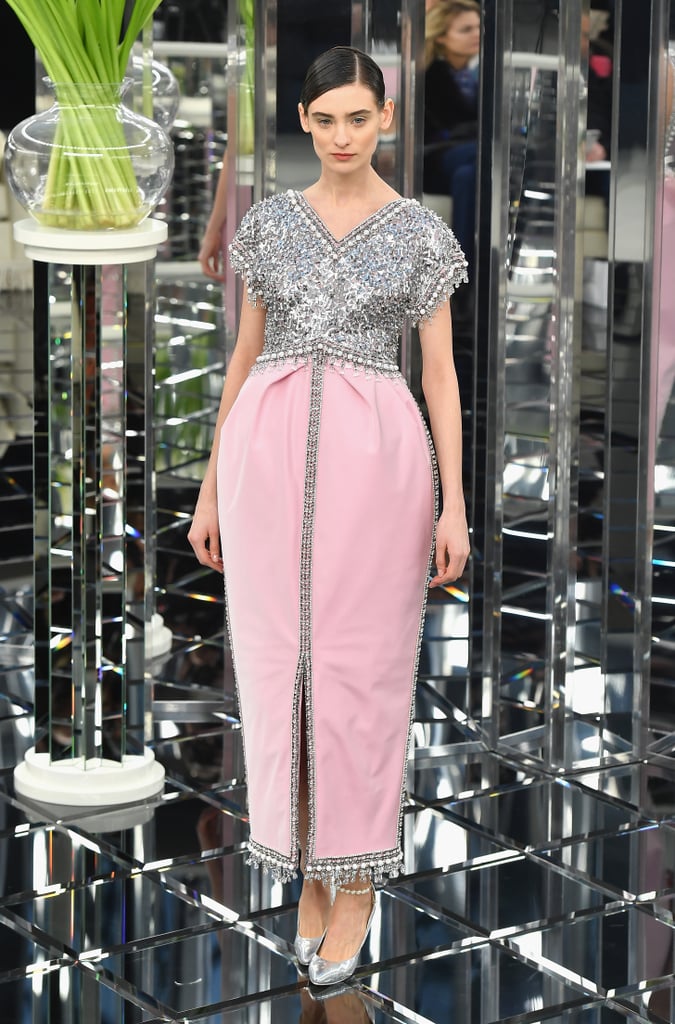 The Midis Were Retro in Shape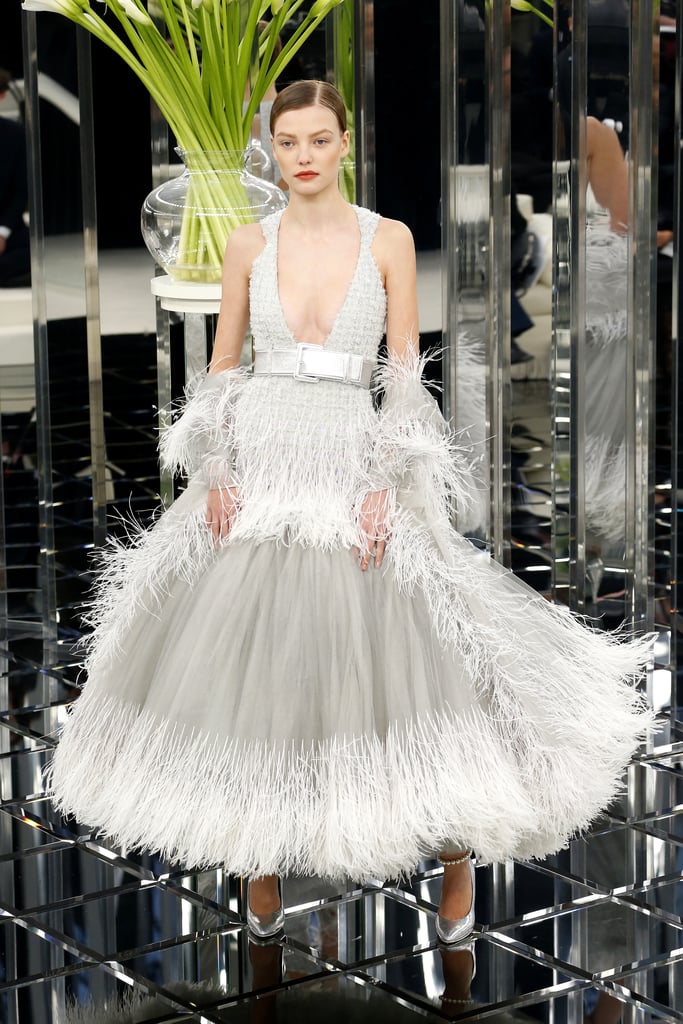 Major Supermodels Walked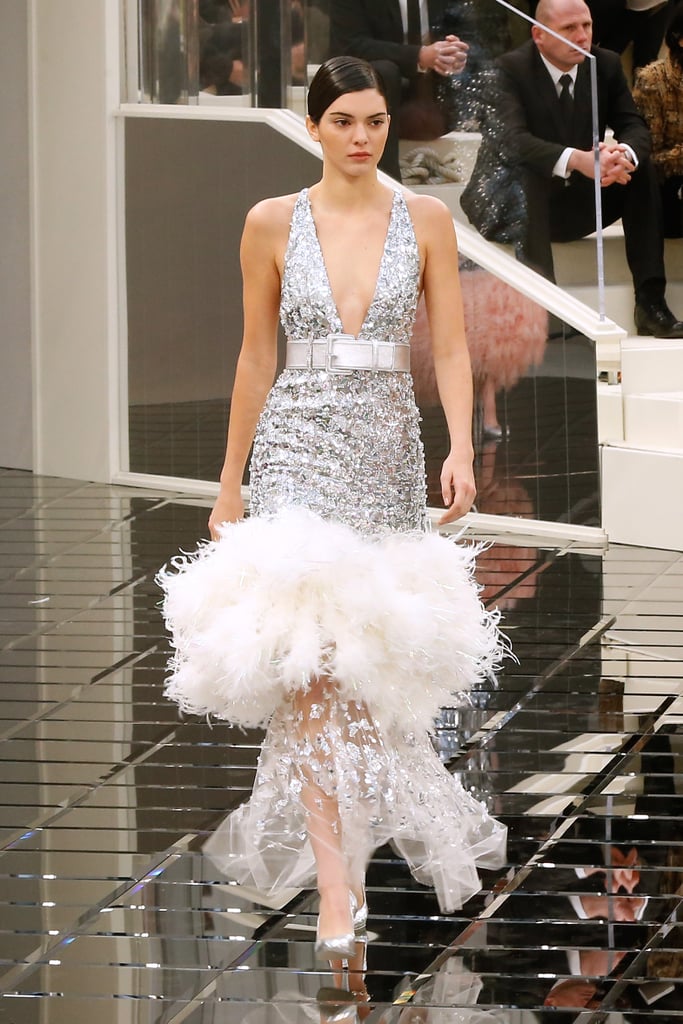 Like Kendall Jenner.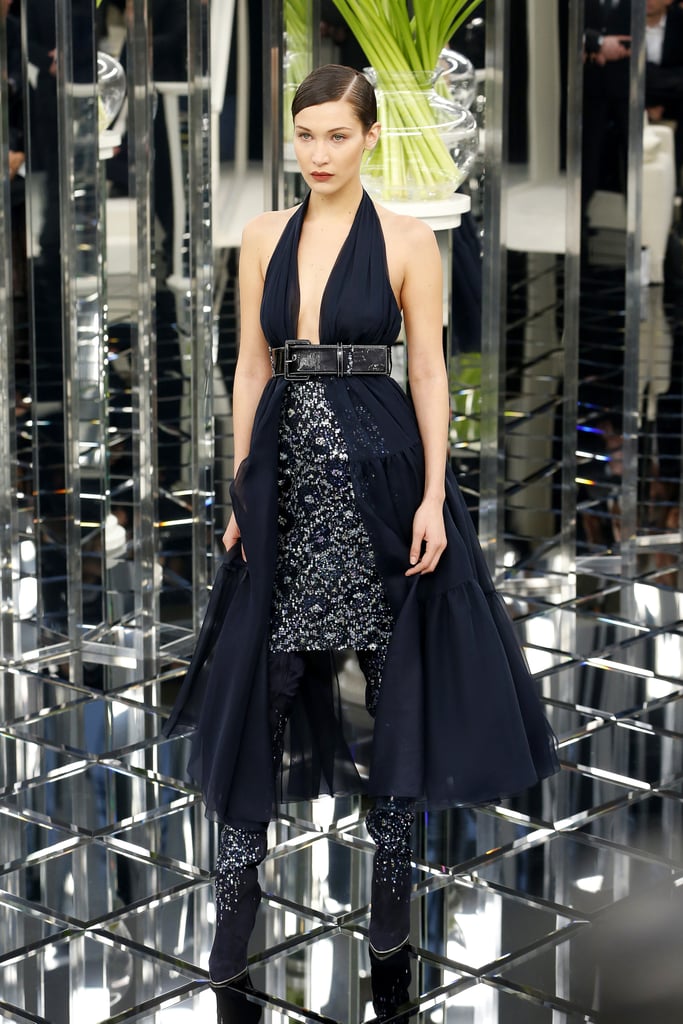 Bella Hadid.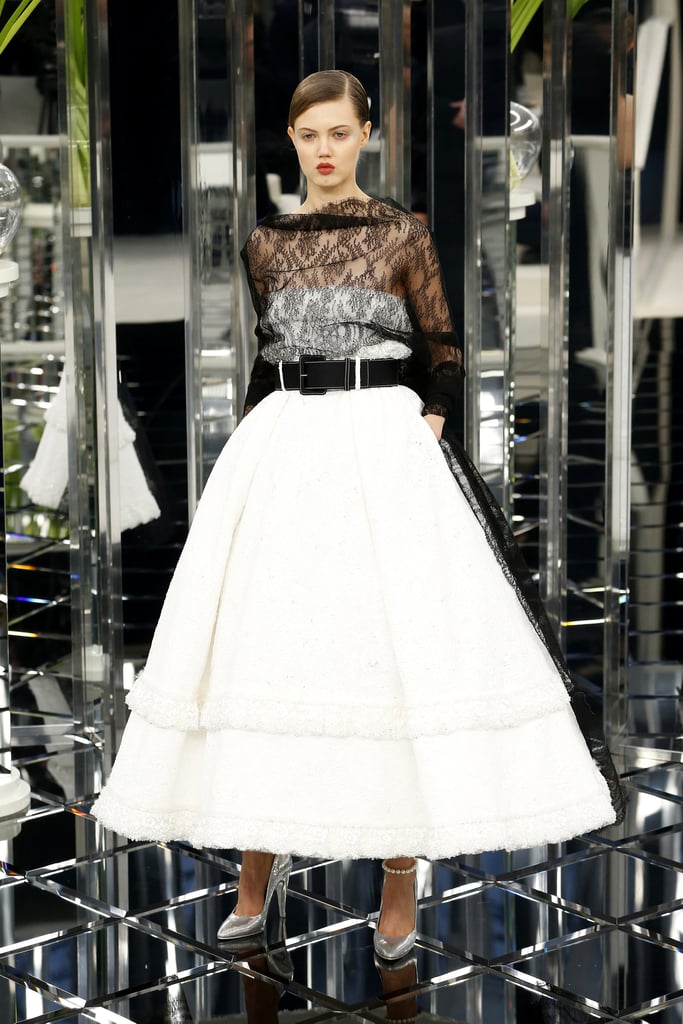 And Lindsey Wixson.
The Boots Were Embellished With Beads and Silver Foil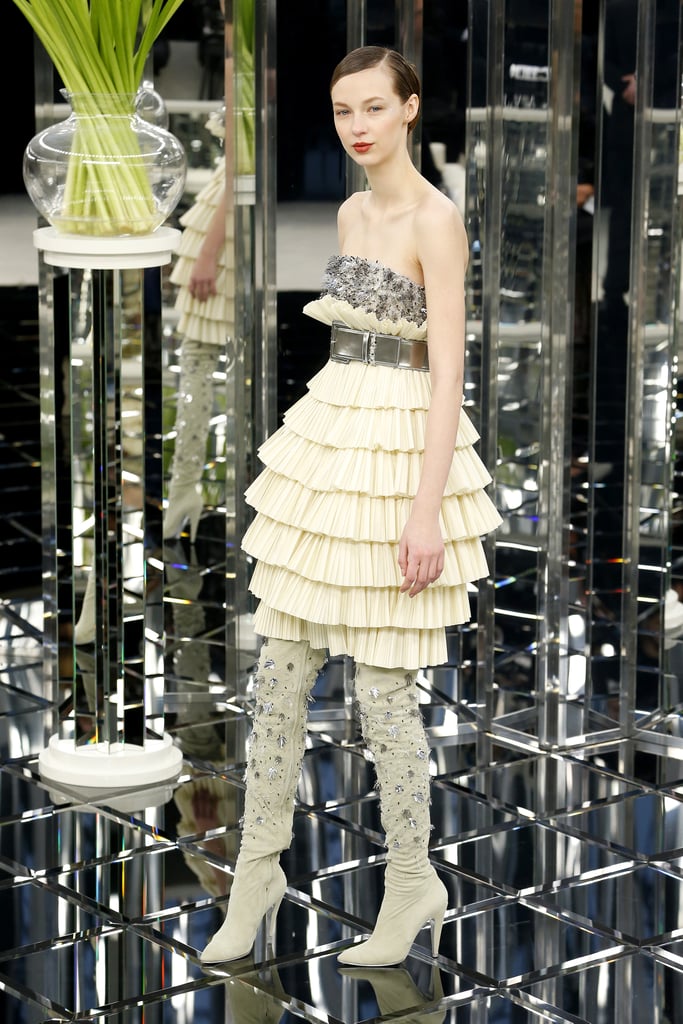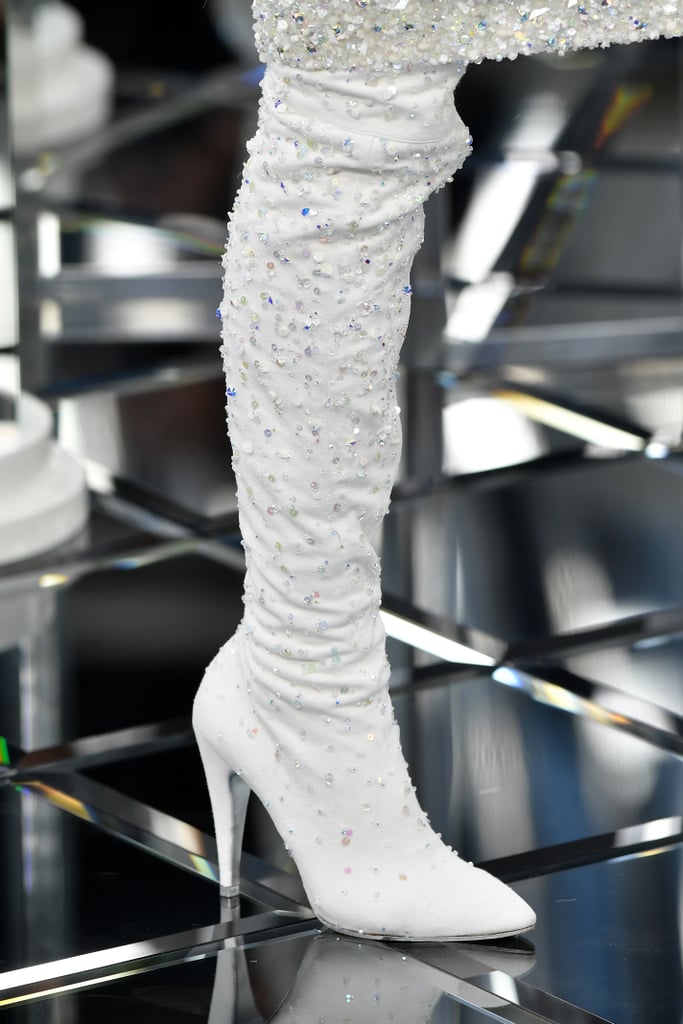 Models Accessorized With Feather-Finished Chiffon Shawls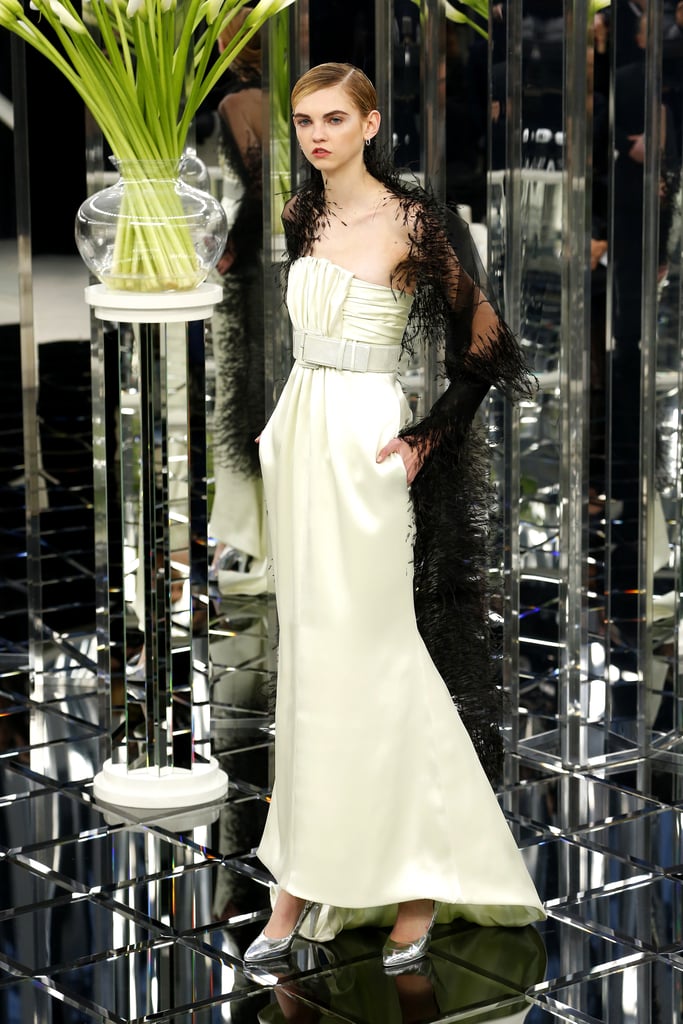 We Can't Wait to See This Electric Purple Number on the Red Carpet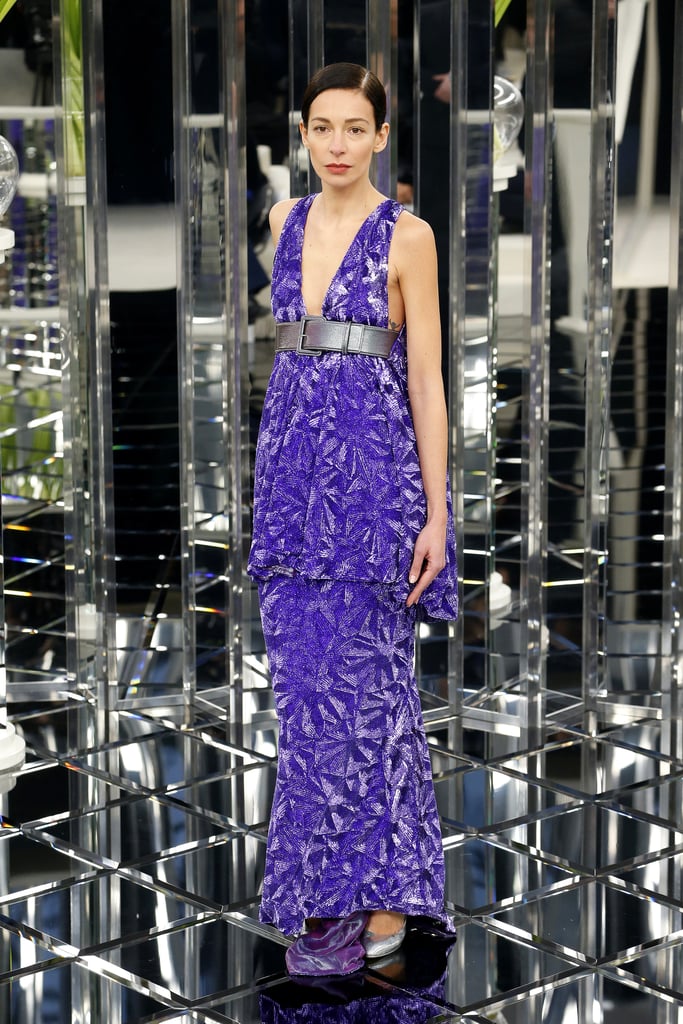 Lily-Rose Depp Finished the Show as Karl Lagerfeld's Blushing Bride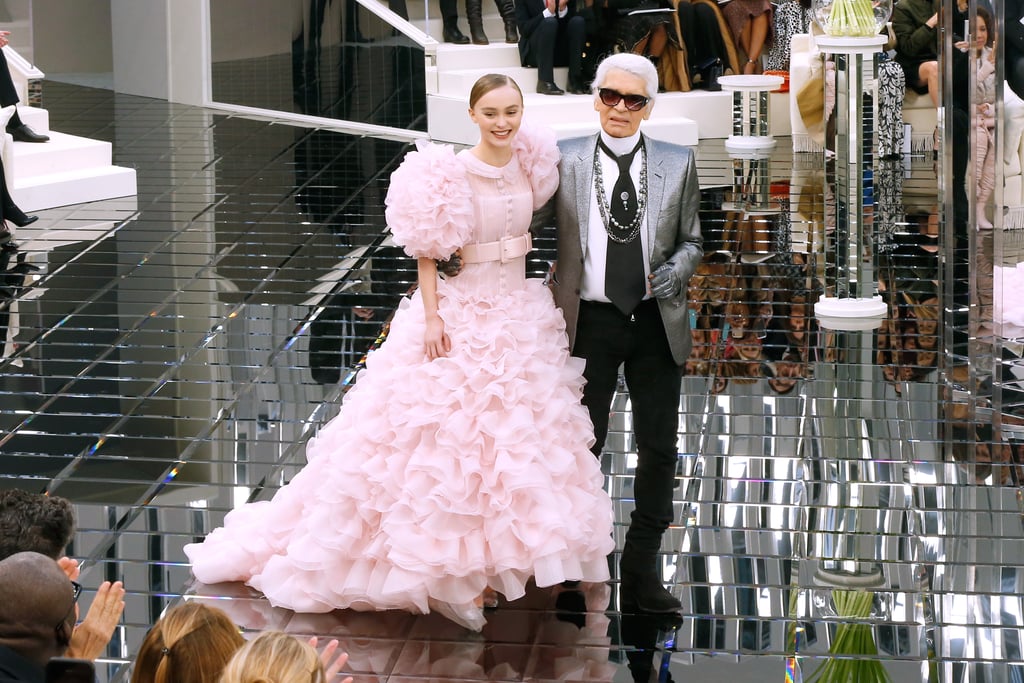 It Made For the Most Instagrammed Moment