Chloe Sevigny Interviews Proenza Schouler Designers
Proenza Schouler Dishes With Chloe Sevigny For Interview Mag
Since their debut fresh out of Parsons at age 23, designers Lazaro Hernandez and Jack McCollough have taken Proenza Schouler from young upstart line to one of fashion's powerhouse brands. They recently sat down with their friend Chloe Sevigny, who once helped Lazaro recover his missing dog Jojo, and revealed the story behind the PS name, their biggest stress, and where they get inspired. Read below, and for the full interview, visit Interview mag.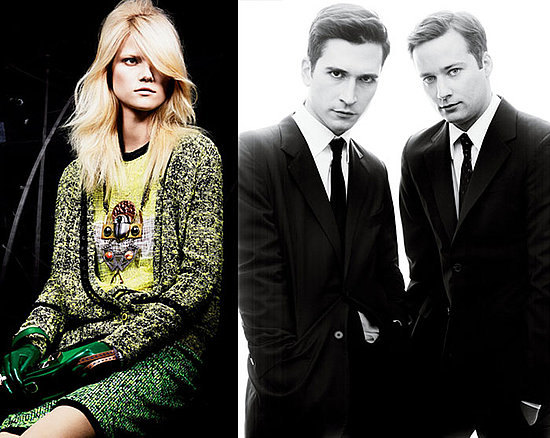 On the company name: Jack: "The whole reason why we even picked that name in the first place was that when we started, Barneys had just bought our collection and we didn't have a name. We thought, Hernandez McCollough? [laughs] Doesn't sound so high end, does it? One of our biggest regrets is the name of our company. It's like alphabet soup. There are so many letters."
On pre-collection vs. ready-to-wear: Jack: "The biggest stress these days are these pre-collections. They eat up so much of our time. We just finished the pre-fall collection on Saturday, and we have three weeks to start prepping for Fall/Winter." Lazaro: "The shows are more about creativity, or the purity of the brand. For us it's a creative exercise."
On their sources of inspiration: Lazaro: "Travel. Like our Spring collection. We went to India and did all this research and found all these crazy neon colors, and these long saris. We didn't do an Indian collection, but we saw something completely foreign to us, and we took the abstract elements." Jack: "Our strongest collections take many abstract ideas and bring them together in a way that hopefully doesn't look specifically like one thing — or something thematic."
On New York and life on the farm: Lazaro: "We have a farm, with animals, and they're sheared every year. We were talking the other day about how it would be cool to take that wool and spin it into yarn and make sweaters." Jack: "We go upstate and sketch these collections. There are no phones ringing. There's no internet really. We're just in our heads and we can actually think." Lazaro: "People say New York is really inspiring and stuff, but for us, New York is a place to get sh*t done."