Christa B. Allen Style (Interview and Pictures)
Revenge's Christa B. Allen Chats Favorite Fall Pieces and More!
Last night at Rebecca Minkoff's Fashion's Night Out party in LA, we caught up with Revenge actress Christa B. Allen, and she spilled all about her personal style, raved about her stylist Sean Knight, and divulged her favorite Fall pieces. Christa also excitedly told us about a pair of Fendi velvet pumps she recently found and she is looking forward to scoring a velvet Chanel bag soon! To learn more about Christa's impeccable style, read the interview below, then shop her favorite pieces to get her look.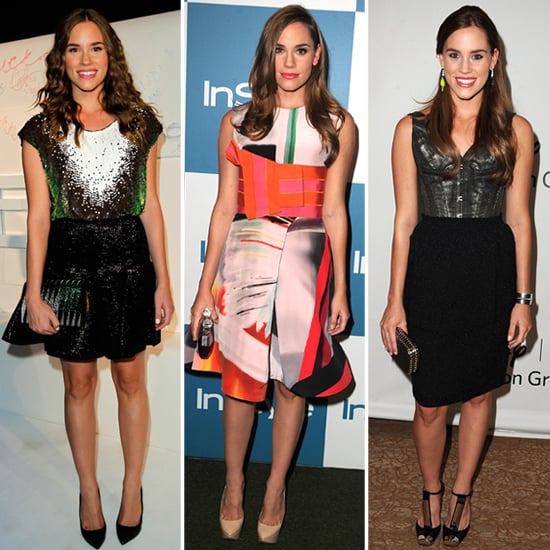 CelebStyle: How would you describe your personal style?
Christa B. Allen: My personal style is incredibly girlie. But I find that I take on whatever persona my outfit suggests, so I try to toughen it up a bit because when I'm in a pretty, flirty dress, I end up being super sweet, and sometimes it's fun to take on tougher personas. And it also depends on what city I'm in because in LA it's all sundresses and skirts and scarfs and things — flowy and fun — but I'm trying to toughen it up a bit. I think it's nice to have that dichotomy of sweet and a little sour.
CS: How does the styling process go? Are you involved?
CA: The process usually involves him [stylist Sean Knight] presenting me a great dress and I then say, "Sean that's amazing" and it usually has some neon or bright colors. Then he'll put a different-colored neon shoe with it and I say, "Sean this is just too many neons, I need a plain black pump or something." His style tends to be really, incredibly colorful and youthful and energetic, which is great. Then, I sort of add my element of classical style and tone it down a bit. So it's definitely a collaborative effort.
To hear more from Christa, including her favorite Fall pieces, read more.
CS: How would you describe your character's style on Revenge and how does it differ from yours?
CA: The entirety of the first season, Charlotte was in a bikini, so there wasn't much to be said about the style there. Now it has sort of evolved into a much more polished, put-together — of course her closet is just full of every top designer because of the financial position her family is in. It seems to be evolving in mimicry of her mother's style, which is incredible; it's all very tasteful and beautiful. We always joke on set because these girls are in heels at home, always.
CS: With Fall coming up, what are some essential pieces you're looking forward to rocking?
CA: Velvet. Anything velvet. Anything and everything velvet, which I loved in the '90s when I was a little girl. Then in the early 2000s it became very uncool and was all about grunge and slicker lines. I love that it's coming back in trend now so that I can indulge in something that's true to my childhood heart. I love velvet and I love anything brocade as well. They are doing a lot of these separates like brocade blazers with shorts, kind of tuxedo inspired, which is amazing. I don't have one yet, but I'll tell Sean to find one.
CS: If someone wanted to exude the Christa B. Allen style, what are a couple pieces that are super essential to buy?
CA: It would definitely be a princess-inspired sundress. I've been wearing this one from Topshop that is basically the most beautiful pastel blue sort of like the Louis Vuitton collection. I always do a pastel sundress, I love chunky knitwear — like a really big, oversized sweater that you can wear as a dress is a staple — and flats for daytime.