Christian Louboutin Barbie Giveaway
Tweet and Win a Christian Louboutin Barbie!
Did you know Christian Louboutin is a fan of Barbie? So much so that he's currently serving as yearlong godfather to the doll. "I guess I always had a little 'girlie side' who liked Barbie," he once said. If you would like to win one of his fabulously dressed Barbies from our friends over at @BarbieStyle, here's what to do: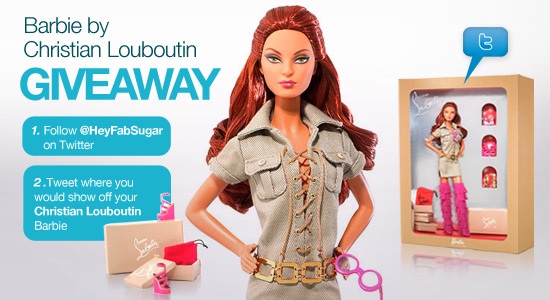 Follow Fab on Twitter
Tell us where you would show off your Louboutin Barbie if you won. Be sure to include the following message and hashtag to qualify:

If I win a Louboutin Barbie, I'd show it off at _____, RT @heyfabsugar http://ow.ly/1AXXH #FabBarbie
To be eligible, you must be a Twitter user following FabSugar — but hurry, the giveaway ends April 27. Check out all the rules and start tweeting!