Sure, Beyoncé wakes up like that, but there's a lot more to making a red carpet look happen than rolling out of bed and putting on the first designer gown you can dig out of your closet. Just ask celebrity stylist Lawren Sample, who gave us an exclusive peek at the making of an Emmys look.
Her client? Mad Men star Christina Hendricks. Her mission? To not only find the perfect dress, but to create a complete look that stands out against all the other A-listers. She let us follow her through the entire process, which actually started months ago. So sit back, scroll down, and watch how red carpet magic is made.
Source: Getty [1]
Finding Inspiration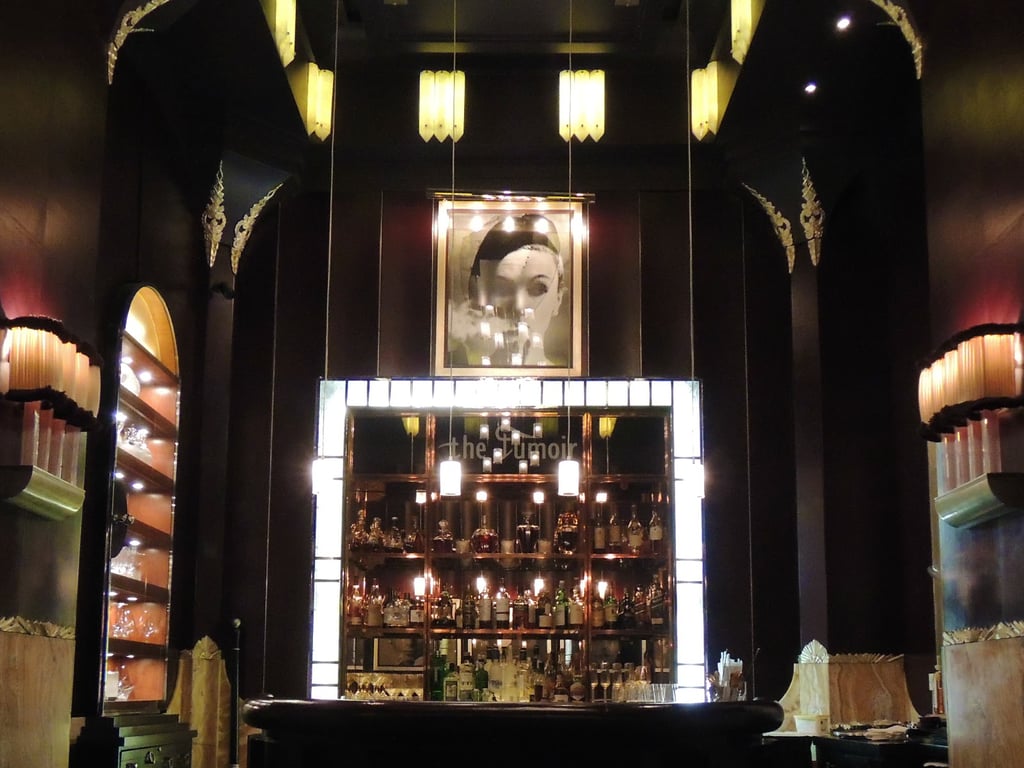 Stylists don't just look to runways to get inspiration for their celebrity clientele. Lawren actually found it while on a trip to London with Christina. "We got to experience high tea at some absolutely beautiful restaurants," she tells us. "The interiors were so rich, and the use of yellow gold leafing and golden frames were so prevalent that I became overwhelmed with inspiration for her dress!"
Courtesy of Lawren Sample [2]
Picking the Right Runway Look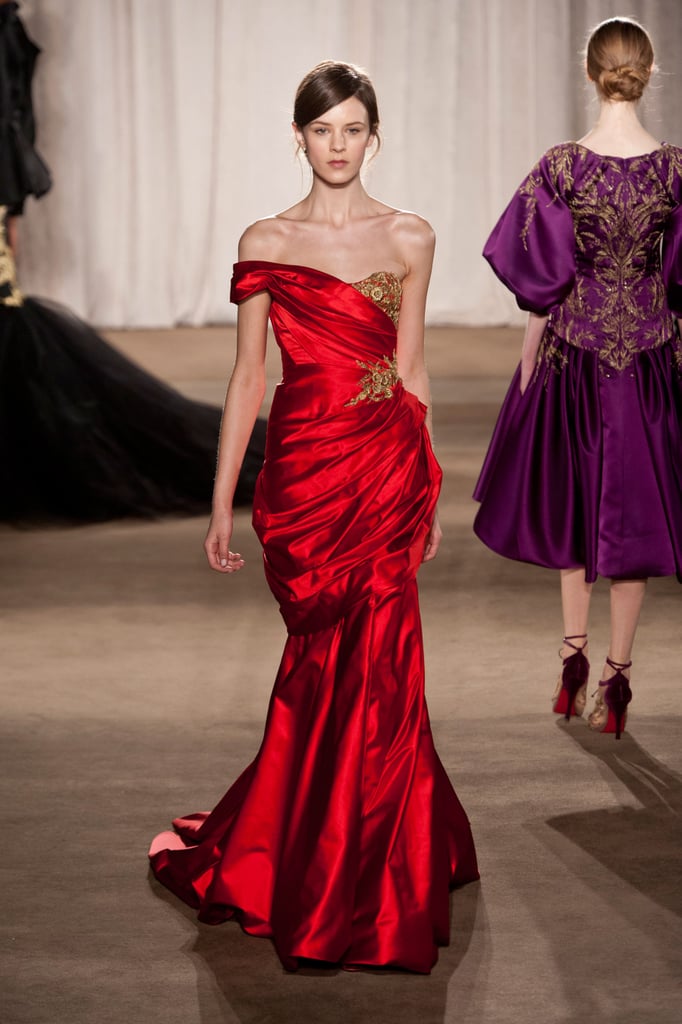 Lawren is a longtime fan of Marchesa designers Georgina Chapman and Keren Craig, and though it was a few seasons past, the duo's Fall 2013 collection — with its Far East influences and intricate embroidery — spoke to the stylist.
"We have always been huge fans of Georgina and Keren," she says. "I traveled to London in early August to meet with Marchesa. We have long wanted to work together, and the 2014 Emmys were the perfect fit. I Instantly fell in love with this dress for Christina. I remember seeing it on the runway and just loving the regal feel it had."
So what did Christina think of the choice?
"I showed it to Christina with the pitch that it was contemporary but still embodied a classic royal dress," she reveals to us. "She loved the appliqué because it reminded her of a sash or uniform. So we ran with it."
Searching For Styling Ideas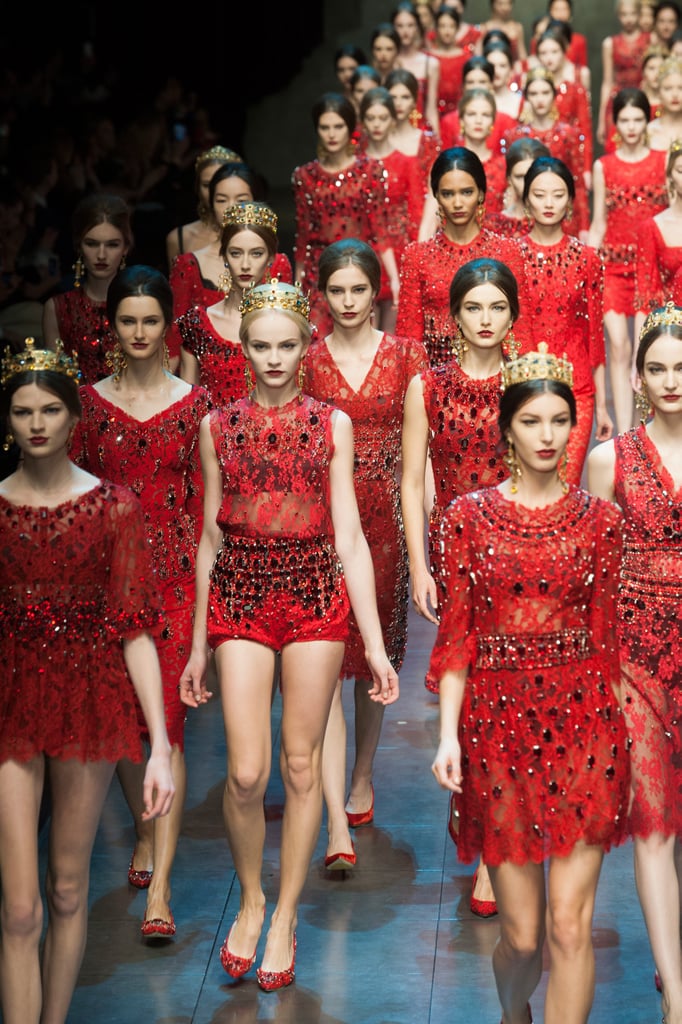 Next up in her process was making decisions about how to make the dress personal to Christina.
"We had initial ideas for styling based on the dress's appliqué," Lawren says of her jewelry search. "I loved the close of the Dolce & Gabbana Fall 2013 runway show and turned toward it for the deep garnet inspiration."
Selecting the Jewels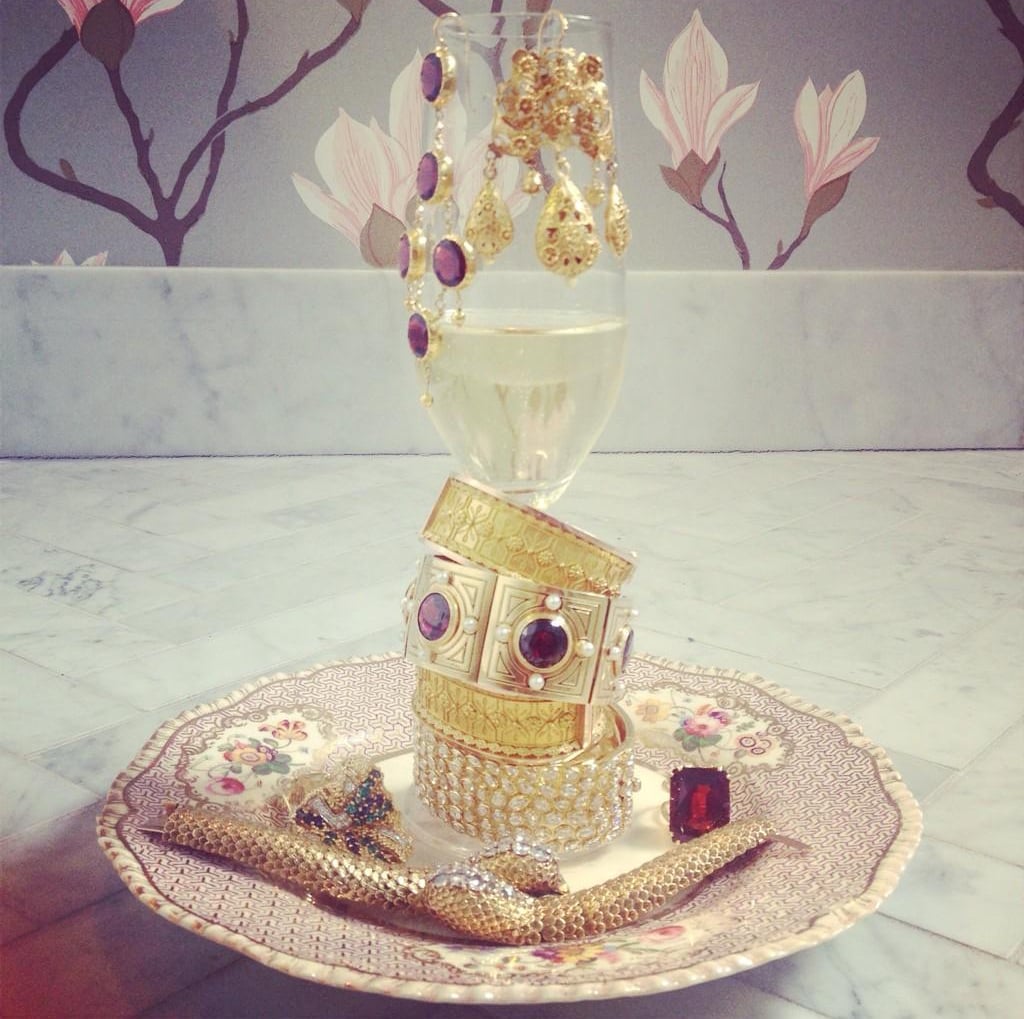 A pro stylist's first stop? Neil Lane.
"We worked closely with Neil Lane and LoveGold [3] to get exactly what we wanted jewelry-wise," she tells us. "I wanted to make it fun and young with the use of the gold and to not use too many stones."
Her haul totaled more than 50 carats and roughly $390,000 worth of jewelry. In addition to a $125,000 rose-cut modul diamond and gold bangle, she selected a pair of ornate gold bracelets, a Victorian garnet and pearl bracelet, a 50-carat crimson garnet ring, and a few more favorites.
"Right when I walked into Neil's store on La Cienega, I fell head over heels for the diamond and gold lovebird bracelet [foreground]," she tells us. "It literally put a smile on my face so big, I can't even begin to describe! I then saw the carved gold girandole chandelier earrings and knew this was definitely the right direction."
Courtesy of Lawren Sample [4]
Selecting the Clutch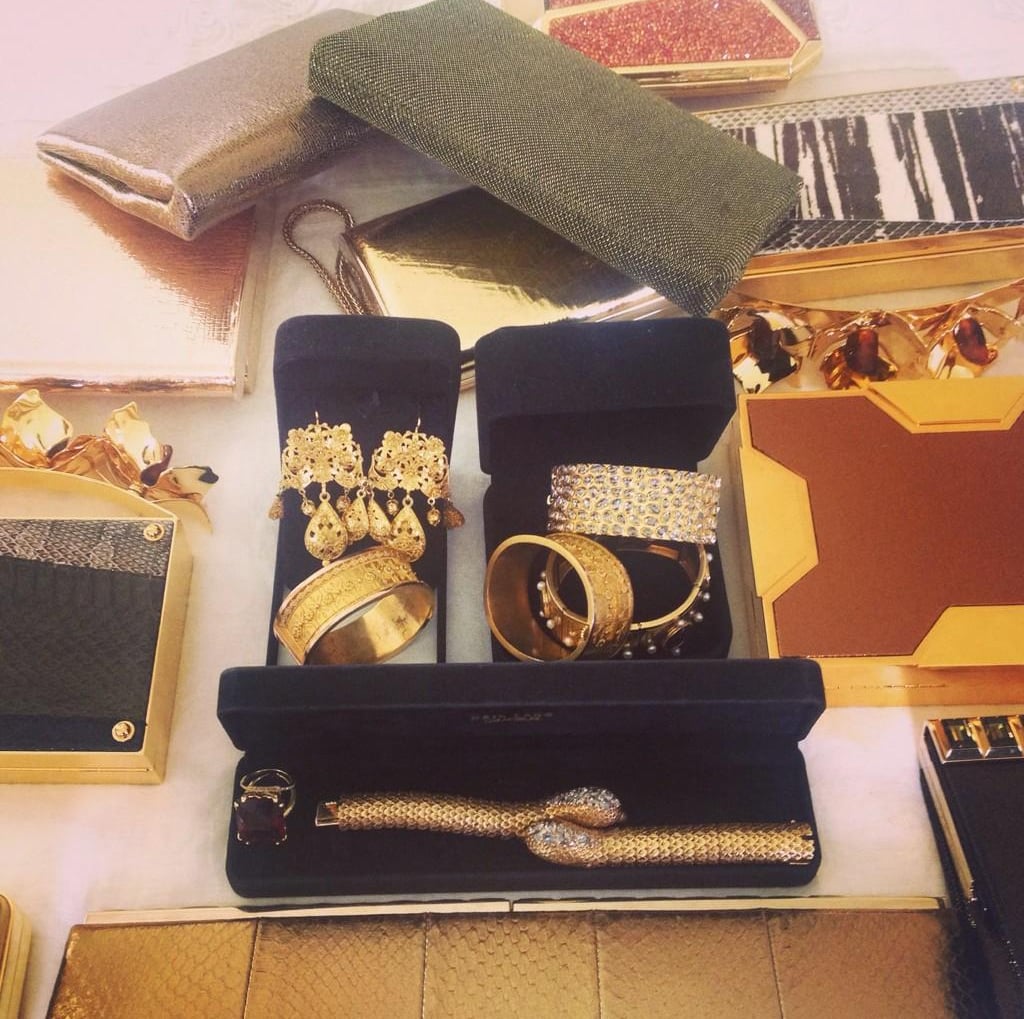 Lawren made sure to have plenty of options on hand, but they went with a two-tone gold Lee Savage box clutch.
Courtesy of Lawren Sample [5]
Dressing the Star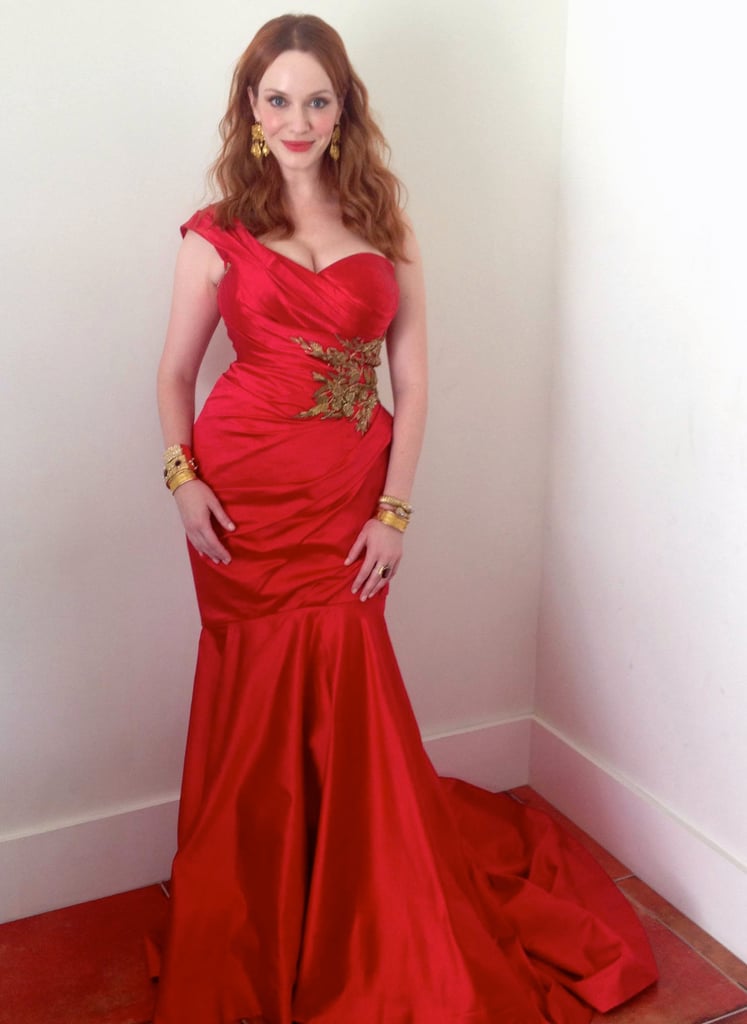 "All these elements really came together in the end," she says of this exclusive shot of Christina right before she hit the red carpet. "I loved watching it go from the runway dress I saw and loved to the photos you see of Christina. It seems almost completely different, but in the best way possible."
Courtesy of Lawren Sample [6]
Watching Her Hit the Red Carpet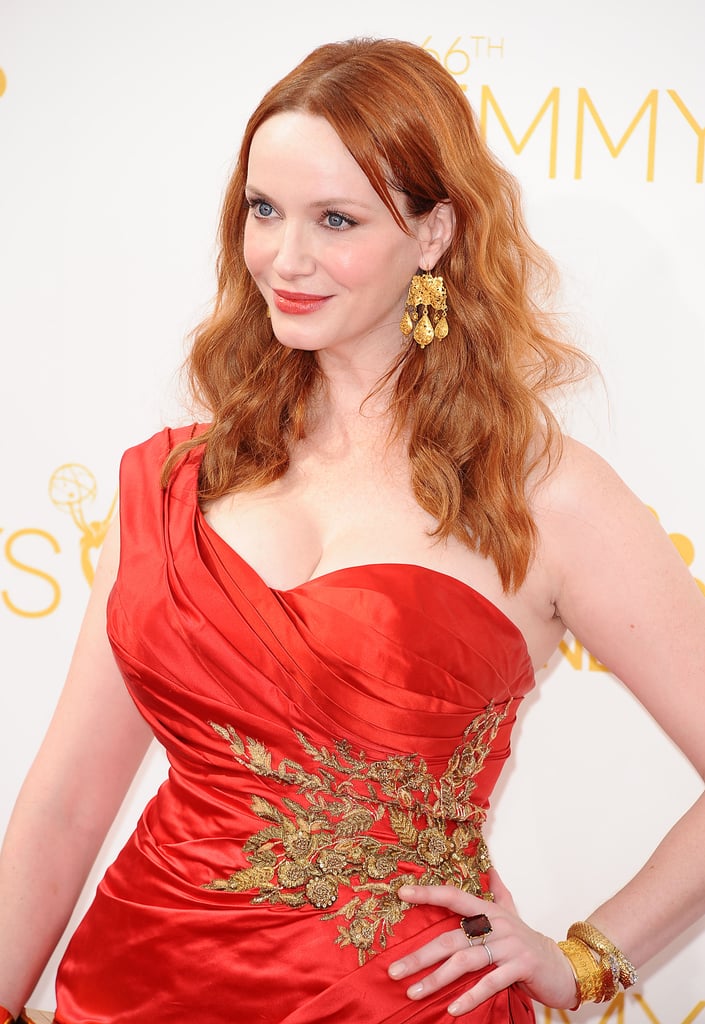 They customized the gold-leaf embroidery on Christina's dress to be more gathered than the runway version. The star also kept the sole strap upright in lieu of the model's off-the-shoulder look.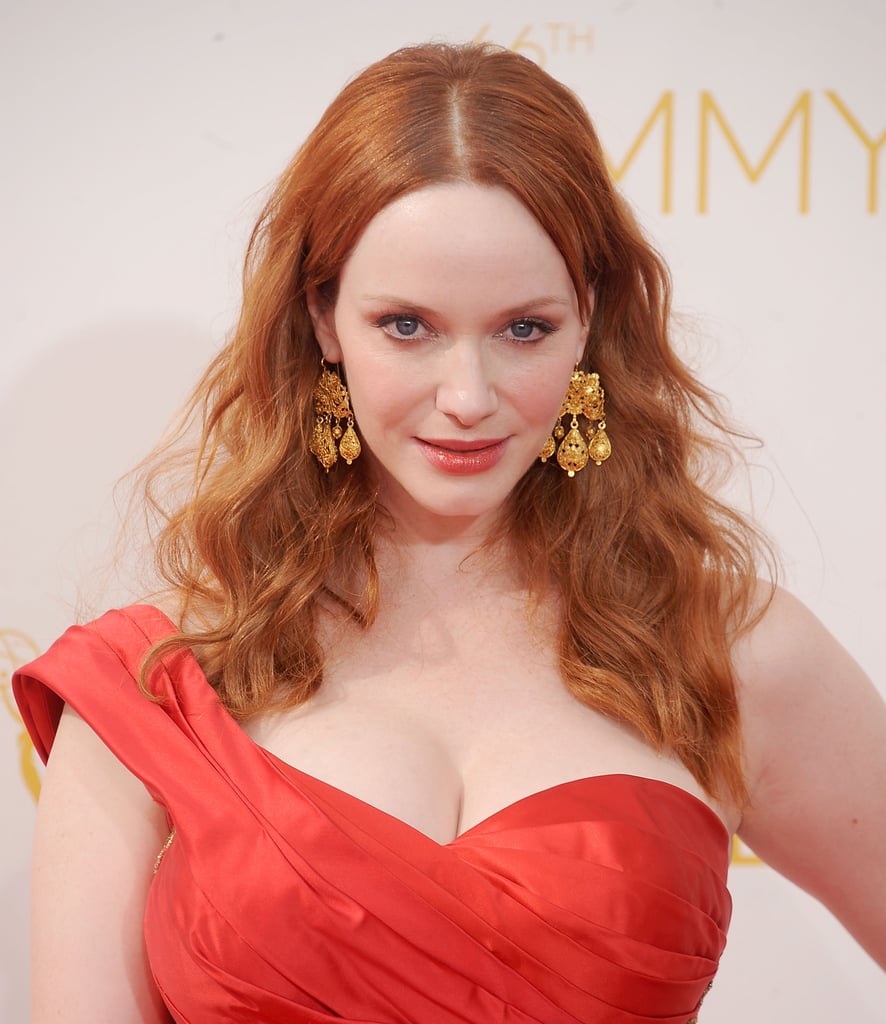 Zoom in on her gold earrings.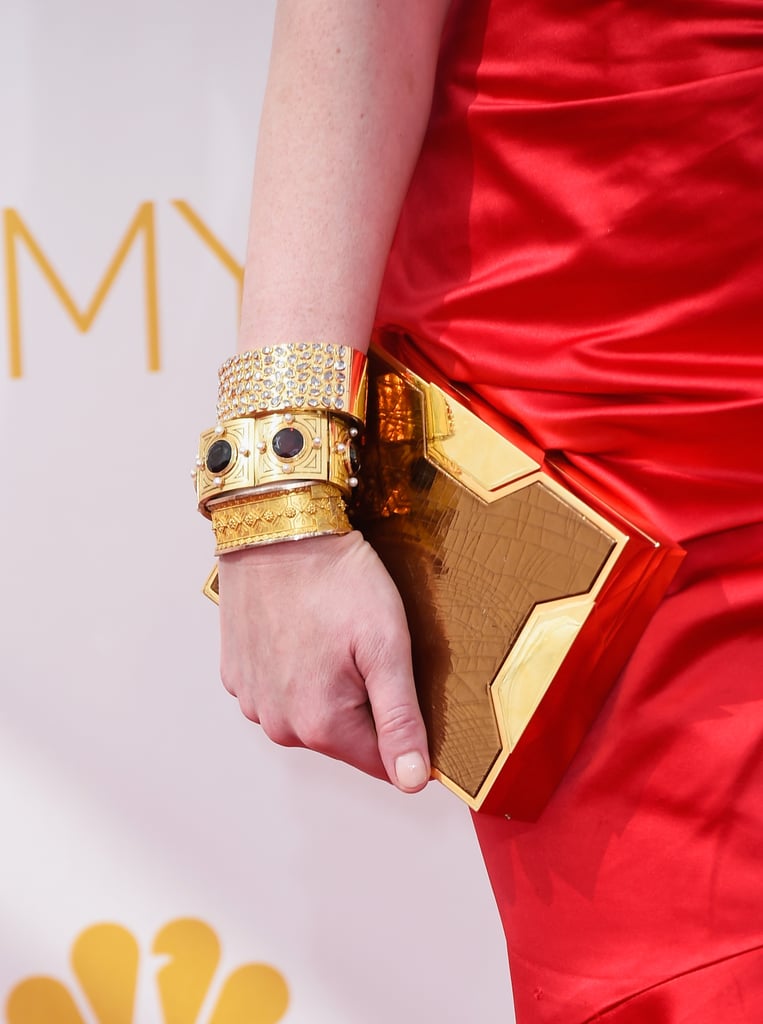 See the accessories — and clutch! — up close.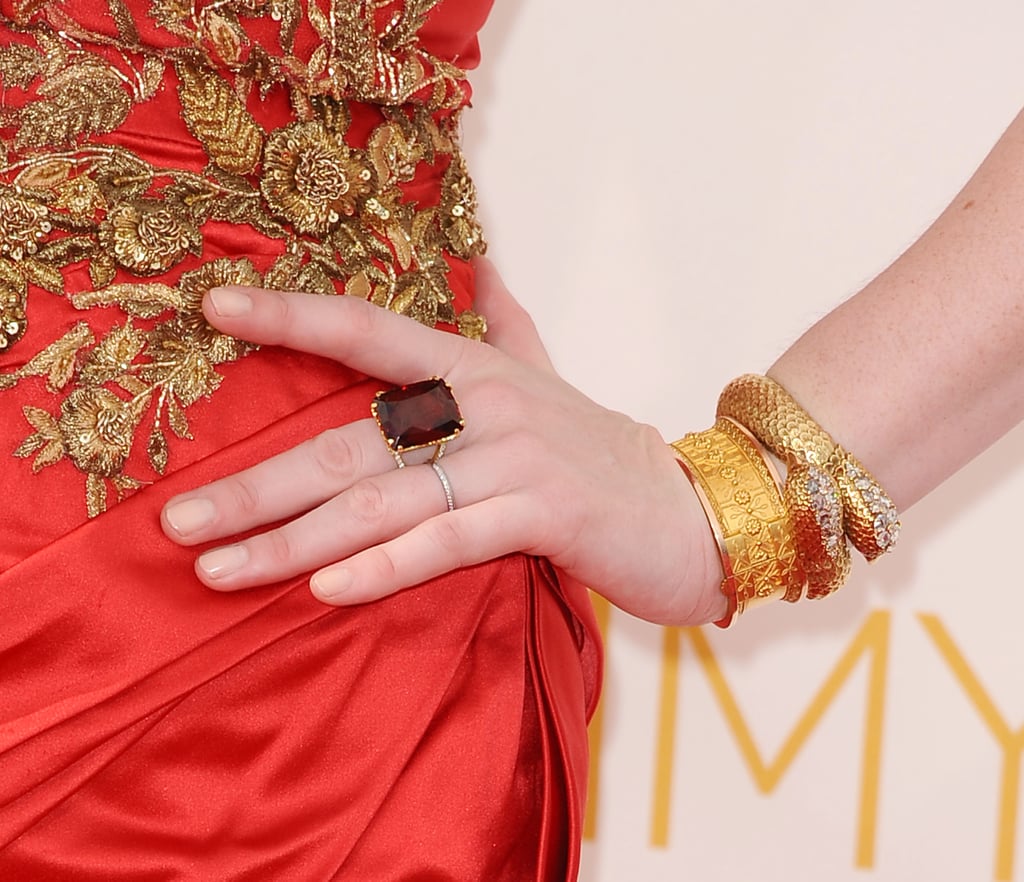 Behold Lawren's favorite detail: the lovebird bracelet.
Breathing a Sigh of Relief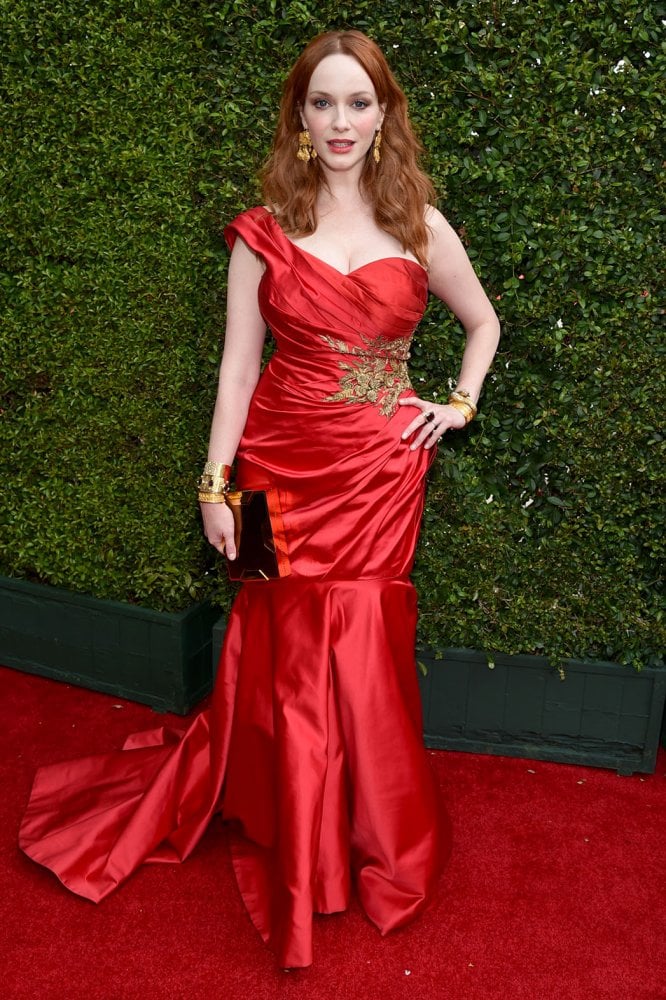 After working the room, it was clear Christina's dress was not only on trend (red was the color of the Emmys red carpet [7]) but a fan favorite.