Christopher Bailey Named CEO at Burberry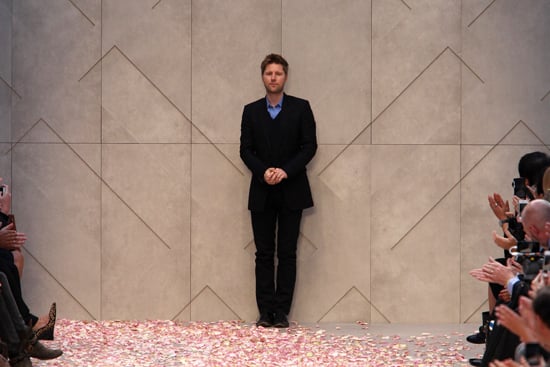 Angela Ahrendts, Burberry's CEO of eight years, is leaving the brand — and the company didn't have to look far for her replacement. Christopher Bailey, the company's chief creative officer, will take over Ahrendts's role when she leaves the British clothier next year.
In true Burberry style, the company made the announcement with a video on its press site. In it, Bailey says he's excited to marry his job "with the commerce side of our business to become even more united as we thrust ourselves into this next decade." Bailey will be one of a handful of designers in chief executive positions, alongside Ralph Lauren and Giorgio Armani.
Ahrendts, who came to Burberry after stints as an executive for Liz Claiborne and Donna Karan, is confident in Bailey's abilities to lead Burberry's business.
"The future for this company with Christopher at the helm, leading, dreaming, and this senior management in place — I have such peace being able to exit stage left at this point," she said.
Ahrendts will join Apple in the newly created position of senior vice president, and she'll be in charge of its retail and online stores. It's not the first time she's worked with the brand. Burberry used the new iPhone 5s to film its Spring 2014 show in September.
She's also not the first fashion executive to join Apple's team. In July, the brand hired Saint Laurent CEO Paul Deneve as a vice president to work on special projects in July.