Constance Jablonski on Fashion Designers and Family
Model Constance Jablonski Talks French Fashion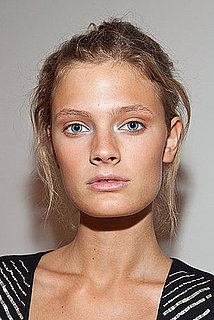 Model Constance Jablonski is not yet a household name, but it won't be long before her face becomes mega-famous. Along with racking up countless credits in fashion shows and magazines, she's recently become the first French spokesmodel for Estée Lauder.
The first part of our interview covered skin care, and now she's revealing the aww-inspiring story of how she became a model. Constance, clad in an Alaia dress and Lanvin shoes, also dished on what she loves about French fashion. For the continued Q&A, keep reading.
BellaSugar: I heard that your brother is to thank for your modeling career. Didn't he send your photo to an agency with a letter that said you were the most beautiful woman in France?
Constance Jablonski: Yeah, exactly. [laughs] He's just one year older than me, so we are super, super close. He sent my picture to a local agency in the north of France. They were interested and called us back, so I started like that. I signed with Elite, and Marilyn in New York, and it's gone on from there.
BS: And your brother is interested in fashion, too.
CJ: He wants to be a stylist, so he's checking my outfits. We are always in a fight about clothes.
BS: How do you approach style?
CJ: I'm not so dressed up in my regular life. I like flat shoes, in general, because I'm tall enough. I like clothes for my age: jeans, leggings, and comfortable stuff.
BS: Do you have any favorite designers?
CJ: Isabel Marant is one of my favorites. I like Rag & Bone, YSL, IRO, Sandro, Vanessa Bruno. We have nice smaller brands in France.
BS: When you were younger, did you want to be a model?
CJ: Not really. I would say it wasn't really my thing. I was more interested in tennis and sports. My brother really loves fashion; through him I discovered it. I started to really like fashion and modeling while working and discovering on the job.
BS: What have you learned about yourself through modeling?
CJ: Probably just to be yourself. There are people who tell you you are "too something" or "not enough something." In the same day you can hear so many different things. So just be yourself and don't care about what you hear.
Tomorrow on BellaSugar: Constance talks about staying healthy while working.