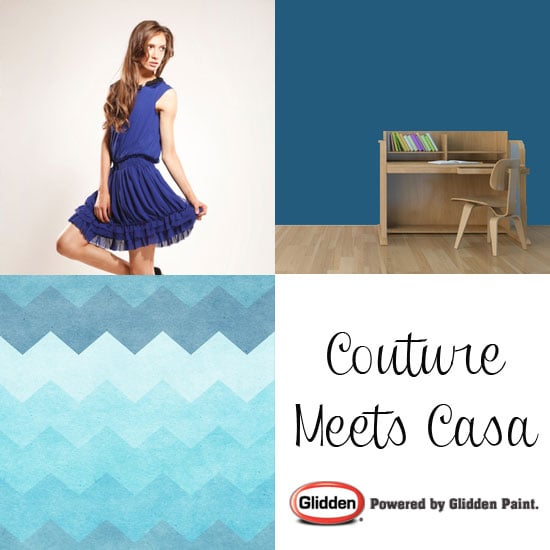 The world's most-celebrated designers don't just influence what we put on in the morning; they can also have an enormous impact on where we hang our hats at night. So whether you're looking to make a few simple changes or considering a complete room redux, the Couture Meets Casa series, from Glidden®, will help you take fashion out of the closet — and into your living space.
Take a closer look at these top runway looks, and learn how they translate into home decor.
It Color: Blue
Trend Focus: Ombré
Since contrasting shades of blue (think a robin's egg suit with navy detail or a dark cobalt coat over misty aqua tights) are of-the-moment for Fall, it's the perfect color companion to the not-going-anywhere ombré trend.
Bring It Home: Ombré is all about the color, so pick a spot, choose a range of hues, and get going! Try painting a staircase, stair railing, radiator, or even the drawers on a dresser in fadeaway shades like Pool Party, Country House Blue, Cool Cobalt, and Nautical Blue from Glidden Paint.
And while there's no shortage of ombré accessories in the marketplace today (look for rugs, lamps, and pillows at your favorite home decor retailer), DIY options are superfun if you have the time to shop around. Pair a light-blue bedspread with pillows and a bedskirt in darker midnight hues. Create an ombré centerpiece or visual arrangement made up of different-size vases and bottles in varying shades of blue. You can even make your own easy ombré art using an assortment of blue paint-chip samples from your local hardware store.
Visit Glidden.com to take a closer look at its blue paint selection, find coordinating colors, and get more inspiration for fashion-forward home decor.