DVF to Host First Shoppable Google+ Hangout
Google+ Makes It Possible to Hang Out and Shop With Diane von Furstenberg
Google is taking its relationship with fashion one step further next month when it's scheduled to host the first shoppable Hangout On Air with Diane von Furstenberg.
The Internet giant has partnered with von Furstenberg and the CFDA to bring Google+ users a brand new ecommerce experience. Those who participate in von Furstenberg's Hangout on Oct. 3 at 8 p.m. EDT will be able watch the designer talk about her products and simultaneously browse and shop a curated assortment of products. It's like going through the racks in one of von Furstenberg's stores with her at your side, except you'll be able to do it from the comfort of your own couch.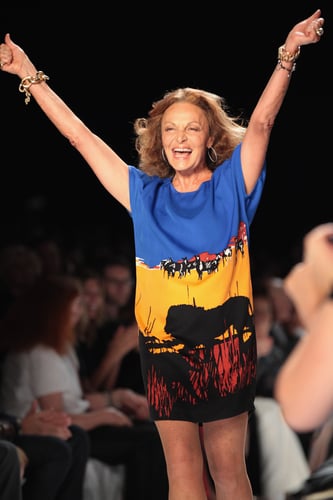 "I'm thrilled to be able to launch this new product in partnership with Google+ and the CFDA," said von Furstenberg, who used an early Google Glass prototype to film her Spring 2013 show. "I have always been about dialogue, and this is a fabulous way to communicate with your customer!"
Rag & Bone's Marcus Wainwright and David Neville, Rebecca Minkoff, and Rachel Zoe have all agreed to do shoppable Hangouts, and perhaps other CFDA members will, too. "At a time when fashion and technology are inextricably intertwined, this was the perfect opportunity for the CFDA to partner with Google+ to change the way people think about shopping," said CFDA CEO Steven Kolb.
Speaking of fashion and tech, Google's latest smartphone is getting a fashionable upgrade, too. Kenzo has created a custom case for the Nexus 7, which uses the same ribbon prints that appear in the brand's Fall 2013 collection. Only 50 of the €85 (about $115) cases will be made, and they'll go on sale Oct. 1.