DVF Wrap Dress Ad Fall 2013
DVF by Way of Carine Roitfeld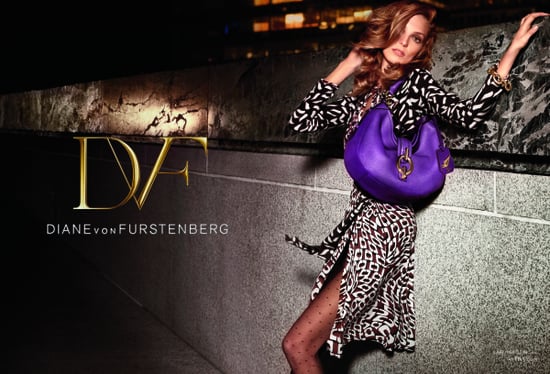 What do you get when you combine the styling skills of Carine Roitfeld and the modeling prowess of Daria Werbowy with Diane von Furstenberg's Glam Rock runway collection? The Fall DVF ad campaign!
Photographer Sebastian Faena's set of '70s-inspired nighttime vignettes feature the leggy model decked in a duo of black-and-white designs (one an Autumn-ready coat, the other a wrap dress, naturally). Paired with chain-link bracelets, soft curls, polka-dot stockings, and leopard-print booties, the true star accessory is a bold purple Sutra bag, making its debut.
The campaign, von Furstenberg describes, "like the collection it represents, is really about getting back to our roots. It is about empowering women to be the rock star and the muse of their own life." If the first image doesn't have you feeling that empowerment yet, then wait until you catch this alternate glimpse!