Day-to-Night Holiday Fashion Ideas
Take Your Holiday Party Style From Day to Night
The following post was written by Jess Ann Kirby who blogs at Prosecco and Plaid and is part of POPSUGAR Select Fashion.
The holidays in New England are usually cold and snowy, which means lots of layers, but no matter where you are for the holidays (and if it's somewhere that's 70 and sunny, I'm jealous), it's always fun to get glam for a holiday party. Whether it's a home-for-the-holidays look you're going for or a Champagne affair, I've got you covered with some fun ideas for holiday party style.
If you're spending a night at home for the holidays, the midi skirt is a great option. I opted for this plaid midi skirt that I am absolutely in love with (did I mention it has pockets) and a cropped mock-neck sweater. It's cozy, slightly casual, and very festive. I added a statement necklace for a little bit of sparkle. There are so many cute midi skirts to choose from, I love this one in classic black by Ralph Lauren and this bright cobalt skirt by J.Crew. They're also cute with blouses like this silk button-down and ankle booties.
I'm not much of a girlie girl and, as much as I love dresses, I rarely wear them, but for a dressier evening, I want to pull out all the stops. I love pairing something glam with something a bit more casual, so I paired this sequined dress with this cozy cashmere cardigan that I bought a size up for an extra slouchy fit. I kept my accessories simple with black heels and a calf-hair clutch.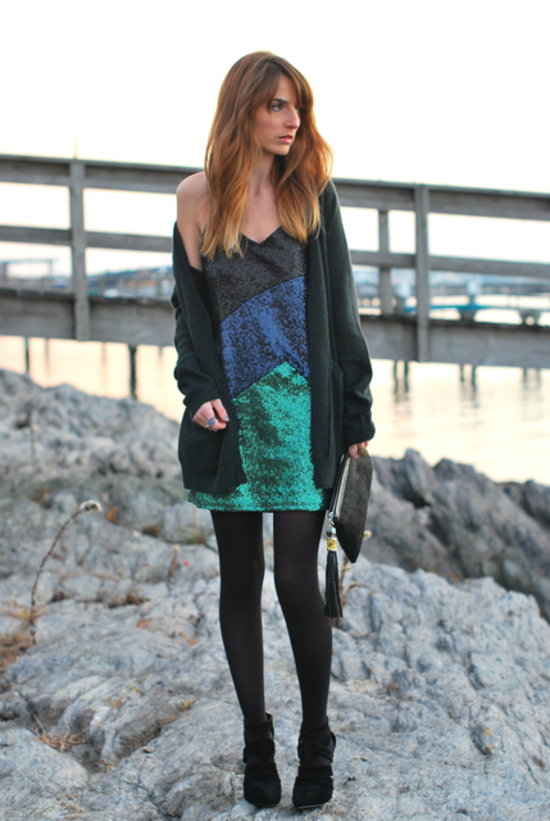 Shop the look (home for the holidays): plaid midi skirt, ASOS; cropped sweater, ASOS; silver metallic heels
Shop the look (Champagne affair): sequined dress, ASOS; Rafe calf-hair clutch; cashmere boyfriend cardigan
Find more of my style over at Prosecco and Plaid.