Demi Moore and Gwyneth Paltrow Dress Up Leather Pants 2011-04-18 05:15:01
How Gwyneth and Demi Polish Up Their Leather Pants
We saw two killer leather pant looks from Gwyneth Paltrow and Demi Moore last week; and we're going to break it down step-by-step in case you've been wanting to get on the leather trend, but you're not sure how. Gwyneth went for a polished city chic look with her leather pants from The Row, while Demi opted for a more casually sexy look.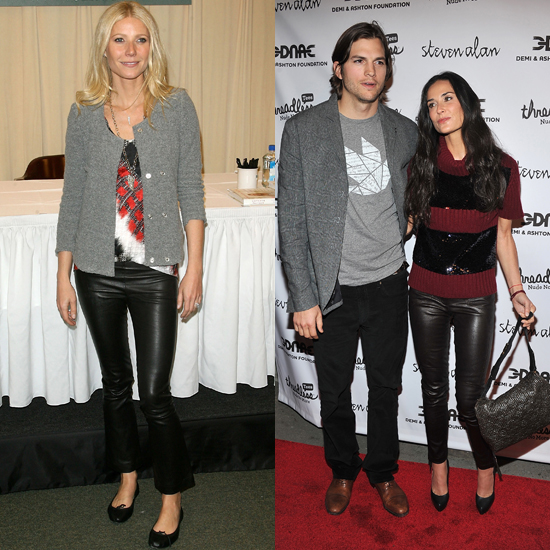 The Tops: Gwyneth chose a graphic top that picked up the color and edginess of the leather pants, but added polish and tailored crispness with a sharp collarless jacket in demure gray. Demi went for a short-sleeve sweater— better to show off her arms — adorned with two glamorous sequined stripes.
The Shoes: Keeping with her city polished look, Gwyneth chose simple black ballet flats. It's a nice play with the cropped bootcut shape of her pants, and it keeps the look from being too sexy. Demi's black pumps were an ideal, and sexy, complement to her skinny leather pants, and it dressed up the sweater.
The Accessories: Both ladies kept accessories to a minimum, which is smart when trying to keep leather pants looking polished. Gwyneth chose a long chain necklace and little else, while Demi chose a sporty black bag and a handsome husband.

What do you think of the way they styled their leather pants?