Denim-on-Denim Street Style Fall 2012
How to Pull Off Denim on Denim Like a Street-Style Pro
Thanks to some killer street style and the creative efforts of J.Crew and Madewell's styling teams (just check out Solange's Mix Well campaign), denim on denim doesn't carry the connotations it used to. In fact, the "Canadian tuxedo" has gotten a pretty chic makeover, as evidenced by this street-style crew, proving that with the right accessories and proportions, denim on denim is a total do. The key to making it all work — and avoiding any styling clichés or faux pas — is all below.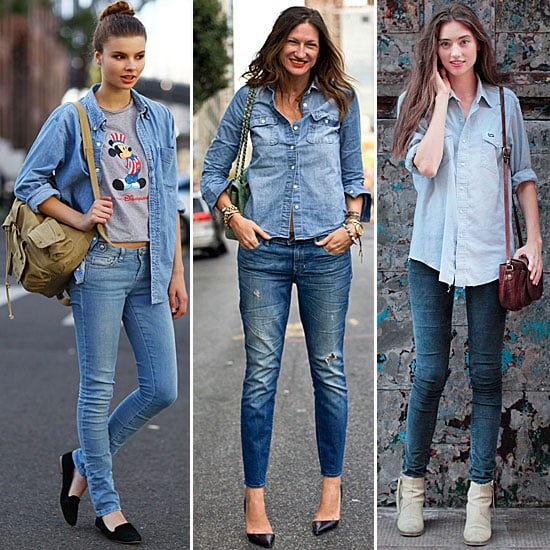 Three denim-on-denim styles we'd totally steal, one courtesy of a very coolly dressed Jenna Lyons (center).
You can pair similar shades of denim, but the safest way to avoid looking like you're wearing a giant denim jumpsuit is to pick varying jean hues. Look for a lighter chambray button-down to partner with a darker-wash denim bottom, for instance; or break up similar denim hues with an undershirt or tee underneath an open denim button-down on top.
Proportions have a lot to do with how your denim-on-denim style will fare. Avoid going totally oversized on both top and bottom. Instead, top a pair of boyfriend jeans with a more closely fit denim top. Or, if you want to show off your legs, choose skinny jeans with a looser chambray topper. Playing with proportions will give your look a more stylized edge, while going totally baggy will lose any of the sophistication — not to mention totally disguise your figure.
Adding in polished accessories will help balance the dressed-down effect of your denim on denim. Just like Jenna Lyons and the street-style crew above look to loafers, pumps, and cool-girl ankle boots, you, too, should look for standout footwear to jazz up your monochrome ensemble. Likewise, opt for bags in rich hues or prints to enliven your look.
Just read on for more denim styling inspiration — and the tips we've garnered from more of our street-style standouts

To further the flair of your denim, look to this season's printed versions to contrast a solid jean jacket or denim button-down and take your denim on denim to a whole other level.
Don't be afraid to layer up your denim on top with a vest or pullover sweater for Fall. Denim on denim only looks cooler with textural intrigue and playful proportions of added layers.
A chambray suit is a totally playful way to capitalize on the trend, but do as our girl above does and look to slouchy silhouettes. Anything too tight or too structured is going to look way too literal — like you're actually trying to wear a jean suit.
Remember, denim skirts also made a huge comeback this season. We love the thought of a fitted denim pencil skirt with a loose chambray top tucked in on top and a pair of apple-red pumps to complete the look.




Source: Getty, Greg Kessler, Phil Oh