Deo-Go Stain Remover
Don't Sweat It — Just Deo-Go!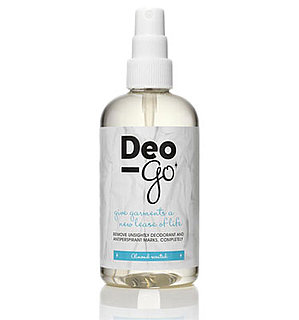 We love pretty white shirts; we hate unsightly yellow stains. I know, totally gross. Nothing spoils a fresh look faster than than that yellow tinge — and, unfortunately, nothing seems to remove them. Maybe that's because we weren't using Deo-Go before. A true friend to fashion, this liquid gel is specially formulated to remove deodorant and antiperspirant stains. Applied directly to fabric, just leave it to work for a bit before you toss in the wash — et voilà! It dissolves the stain and rescues your pretty whites just like that.