We've long-loved Derek Lam's namesake label; now the designer behind the minimalist, street-cool separates and chic dressing is giving us something else to gush about. His newly launched 10 Crosby collection is another foray into covetable clothing, this time with a lower price point ($195 to $895) and ultra-wearable line of easy silhouettes and fabrics. We got a peek at the new Resort collection during a sit-down last night at Barneys — and we were charmed almost as much by 10 Crosby's silky printed pajama pants as we were by the ever-delightful designer. Read what Derek has to say about the inspiration behind the new line, the best career advice he's ever received, and his holiday wish list.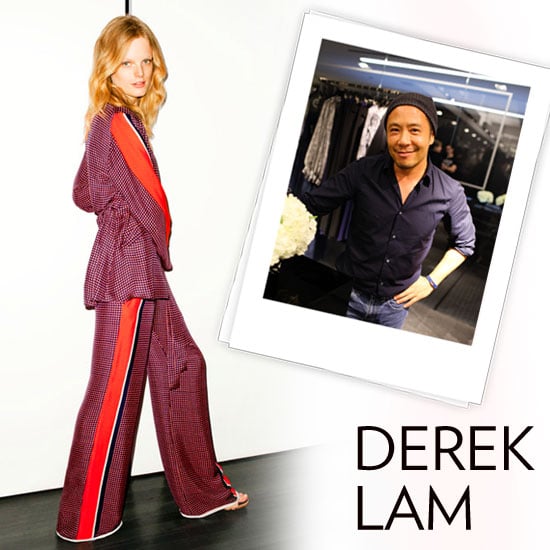 Derek on the woman he had in mind when designing 10 Crosby:
I think that was the reason I used 10 Crosby as the label. There were so many great moments where someone was walking down the street and I'm like, 'God, she's super stylish, or she's very inspiring' and that's what I kind of use as my inspirations. I think 10 Crosby the address is so unique. It's one of my favorite streets in all of New York City. It's got high design, great furniture design, great fashion designers. It's a microcosm of something that I think is very special, very unique. It's got that perfect mix that I love about New York.
On the conceptual idea of 10 Crosby and his customer:
Can I say that it's me as a feminine? Truly, I think why I'm so excited about it, about doing 10 Crosby is that it's speaking to me as a consumer and I think that's really important and I think that's what keeps me really excited.
Find out more about the collection, as well as Derek's Winter party dressing tips and what's on his holiday wish list when you keep reading.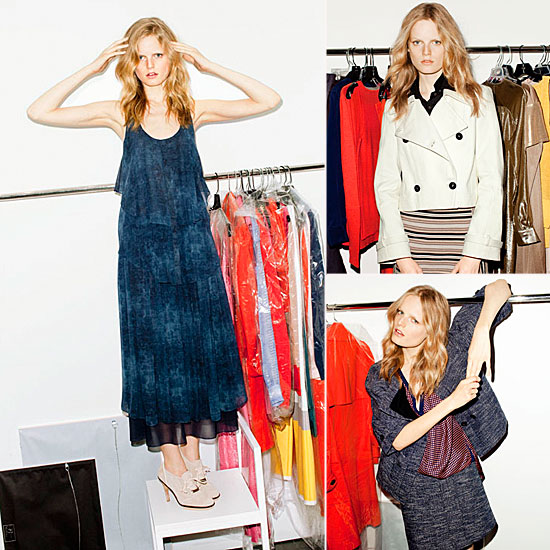 On his favorite piece in 10 Crosby:
That's so hard. Well the trousers are pretty terrific, that whole pajama thing is probably my favorite. It's colorful, it's easy, it's relaxed but it has the tailored, graphic quality that I love about clothing. It's just a piece that I think I would love to design again and again and again.
On the best advice he's been given in his career:
The advice they give that's the most beneficial, but the most challenging is just, speak in your own voice. I think ultimately that's why those certain people are brilliant is that they've found their voice and they're just kind of passing on the message. I think that's probably the most challenging thing to understand — What is your voice? What do you represent? What do you believe in? I think Anna [Wintour] has it down pat and she's a great example of that.
On why he's a designer:
I think that ultimately [it's about] creating a persona. And I have that understanding that there are natural born challenges to creating that persona that you hope to be or that you imagine to be. With those challenges in mind, that's how I design. I don't think anyone's perfect and that's the point of clothing. It's a tool to make you feel or express your perception of perfect and not what you're stuck with.
On his holiday wish list:
The new iPhone is on my wish list. That's probably it, that's the thing that really got me excited. I'm really, really intrigued by modern technology — I grew up with Star Wars, that was my generation.
On what he loves to gift friends and family:
I always look for new gadgets. The most impractical, the better. So, like you know, a wine opener, a new bottle opener — something you wouldn't always splurge on for yourself, but you'd accept it as a gift. Things that you're like, 'that's kind of cool, I would have never spent the money, but I'm glad my friend did.'
On holiday styling tips:
I think it's not so much about getting too glamorous, but a great kind of interesting pajama blouse or pajama pant that you can steal from your boyfriend or indulge and buy something in charmeuse, something from 10 Crosby to give you that sensual, kind of at home, loungey look, worn with a tuxedo or a great sweater I think is kind of cool.
Photo courtesy of Barneys