Diane Kruger at Berlin Photocall | Jan. 31, 2013
Diane Kruger Reminds Us Why We Love Printed Pants All Year-Round
As POPSUGAR editors, we independently select and write about stuff we love and think you'll like too. POPSUGAR has affiliate and advertising partnerships so we get revenue from sharing this content and from your purchase.
While promoting her new movie Der Naechste, Bitte! in Berlin, Diane Kruger reminded us why she's a consummate styler, and it had everything to do with her statement Stella McCartney floral-print silk pants ($925). The actress completed her outfit with a black Stella McCartney tuxedo vest (similar version here), black pointy pumps, and a crisp white watch.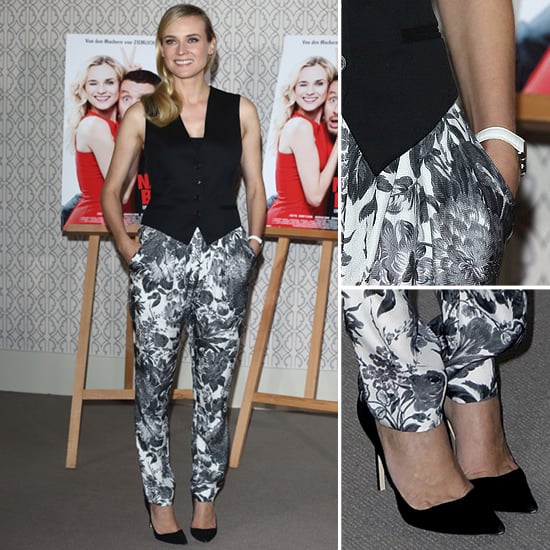 We love the juxtaposition of her structured top against a more relaxed-pant silhouette — it has "chic" written all over it. And it looks like even Diane is jumping on the black-and-white trend bandwagon, and her head-to-toe look is a prime example why. While we can't deny that the actress's two-toned add-ons were sleek — significant in polishing off her look — there's no doubt (in our minds) that her floral pants were the real showstoppers. The best part? They're versatile, too. With the right attention to detail, you can dress them up or down. For a more casual approach, mimic Diane's latest ensemble, but switch out the vest for a knit sweater, and her heels for a pair of sneakers. Then come Spring, punch the outfit up with a bright t-shirt and your favorite sandals. All you need to do is snag your own pair of Diane-inspired statement pants — or shop the exact pair — with a little help from our editors' picks below.