Diane Kruger Wearing Stuart Weitzman Ankle-Strap Sandals
Diane Kruger Isn't Afraid to Rework Her Stuart Weitzman Sandals!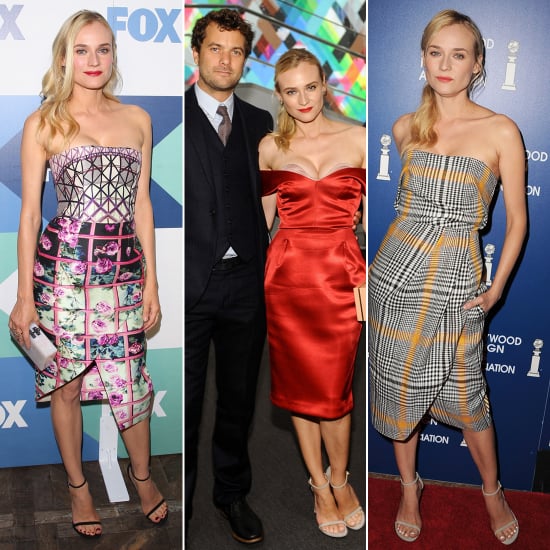 Diane Kruger can have her pick of designer shoes, but like many of us who tend to gravitate toward our favorite footwear, the actress has recently been reworking her Stuart Weitzman Nudist ankle-strap sandals on multiple occasions.
At the 2013 Fox All-Star party in early August, Diane coordinated her black sandals with a strapless graphic-and-floral dress — and good thing, because they didn't clash with her dress. Most recently, at the Hammer Museum 11th annual gala in West Hollywood in October, the actress worked a red satin Jonathan Saunders off-the-shoulder dress with Stuart Weitzman's Nudist sandals in the soft gray hue. Diane had sported the same ankle-strap sandals with a strapless checkered dress at the Hollywood Foreign Press Association's 2013 Installation Luncheon in mid-August.
If you also have a shoe that you love — it's comfortable, it's fashionable, it's both! — let Diane Kruger inspire you to give them a spin on many different occasions. What's particularly great about reworking understated shoes, like Diane's ankle-strap sandals, is that they'll blend right in to your look without anyone noticing. To get Diane's style, shop her exact Stuart Weitzman Nudist ankle-strap sandals ($395) or find equally elegant pairs on ShopStyle.
Get a zoomed-in look at Diane's gorgeous Stuart Weitzman sandals