Dita Von Teese's Style (Interview)
Dita Von Teese Dishes All About Her Ladylike Style!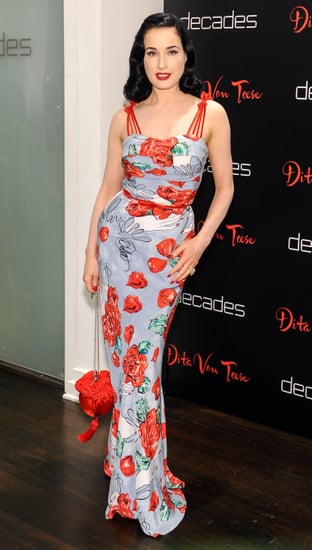 Last night, Dita Von Teese joined Cameron Silver and Christos Garkinos of Decades vintage boutique in LA to fete the launch of the Dita Von Teese Collection, a capsule collection inspired by her own vintage wardrobe. We got a chance to catch up with the burlesque beauty and chatted all about her feminine style. We asked her to describe her personal style — "ladylike and womanly, with fetishistic touch!" — to share her Fall favorites, and her thoughts on the latest ladylike craze. Read all about it, then shop her favorites below.
CelebStyle: What are five essential pieces in your closet that you always reach for?
Dita Von Teese: Opera-length black leather gloves. My signature brand Diamond seam fully-fashioned stockings. My "Second Look" dress, which is perfect for both daytime or evening. My "VIP" trench coat. I wear it often while traveling, it's the perfect coat for any occasion, and I always get compliments on it. And my bespoke Christian Louboutin "Lady Page" shoes.
To hear more from Dita, including what makes her feel special, read more.
CS: What are some of your favorite cold-weather pieces to wear?
DVT: I love wearing beautiful coats; it's one of my biggest splurges because I find that when I invest in a great coat, I look forward to wearing it season after season, year after year. A great coat is the easiest way to achieve glamour while traveling.
CS: What do you think of the latest ladylike craze that's going on in fashion?
DVT: It comes back season after season, so don't hesitate to invest in ladylike dresses.
CS: When you want to feel extra special, what piece(s) do you always throw on?
DVT: My "Showcase" dress with a bra from my Von Follies lingerie collection. I always get compliments on it, and the black silk velvet feels sensual and looks elegant.