Dita Von Teese Travel Tips
The No. 1 Reason to Avoid Sweatpants When Flying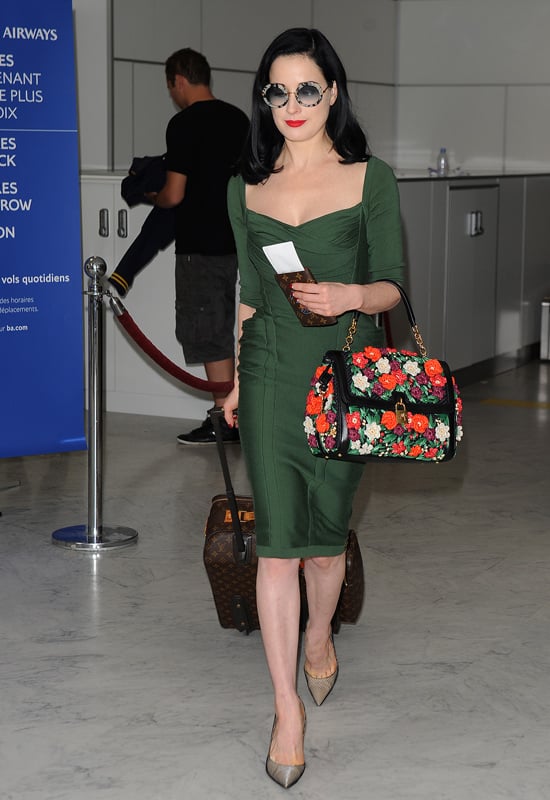 Every week, we bring you the best shoppable fashion and lifestyle stories from our partner Lifestyle Mirror. Today, we're sharing Taylor Davies's post about Dita Von Teese's chic travel style.
"The biggest question people always ask is, 'Why don't you wear jeans or sweatpants?' I think they have this vision of me always being dressed to the nines and uncomfortable at all times — but that definitely isn't the case at all." It's true: Dita Von Teese is so known for her precise and impeccable style that you can easily forget that she's a real person who runs errands, gets lunch with friends, and packs a suitcase for a quick getaway. The self-styled bombshell does indeed have an "off-duty" style, and no, it doesn't include sweats.
"For me during my normal day, I put my hair back in a chignon, I wear red lipstick, a little bit of mascara, add some chic sunglasses, and I've got a pulled-together look," says Dita. "And then I wear a lot of ballet flats and simple dresses — I feel like the glamour is in the dress and the red lipstick. It's pretty simple to me."
She loves a dress with a full skirt — and her flats of choice? Chic Christian Louboutins or Melissa flats. ("They're like very chic little jellies," says Dita.) When it comes to travel, she approaches her airport style with the same sophisticated off-duty approach. "I like arriving somewhere, and I love the tradition of getting dressed for travel — you never know who you're going to meet on a plane."
Her signature carry-on bag is a piece of classic Louis Vuitton luggage. "It's expensive, but when you travel as much as I do, it's a pretty good investment," says Dita. "I think a lot about luxury and when you should splurge, because it's often more worthwhile." She adds, "I think people need to see other versions of comfortable chic."
Visit Lifestyle Mirror to shop the picks inspired by Dita's easy off-duty glamour — from the chic ballet flats to siren-red lipstick.
Related:
7 Savvy Shopping Tips From Dita Von Teese
Dita Von Teese's Playlist
The Best Red Lipstick
Dita Von Teese's Signature Cocktails
Dita Von Teese's Makeup Essentials