Dolce & Gabbana Might Close Brand If Forced to Pay Fine
Is This the End of Dolce & Gabbana?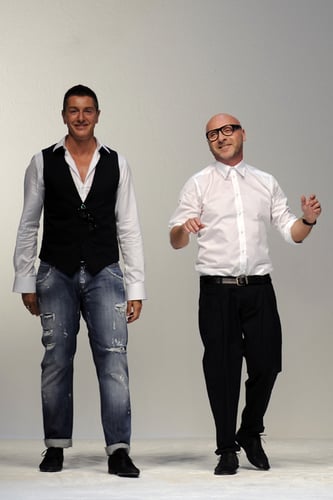 Domenico Dolce and Stefano Gabbana said Wednesday that they would have to shut down their entire brand in order to pay the $450 million fine in connection with their lengthy tax evasion case.
"If we deserved the sentence, there would be nothing to say," Gabbana said in a Q&A with the Italian newspaper Corriere della Sera (conveniently translated by The Local). "But we do not deserve it, and so unfortunately we would have to close."
Moreover, Dolce said they simply couldn't afford the fine.
"We will close," he said definitively. "What do you want us to do? We will close. We will not be able to deal with it."

More on how the designers could pay the fine, their national pride, and their yachts, here.
According to Bloomberg, one option for raising the money — an initial public offering of their stock — has already been ruled out.
The two were ordered to pay the fine this April in a separate ruling from the guilty verdict they received from their larger tax evasion case in June. Just last week, in response to a comment from a Milanese politician saying "Italy does not need to be represented internationally by people like this," they closed their stores in Milan to protest the fine, the verdict, and any question of their Italian pride.
"We are good people, we live in Italy, we pay taxes in Italy, we don't pretend to live abroad," Gabbana said in the Corriere della Sera interview. "For example, I have a boat called the Queen of Italy . . . I am Italian and I keep the boat in an Italian port. And it flies an Italian flag."
"Same thing here," Dolce said. "Years ago Stefano gave me a Riva motorboat. I use it very little, but I keep it in Portofino, with an Italian flag."