Dolce & Gabbana Spring 2013 | Pictures
Dolce & Gabbana Spring 2013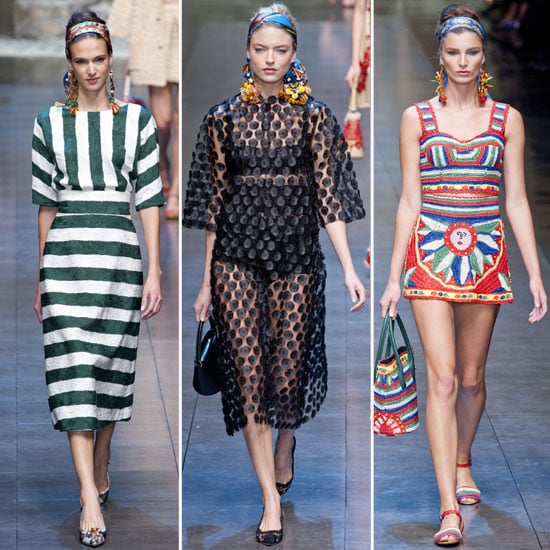 0
Dolce & Gabbana Spring 2013
If the scarf prints and bold umbrella stripes weren't enough to tip you off, surely the burlap sacks made into t-shirt dresses and printed with "Sicilia" across the chest were obvious indication that Dolce & Gabbana looked to Sicily to inspire their Spring '13 vision. In a collection that sought to capture Sicilian culture in its every piece, the inspiration that delivered the most literal results were the scarf prints, headscarves, tasseled earrings, and stripes that conjured images of the Mediterranean beaches and the striped umbrellas lining the sand (if you're plotting a getaway to the area, you now have the dresses to match your beach accessories). Of course, in large part, it's the styling here — the multicolored handbags and platforms, the scarves, and the oversize earrings — that turn the collection into more of a caricature. We suspect that if you stripped the stripes of their add-ons, you'd strip them of any over-the-top references, too. As for the scarf prints, silky peasant dresses, and high-impact minis, there's not much that can be done to temper the stuff — they call for an equally bold personality to pull them off; we suggest Anna Dello Russo.
Trends: Stripes, scarf prints, floral appliqués, crochet, brocade, and lace.
Colors: Black, white, yellow, red, khaki, blue, and green.
Key Piece: The striped dresses and separates are certainly the most wearable of the bunch.
Accessories: Headscarves, oversize beaded earrings, and multicolored platforms, flats, T-strap heels, and embellished bags.
Who Should Wear It: We could see Diane Kruger in the stripes and Anna Dello Russo in the tasseled embellished minidresses.