Duro Olowu For JCPenney Interview | Nov. 7, 2012
Duro Olowu Dishes on His JCPenney Line, Loves "Funky Granny," and More
Does the name Duro Olowu sound familiar to you? While we were first turned onto the London-based Nigerian designer when Michelle Obama was spotted in his brightly colored wares last Summer, we promise you — come March 1 — you will be singing the praises of Duro Olowu, too. And here's why. Olowu has teamed up with JCPenney to put forth a massive, albeit very impressive, lineup that includes his signature mix of prints on everything from long flowy maxi dresses and silky blouse-and-trouser sets, to hard-shell luggage and bold dish sets (if you dare). To see it is to believe it, and soon enough, we'll be able to share the full collaboration with you. Until then, think faded brocade textures, statement jewelry (he even enlisted Iris Apfel to help with this one!), bags that are just as functional as they are fashionable, and, oh yeah, everything is priced under $100. Yes, there's some waiting involved here, but in the meantime get to know Olowu a little better below.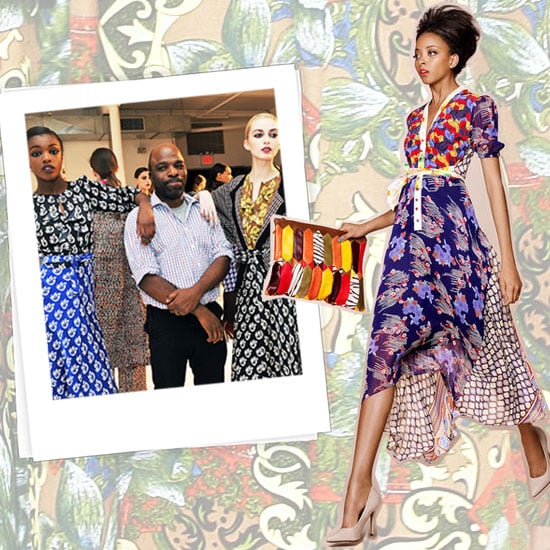 From left: the designer (at middle) with his models and a look from his Spring '13 collection
On what this collaboration is all about: Everything I did with this is new, so it's not a "greatest hits" collection. I wanted to create looks that were based on my ideas of American classics, all with a global flair. I think America already has a tradition of classics — the perfect pants, the perfect trench coat — and I wanted to give it that extra oomph. I don't want people to think 'oh, he just took all the things that sold well for him over the years and put it here,' because I didn't. This is all new, they should become the new classics.
On why he's drawn to bold prints: I'm always looking at textiles from all over the world because I think people travel a lot in their minds. That doesn't necessarily mean you have to go somewhere and see them [the textiles] in person. If I can bring it into your home, that would be great.
What is "funky granny?" Keep reading.
On why you'll want to snag one of his dresses: I tried to create things that are familiar but fresh. I'm known for my dresses and you can wear these with heels, or toned down with Converse. It goes either way. Plus, these [dresses] cost around $60. They come in different lengths, they're so easy.
On the two words that describe his design style: I find that a lot of the time older women dress like their daughters, and the daughters dress like their mothers should dress. To me, I like "funky granny" but it has to be elevated. Take the new with the old, and give it a nice twist.
On what he's giving this holiday season: I'm giving love. I want to give joie de vivre for the year to come because it has been a tough year for a lot of people. It's all about a chilled out vibe and letting people relax a little.