Elizabeth Olsen at Disconnect Premiere | Pictures
Take Your Low-Key Style to Cocktail Hour, the Elizabeth Olsen Way
Elizabeth Olsen's day-to-night outfits provide the laid-back girl (or any girl, really) with no-fuss ways to wear Spring's lighter layers with polish. The more casual of the two looks utilized a relaxed silhouette and cool accessories, while her Disconnect screening attire capitalized on one slick mixed-media blazer. Olsen does a great job of combining everyday pieces — a button-down top, a maxi skirt, and worn-in jeans — with some of the season's most coveted accents. The best part? You probably have most, if not all, of the items in your closet already, so read our key takeaways on Olsen's low-key styling.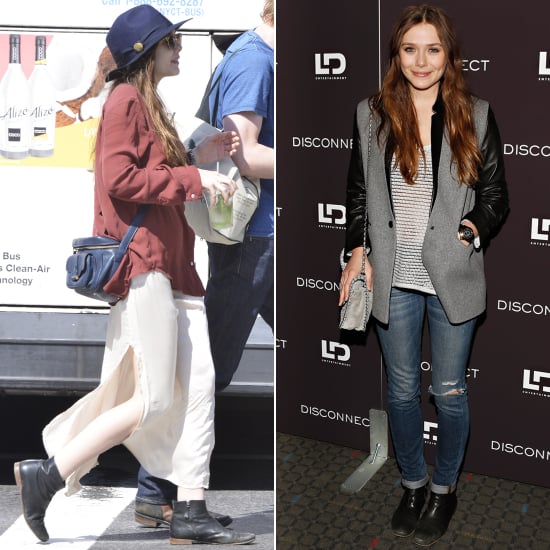 Day
Elizabeth Olsen's Derek Lam Newton Camera Bag ($1,390) could make almost any outfit look better, but she didn't rely on the structural bag to pull all the styling weight. Instead, she also added a pair of flat ankle boots (like this ASOS Adelaide pair, $75) and a navy blue fedora (similar to this Brixton Gerald version, $58), curating a trifecta of items perfect for punching up a casual look. You can copy her looser maxi skirt and button-down combo, or you can opt to tuck a striped t-shirt into a long skirt for a more fitted appeal.
Night
We love that Olsen kept the boots from her daytime look but put a slicker spin on her separates on top. She swapped out her relaxed layers for tailored ones — even the jeans fit her like a glove — and though she wore a laid-back striped t-shirt, there's nothing this leather-infused blazer can't do to give an outfit some sophisticated edge. Try this Laveer Leather Inset Blazer ($595) to channel a similar effect. If you're not feeling the denim approach, then layer the blazer over a sporty heather-gray dress as an alternative. To finish, she accessorized with a light gray quilted shoulder bag, an oversize black watch, and loose waves, and for all intents and purposes, it's easy for you to do the same.