Elizabeth Olsen Wearing Orange Hat in NYC
Elizabeth Olsen Reminds Us Why We Love Autumn's Palette So Much
If it's the melting pot of autumnal hues that gives Fall its stylish allure for you, then Elizabeth Olsen's layered-up look offers up the perfect color combo equation. It's a masterful mix of cozy separates matched up against slick leather pants, a black leather tote, and menswear-inspired oxfords. But, beyond that it's just a really pretty outfit to look at thanks to its pops of rust orange, warm red, and deep navy blue. We're honing in on the actress's ensemble, culling an inspired set of "how to nail your own Fall-themed palette" tips. Click here to snag Elizabeth's exact fedora and oxfords; for everything else, keep reading below.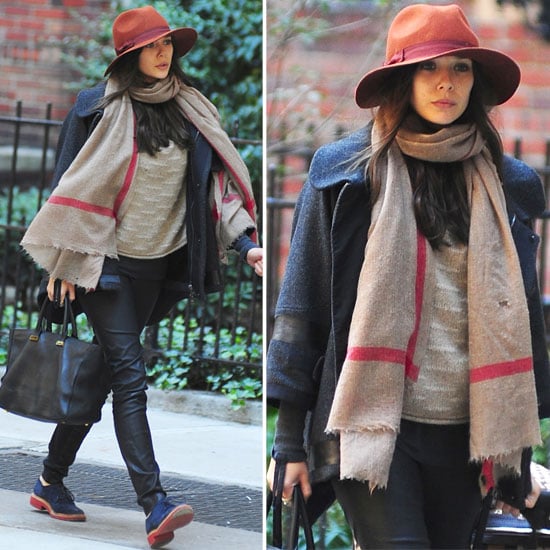 While Summer is all about going head-to-head on the brights front, Fall is simultaneously about toning down the fluorescence, while boosting the bold factor on subtler shades. Elizabeth achieved this more than one way, and we're highlighting our two favorite examples. Her matte navy blue peacoat and oatmeal sweater appealed to a neutral sensibility, but it was her scarf adorned with red piping that created the real color statement. Then, she donned a wide-brimmed fedora, which stole the show due to its contrasted rust orange and burgundy red Fall vibrancy. The next time you're wondering if orange and red work together, the answer is yes.
If you're not the biggest fan of yellow-undertone hues (oranges, corals, and more), try another one of our favorite seasonal color combos: forest green + plum. It's a cooler pairing that will look perfect against a bright pop of burgundy, too. We're thinking a forest green overcoat with a chunky plum-hued knit sweater and cuffed dark denim jeans will set the mood.
Just to be clear: we're not advocating for full-on Fall colorblocking — although there's nothing wrong with that either. So, if you're more a monochromatic dresser by nature, look to Elizabeth's two-tone Pour La Victoire oxfords for instant gratification. You can create your own version of an autumnal color pop with one key accessory. Whether it's a dual-colored shoe or a perfectly detailed scarf, it's all in how you choose to approach the accenting that matters.