Enter the Look of the Day Contest and Win a Balenciaga Bag!
One of our favorite features on FabSugar is the Look of the Day series. We're inspired by what you wear and love seeing your personal style. We want to thank you for inspiring and sharing your photos with us, and in return we've created a special giveaway to celebrate this fab feature. Here's the scoop: Every day for two weeks we'll pick our favorite Look of the Day and publish it on Fab. As a reward, each daily winner will receive three COVERGIRL ShineBlast Lipglosses (a value of $25). Then, at the end of the contest we'll round up the winning looks and randomly select a grand prize winner who will receive a beautiful blue Balenciaga bag ($1,250). Pretty fab, huh?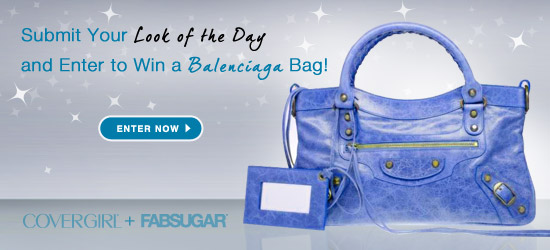 To get started, create a PopSugar account or log in to your account. Then join the Look of the Day group and share your image! When uploading your look (use this link) be sure to check the box that says "Enter this look into the 'Look of the Day' contest." Here's a detailed guide to creating looks if you are new to the PopSugar Community. Remember, you must be logged into your PopSugar Community account to be entered. If you are not already a member, register now. Check out the full list of rules here. Tell your friends about this fun contest here.