Erin Heatherton Style | August 27, 2012
Live Out Your End-of-Summer Days the Effortless Erin Heatherton Way
Erin Heatherton's latest getup is a reminder to live out the rest of your Summer days as breezily as possible — and to look effortlessly sexy while doing it. Supermodel genes aside, the beauty's look is a standout because of its total simplicity. Everything from the cut of the dress to her walkable sandals and minimal jewelry says perfect, no-fuss Summer style, the kind you just may want to break out for the upcoming Labor Day weekend. Stay tuned — these are the takeaways.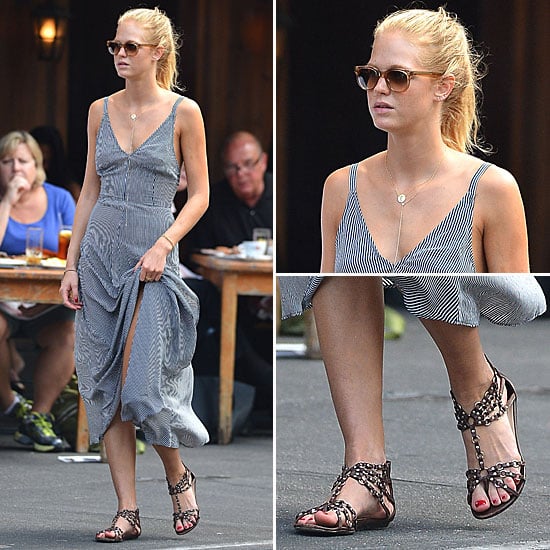 We love maxis for being as easy to wear as they are flattering. The trick, as Erin proves, is finding a silhouette that flatters your shape. Maxi dresses that hang shapelessly from top to bottom will likewise make you look just as shapeless. A V-neck like Erin's helps to elongate the neckline, making you look longer and leaner.
This is the kind of dress that makes packing for a long weekend supereasy. Keep it low-key like Erin with a pair of studded or bright flat sandals for day, then dress it up at night with a great pair of wedges and a little extra jewelry.
As a testament to its versatility, we could also see this maxi working just as well with a pair of ballet flats or ankle boots and a slouchy cardigan for the early days of Fall.