Erin Wasson Interview With FabSugar
Fab Exclusive, Part 2! Erin Wasson Is Happy Getting Sand in Her Crap
Did you hear? Fab met Erin Wasson last week at Azalea Boutique in San Francisco when she was in town promoting her latest Low Luv collection. First she preached ditching trends and sticking to your signature style, but there's way more. Her Summer style is entirely no-fuss, she gravitates towards basic bikinis, and she likes to diversify her modeling career by mixing high-fashion and commercial work. Hear it all in her own words below.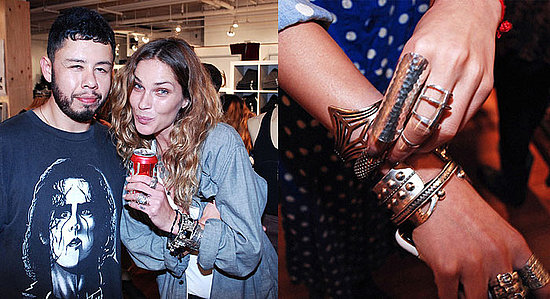 FabSugar: What are some of your Summer essentials?
Erin Wasson: I'm that beach bum that's always on the beach, I don't need a towel, I'm happy to get sand in all of my crap. I'm not the girl that puts on a frilly little dress to go down to the pool. When I go on vacation, and I go to Hawaii quite often, literally everything I need can fit in a bag this size [pointing to her Alexander Wang tote]. A white t-shirt, a pair of denim cut-off shorts, a pair of flip-flops, a couple bathing suits.
To hear more from Fab's chat with Erin, read more.
FS: What kind of bathing suits?
EW: I always have a really hard time with bathing suits. I like really basic things. There is a brand, they just did a pop-up store in New York, it's an Australian company — Zimmermann — and I think that as far as swimwear goes, they are so progressive in their cuts and their textiles and fabrics. Their prints are totally awesome and they fit me really well. I have no boobs so I have a hard time finding something that's going to fit. But at the end of the day, my go-to is a black American Apparel bathing suit.
FS: I know you model for J.Crew. How did that come about?
EW: When you just look at their stuff on a rack, you're like "Oh, it's preppy, it's kind of like whatever," but they have this really dope way of styling the sh*t out of it that makes you just want it. I love that they'll take four t-shirts and layer them on top of each other and create dimension. I don't work with them often because I try to keep a balance of high-fashion and commercial stuff, but at the end of the day what people don't realize is that we're all f*cking trying to pay our bills. So if J.Crew is on the horn and they're like, "Hey, we want you to shoot," you're like, "F*ck yeah I'll do it." It's a great brand.
FS: It shows versatility, too. You can do grungy, you can do polished, you can do it all, you're a model.
EW: That's the objective, a model is supposed to be is a f*cking chameleon. It's so interesting, the whole movement, like "oh my god we're seeing Victoria Secret models on the runways now, like woah." There's niches within the fashion world and some girls that are going to be doing high-fashion and doing your obscure shoots for i-D magazine or something like that aren't necessarily commercially friendly enough to do a J.Crew. For me it's always a balance of doing the commercial friendly stuff but then balancing it off by doing a great editorial.
Photos courtesy of Philip Nguyen