Eva Mendes on The Daily Show | Pictures
How to Refresh (and Repeat) Your Spring Look, the Eva Mendes Way
Eva Mendes has jumped right into promoting her film The Place Beyond the Pines, and with it has come a trifecta of sexy-turned-sophisticated looks — all worn within the span of one day. From point A (stopping by The Daily Show With Jon Stewart) to point C (attending a private screening at MoMA), Mendes supplied us with the kind of Spring outfit fodder that's simple in execution, but altogether cool in effect. While her penchant for retro bombshell glamour was evident in both dresses (they're vintage!) and her go-to Thierry Lasry sunglasses, she never lets one aesthetic get in the way of easy styling and a classic finish. Plus, we love that Mendes can be counted on to repeat outfit pieces in a way that feels refreshed (and reworked). We're taking a closer look at all three ensembles, and breaking down the basics below.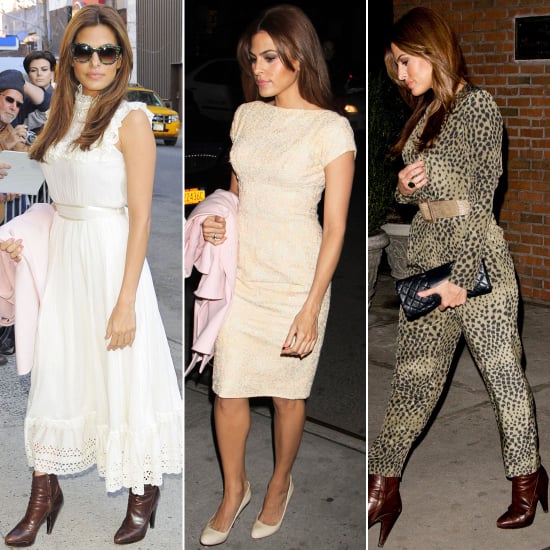 Low-Key and Ladylike: With Spring here, it's perfectly OK to start the process of wearing your white-dress best. We love that she opted for a longer iteration, with feminine ruffles acting as the more lighthearted daytime accent. If you're looking to cultivate a similar look, pair your own long white maxi dress (Victorian-inspired or otherwise) with ankle boots and your favorite pair of sunglasses. Her soft-pink coat is a sleek top layer, but we know not everyone is into the girlier pastel hues. Thus, try a neutral-toned iteration instead — this textured jacket by Topshop Unique ($390) will do the trick.
Formfitting but Polished: For a totally chic take on figure-enhancing workwear, pair a peach-colored cap-sleeved shift dress, similar to Mendes's, and style it with a coordinating blazer and nude pumps. Yes, it's really that simple.
Animal-Print Appeal: The worry (sometimes) with jumpsuits and all-over prints is that it can be a little overwhelming. But Mendes's take on both trends offers ample breathing room for both styles to coexist peacefully and stylishly. By adding a wide Soledad Twombly belt at the waist, she broke up the exotic head-to-toe Chloé leopard print with something classic. Not to mention, the belt added more curve to her shape instantly. To finish, her brown Prada boots (repeat alert!) and quilted black clutch provided the more subdued "layer" to her evening-geared look.