Eva Mendes Style Interview New York & Co. Collaboration
Eva Mendes's Favorite Store Might Surprise You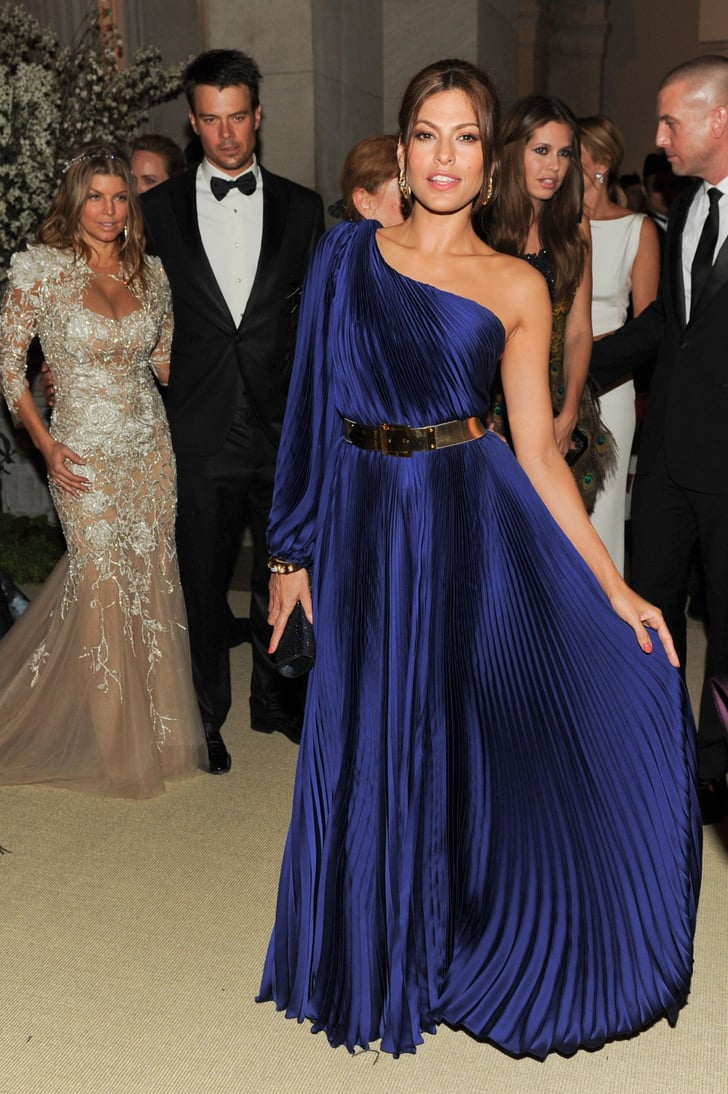 Like most of the world, we've had a bit of a crush on Eva Mendes for awhile now, so when it was announced that she was partnering with New York & Co. to develop a subbrand and appear in the store's campaigns, we secretly prayed it'd mean an opportunity to talk to the star about her personal fashion dictums and the pieces she loves most. Ask and ye shall receive.
POPSUGAR: Is there an article of clothing you've lost or given away that you wished you still had?
Eva Mendes: I wish I could find my prom dress — I designed it myself. I basically copied the red dress that Julia Roberts wore in Pretty Woman, but I made it into a mini. So funny. The girls [in this picture] are my BFFs and we went by D.E.S.K. for Debbie, Eva, Shawn, and Kharla.
POPSUGAR: What about something from your mother's closet you wish you'd held onto?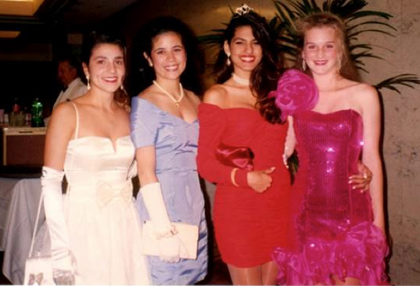 EM: My mother used to work at the Mann's Chinese Theatre in Hollywood during the '80s. Back then, they wore a red geisha costume as their uniform, and it was beautiful. My mom looked radiant in it, and I love the memory I have of seeing her in that dress. We had to take the bus to Hollywood, and she looked so elegant — everyone on the bus would stare in awe. I'd do anything to have that dress she wore then. There was something magical about it.
POPSUGAR: Any pieces from a character's wardrobe you wanted to keep?
EM: I wish I could have kept this dress I wore from the film Holy Motors. I loved not looking like myself for the role. My skin was pale, I had long, bright red hair, and a flowing silk gown. It was a blast.
POPSUGAR: When it comes to shopping, are there certain pieces that you splurge on and others you can't stomach spending too much on?
EM: The only thing I justify splurging on is a great bag. I travel a lot so a great hefty bag is essential. I will also spend more on shoes but since I wear the same ones for years — no joke, look it up! — it doesn't feel like a splurge.
I'm a bargain shopper! That's why I love thrift stores. I'm even reluctant to go into a vintage store because once it says "vintage," the price goes up immediately. My favorite finds are from the Salvation Army or Good Will.
POPSUGAR: Tips for shopping vintage, please!
EM: I recently acted in a film in Detroit. It's a beautiful city with the kindest people I've ever come across, and it also has great finds. I frequented the Salvation Army and an amazing vintage shop called Lost and Found. I found great things that helped inspire pieces in [the New York & Co.] line, but I had to dig for it!
My advice is whenever traveling through a town, find their Good Will or Salvation Army. Put in the time and go through the racks even if it seems futile at first. If you look long enough, you'll find something you love. And since you're getting such a deal, don't worry if it's not the right size. Use the money you save on the purchase to alter it to your body. It's not for everyone, but once you connect to the excavator in you it can be so rewarding.
POPSUGAR: Any surprises you learned from working with New York & Co.?
EM: What surprised me about the designing process is how personal it is. I really connected to every piece, and there's not one item I won't wear.
Photo courtesy of Eva Mendes