Eva Mendes Wearing New York & Co. Collaboration Clothes
Shop Eva Mendes's Shockingly Affordable Look Right Now!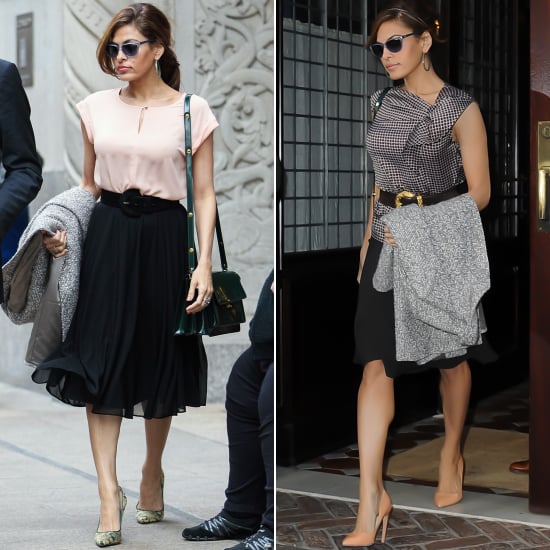 Celebrity fashion collaborations can run the gamut, from stars who are intensely involved in the process to those who, well, aren't. We were excited to see which camp Eva Mendes would fall into when she hooked up with New York & Company, and there's no doubt left in our minds: she's a true believer in everything she put out in the Eva Mendes Collection. In October, the busy lady was spotted in two different ladylike looks, both made up of sophisticated blouses and skirts from the line (the accessories, however, aren't New York & Company, and the bag is Marni). Want to buy her exact outfit?
You finally can! The pieces are all from her holiday collection, hitting stores and the web today. Prep your bank account: The coat she's carrying retails for $190 and each skirt rings in at a neat $60. The blouses are a similar super steal, at $45 and $47 respectively. So, satiate your Eva Mendes style crush by shopping what's available before it sells out.