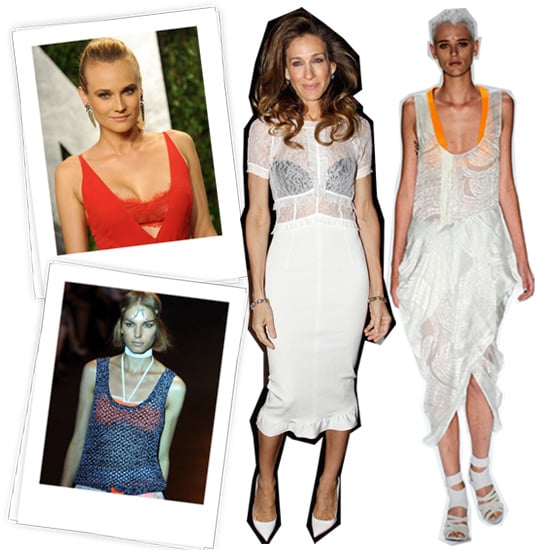 One of our favorite springtime trends (and a great look for a night out, too) is wearing a pretty lace bra or bandeau with a slouchy, low-cut tank. A bright or printed bra under a semi-sheer tee also makes a fun fresh and sexy look, and as we saw on the Spring '12 runways, bralets are back in a big way too — at Dolce & Gabbana, Nina Ricci, Proenza Schouler, and more, models showed skin in midriff-baring bras paired with high-waisted skirts. Even though this trend isn't for the timid, it's extremely easy to wear, looks cool and confident, and — bonus! — you won't have to rely on those sad-looking invisible plastic strap things. Here are some tips on how to pull off this look:
Stick to a lacy, brightly colored, or printed piece. This look is meant to show off a statement bra, not your everyday black or nude styles. See how celebs like Sarah Jessica Parker and Diane Kruger make it work.
Consider your bra "just another layer." A pretty piece of lingerie looks best when worn under an open-weave sweater, lacy top, or sheer blouse, like at Rag & Bone and Narciso Rodriguez. Bottom line: it should be deliberate and thought out — otherwise, it'll just look sloppy.
Don't go crazy. It probably goes without saying, but those pretty sheer bras that don't leave much to the imagination? Opt for a racerback tank that will allow you to show off the straps without risking a major wardrobe malfunction.
Now that you're up to speed, just click below to shop our favorite bras (and accompanying tops) to show off for Spring.