Fab Interview with Rag and Bone Designer Marcus Wainwright
Fab Interview! Two Fabulous Minutes with Marcus Wainwright of Rag & Bone
Backstage after the Rag & Bone show, designers Marcus Wainwright and David Neville broke open bottles of Peroni, and David's children ran around avoiding the cavalry of people packing up the 35-look Fall collection that had just debuted on the runway. It felt more like an intimate family gathering than the close to one of New York's most anticipated shows, and Fab snagged an impromptu chat with Marcus.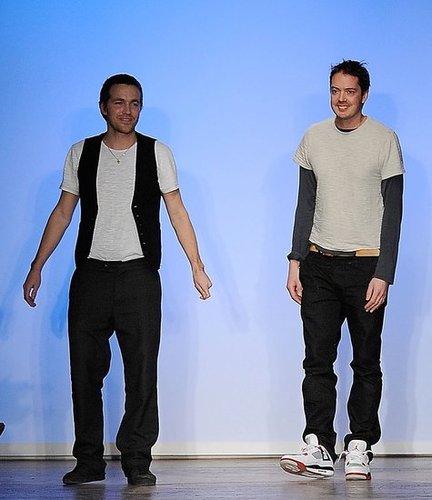 FabSugar: Is Peroni a choice or a sponsored beer?
Marcus Wainwright: I wish it was a sponsored beer and you can publish that. I drink two beers, Peroni and Asahi, and neither of them sponsored but it would be good if they did.
FS: My takeaway from the show was that of a madcap hunting expedition in the Scottish highlands. What was the real inspiration for your show?
MW: It started with the Inuit Eskimoes and Saami in northern Sweden and Norway, balanced with '70s skiing. And a lot English fabrics, that's where the tartan came in, and Japanese and American twisted fabrics.
FS: Is there any uniform you love to see women in?
MW: Not specifically. I just think women just should wear clothes that they feel really comfortable and special in. I think girls that go wrong don't look great, when they try too hard. It's not a specific look, everyone just has their own personal style. You just need to own it.