Fab Talks to Victoria's Secret Angels About Their Valentine's Day Plans
VS Angels Give Fab the Inside Scoop on Being Sexy For V-Day!
We recently had a Fab chat with Victoria's Secret Angels Candice Swanepoel, Erin Heatherton, and Lily Aldridge about Valentine's Day. As ambassadors for Victoria's Secret, the girls travel the world spreading the word on lingerie, so who better than them to answer our questions on getting sexy?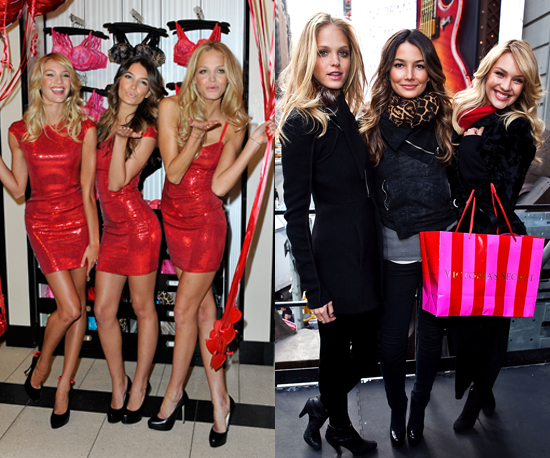 Candice Swanepoel likes to "mix it up," but has a more understated approach to Valentine's Day. "I like a lot of lace — I just bought a really sexy black lace bodysuit in the designer section here [at Victoria's Secret]. But on Valentine's Day, I might just do a silk slip. I'll be at home for sure, my boyfriend and I will probably make dinner and hang out," she says. For everyday, the South African beauty admits to loving "cotton panties when I sleep," and if given the choice of unlined or push-up bras, "oh, unlined, for sure. I wear the push-ups a lot when we work so the unlined is a nice break!"

To hear Lily and Erin's Valentine's Day tips, read more
Lily Aldridge has been an angel for one year and approaches Valentine's Day as a special occasion: "Valentine's Day is my excuse to dress up, so why not be totally sexy?" Her V-Day lingerie piece of choice? "I literally just bought the Love push-up bra in wild strawberry," she says. When asked about being an angel, Lily says, "I feel like the luckiest person in the world."

Erin Heatherton had some strong advice for women who want to look sexy on Feb. 14. "Step outside of your comfort zone and spice it up," she says. Her three get-sexy tips? "Try a little cleavage, go for no makeup and a red lip, and wear heels. Heels make your butt look great." How will Erin be spending Valentine's Day? "Roses, chocolate, dinner out. I love chocolate. I could eat a bowl of the chocolate mousse at Standard Grill [in Manhattan]," she says. And what will she wear? "I will go for it with a sexy lacy thing, but I also love wearing my boyfriend's t-shirts." Her boyfriend, for the record, is Doodski designer Andrea Sarbrier. We couldn't help but ask Erin for one last piece of advice: what to get the man for Valentine's Day? She says, "I go to Barney's and pick out cute socks and boxers. He always needs socks!"