FabSugar Erin Wasson Interview
Fab Exclusive! Erin Wasson Says Ditch Trends, Stick to Your Signature Style
Look who was in town last week — the piercingly beautiful and free-spirited Erin Wasson! She flew in to promote her latest Low Luv collection at Azalea Boutique in San Francisco. The model-slash-designer totally meshed with the city's relaxed vibe but simultaneously stood out thanks to her stunning presence. We had a Fab chat about everything from her super laid-back Summer style to her modeling work with J.Crew, from editing down your closet to her future projects. Hear part one of what she dished below.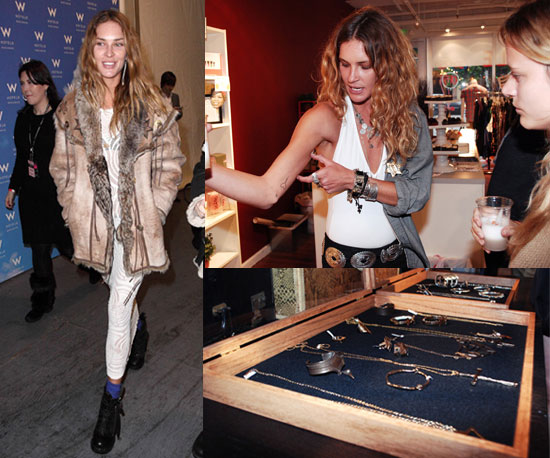 To read the first part of our interview with Erin, and to see a few more photos, read more.
FabSugar: So this is your latest collection. What's been going on with the line? What are some favorite pieces?
Erin Wasson: There's a piece actually from this collection that they don't have in the case, it's like a square double knuckle ring that I'm a huge fan of, it's heavy with the onyx and everything. I'm really into symbolism, I'm quite obsessed with it actually. I dig it all, that's why I made all of it!
FS: What's your process, what's your inspiration, where do you start from?
EW: I kind of obsess over a certain culture and I find the symbols within that culture.
FS: Do you travel there?
EW: I didn't go to Egypt and study hieroglyphics or any of that kind of sh*t, but books are a great source, the library, movies. I think that the whole idea is that it could even start with finding something really interesting at a junk shop and liking the craftsmanship, or something about a piece and figuring out a way to sort of inject all of those symbols into that piece and going from there, starting out with molds and stuff like that. A lot of times you'll see something and you're like, "OK, how can I make that into a bangle?" And you're like, "Well let's just put it on steroids and make it really big and make a dainty pendant and do a really big pendant in the same version."
FS: Do you have any plans for expanding it into other categories?
EW: I'm doing a Holiday collection and then I'm doing a separate, smaller solid sterling silver collection as well. My RVCA contract came to an end and I'm in the works of talking with other people and taking my time to really figure out what that next step is going to be. I'm definitely going to be coming up with another clothing line, standing on my own two feet and making it my own but it's probably six months away from now. Taking a little intermission right now.
FS: Do you have any ideas of what the clothing line would be like?
EW: If I do that one day, for sure, denim is a staple, it's always going to be a part of everything that I do. I love leather, that's always going to be a thing that I do moving forward, I think that people that know me and follow my style understand that it's a very loose take on fashion. The older I get, I'm much more inclined to be into the idea of utilitarianism and as much as I think that trends make the world go 'round, it's also a scary place to live when we're following trends too closely. I think that we forget what our own personal aesthetic is because we're kind of being told by the media and outside forces what our style should be, and as you get older, you realize what you love.
FS: Well you did that big garage sale I heard about.
EW: It was really cathartic. It was like I have piles and piles of sh*t and I was like I don't need all of this crap. There's a point in life where your things start to own you and you don't own them anymore, and you've got too much of it. I'm an animal lover and I love Best Friends Animal Society, it's where all of Michael Vick's pit bulls ended up, and it's an actual rehabilitation facility less than just a shelter. They really work on the social situations of these animals that come in and foster some of them and get them socialized so that they can be placed instead of just putting them in a cage and hoping that people adopt them and then all of their issues become their issues, so yeah, I raised $8,000, it was awesome!
Photos courtesy of Philip Nguyen