FabSugar Exclusive Interview With Project Runway Season 7 Designer Jay Nicolas Sario
Fab Exclusive! Project Runway's Jay Nicolas Sario Is Legit (B*tches)!
Meet Jay Nicolas Sario, last night's Project Runway winner. Here are some little-known facts about Jay: his favorite color is green, his favorite designer is Alexander McQueen, he is originally from The Philippines, his favorite model is Raquel Zimmermann, and his favorite fabrics are tweed, wool, denim, and leather (anything that can give structure and texture). Now that you kinda know him, you can really get to know him through our exclusive chat with him about last night's tricky challenge.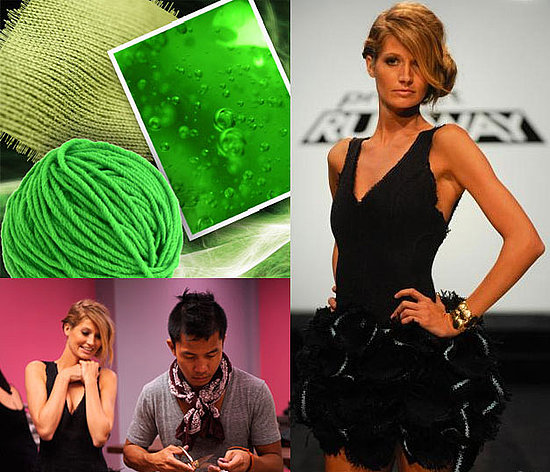 What was the inspiration for the winning dress?
Kasey's [his model] laid-back personal style and my tailored and yet relaxed design aesthetic inspired the winning little black dress that showcased fit and femininity. Kasey lives in Miami as a swimsuit model so I wanted to design a dress she can wear confidently whether she's in Miami, New York, or Los Angeles attending an industry party. We originally wanted a navy blue dress, but there were only a few colors of dye available so we've decided to go with black.
To read about his biggest challenge and more juice,
What was the biggest challenge last night?
I wasn't going to dye the burlap fabric in black after I had already finished constructing the bodice. That was a huge risk I had to take because I had no idea how much the burlap would shrink after leaving it for half and hour in a bucket full of warm black dye. The dress form I worked off of was bigger than Kasey, thank God that the bodice shrunk to her size and it fit!
How did you think to make the feather effect with the fabric?
The feather effect was not my original intention. I wanted cleaner raw edge circular patterns using the blue ribbon trim shown, but they came out like sea urchins! This was around 9:30 p.m. upon discovery of sea urchins and I almost had a meltdown. I said, I have two and a half hours before midnight! I pondered upon the sea urchins for five minutes thinking this is a "make it work" moment for me, and five minutes later I finally saw beauty in them. I made a dress that looks like a big, black, beautiful ostrich.
Were you confident the design was one of the best?
Going into the runway show with the judges, I thought I was going to be in the bottom three with Ping going home. Seeing Ping's models ass hang out gave me hope that I'm going to survive being in the bottom three for the first time. But I was wrong and I won!
What's it been like to be on Project Runway?
Being on PR is doing a lot for my career as fashion designer. It has pushed me to really design for a living. I am a much better designer now and I do feel a sense of validation. I'm legit, bitches!