FabSugar Interview With Adriana Lima at Victoria's Secret Bombshell Tour
Adriana Lima Tells Us Being a Bombshell Is "All About Embracing Yourself"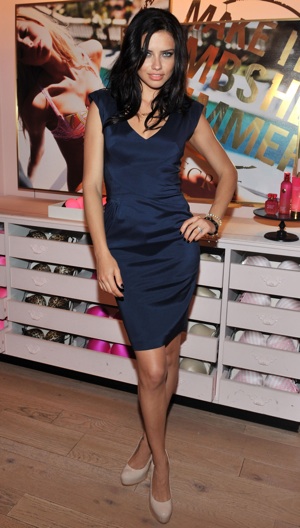 It's hard to hard to believe that Adriana Lima has been with Victoria's Secret for over 10 years now, but it's true, and the sweet Brazilian beauty looks like she hasn't aged a day. Lima made an appearance this morning at the Victoria's Secret store in SoHo NYC, wearing a sleek navy sheath by Black Halo, to promote the brand's sexy new bombshell collection. Between photo snaps, Adriana took time out to talk about being a bombshell, finding the perfect swimsuit, and more:
On being a bombshell: Being a bombshell is about embracing yourself and feeling confident. There are things you can do to help you feel confident like wearing the right lingerie and choosing the right swimsuit for the beach.
On finding the perfect swimsuit: Number one is that you have to find something you feel comfortable in. It's not about showing more or less, it's about you feeling confident with what you're wearing. I love triangle-shaped tops and bottoms, the smallest ones possible because I hate tan lines.
On her favorite pieces from the VS bombshell collection: The collection is all about being sexy and embracing your sensuality. The balcony bra is my favorite; I love the shape and colors and it's very Brigitte Bardot. The miraculous is good for nightwear, it's very va-va-voom.
On her Summer essentials: A stringkini, eyeliner, flip-flops, a pair of cute shorts, and VS bra and panties.
On Summer vacation plans: Miami, with my family!