FabSugar Interview With Alexa Chung and Her Madewell Collection
Fab Exclusive! Alexa Chung Does Not Shop Online . . . but We Love Her Anyway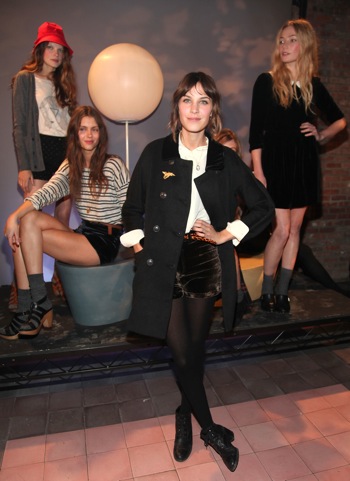 One of my most anticipated events of New York Fashion Week was Alexa Chung's preview party for her Madewell collection.
The reason is twofold; you know I'm a Madewell fanatic, and I was curious to meet girl-about-town Alexa. The totally unpretentious, totally fun party validated my obsessions. Due out in the Fall, mini Alexas were stationed around the Bowery Hotel. That means denim hot pants, grandpa cardigans, tweed blazers, romantic blouses, vintage jewelry, and clogs. Some of her friends — Pixie Geldof and Poppy Delevigne — served as models; Project Runway alum Christian Siriano even made a cameo. I received word that Madewell will be launching e-commerce early Summer, but until then, here's some Alexa dish.
So what do you think of your collection for Madewell?
It's a bit weird, because everyone looks like me. I love it, it's great.
What are your favorite pieces?
That black velvet shirt, that silk white skirt, in the Winter it would be really nice with a navy blue peacoat.
Did you design the jewelry?
No, we got the ideas from antique stores.
To read the rest and to see more pics from the party,
.
You've been in New York about a year now. How would you describe the difference between New York and London style?
England is more eclectic and gathering vintage finds and from your friends and whatever goes. America is more status-based, you get the right bag and put together a chic look. I think both are great, in a different way.
Do you shop online?
No, I don't, sorry! I'm rubbish with technology. I do go on Facebook and Twitter.
Do you prefer warm weather or cold weather dressing?
I like transitional seasons. My signature pieces are a navy blue boyish coat, a '60s silk dress, and hot pants.
Did you pick the soundtrack for this party?
My friend is the DJ and I requested '60s girl groups.
Don't forget to check out all of our New York Fashion Week coverage and follow my Fashion Week adventures on Twitter!