FabSugar Interview With Anna Sheffield in San Francisco
Fab Exclusive, Part 2! Anna Sheffield Compares East Coast vs. West Coast Style, Talks About Shopping Essentials
Now that we've gotten to know Bing Bang designer Anna Sheffield a little more, let's hear what the designer has to say about East Coast vs. West Coast style. Since she's lived on both sides for almost 10 years, it's safe to assume she's experienced it all. Check out her thoughts on style, high-low shopping, and favorite accessories below!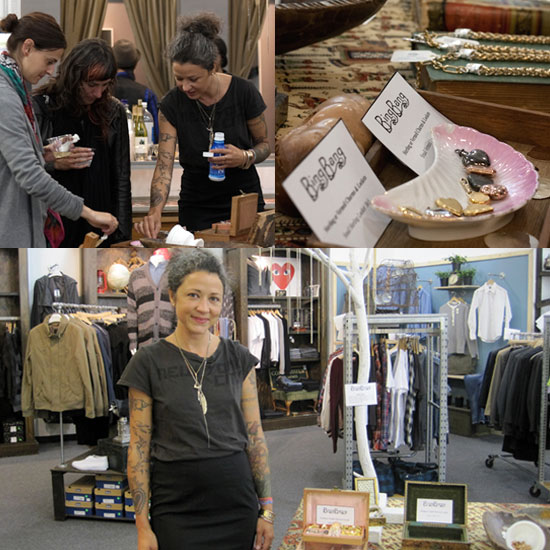 FabSugar: Since you've lived in both Cali and NYC for most of your life, do you notice a major difference in style?
Anna Sheffield: I think there is. There's a bigger difference between New York and LA than there is New York and San Francisco. I think there's a different type of femininity. I think that in New York, femininity is kind of equal to strength and there's a different type of toughness to the women there. You can see it in their shoes, you know what I mean? Like the gladiator sandal, it's like still going because everybody feels fierce. In NYC, there are edgy and strong females, whereas in California, women are more free to be delicate and feminine. I try and incorporate both into everything that I design, so hopefully everybody likes it everywhere, that's the goal.
To hear more from Fab's chat with Anna,
.
FS: Do you have any suggestions on shopping and styling, like things to save on and things to splurge on?
AS: Absolutely. I think staples are easy to come by. At least in New York, and online, you can get great staples at the GAP, H&M, Forever 21, and American Apparel. But I think accessories, like shoes, are always a good thing to spend money on. If I want something really kooky, like a crazy belt, I would rather buy it at H&M then to really get a really expensive one. I think that high-low fashion is not something that's really going to change any time soon. You can open a Vogue or V magazine today and see somebody in an American Apparel tank top with Lanvin, Givenchy, or Prada — I like that! Everybody has the ability to create their own style without having to have a single look by a single designer or some company . . .
FS: Do you prefer earrings, or necklaces, or just everything?
AS: It really depends on what piece is inspiring me at the moment. I've definitely been doing a lot of necklaces lately, with all of the feather things and the sort of Cherokee-inspired stuff. I also usually have a fair amount of bangles and two-finger rings. Things that layer well is really important to me.
FS: We're huge fans of your rose gold pieces, can you tell us more about them?
AS: I love rose gold because it has copper in it, which I think is a beautiful element. It's also something that's sacred and special, like copper is really healthy for you and you're supposed to wear it. I also love it because it looks good on every skin tone.
FS: What are your favorite materials to work with?
AS: I love working in metal because my background is in metalsmithing and silversmithing. I also like working with gold, because of its different properties of copper and silver, depending on how I work with them. I don't think there's really any absolute favorite. I just love it when I just get to sit down and make something, that's the highlight of my day.
Photos courtesy of Alex Abriam