FabSugar Interview With Designer Rebecca Taylor and Photos From Fall 2010 Collection
Fab Exclusive! Rebecca Taylor, Sparkles Everywhere, You Know Her
Rebecca Taylor always has one of the cutest front rows. Maybe that's because she always has one of the cutest collections. When I wasn't spying on Kristen Bell, Sophia Bush, Michelle Trachtenberg, and Whitney Port, I was admiring Rebecca's Fall parkas, sweater cardigans, wide-leg trousers, floral silk dresses, leather shorts, suede thigh highs, and sparkling leggings. Models were topped off with precious bowler hats; feather trim added an intense girlie touch. This time I grabbed the Fab favorite designer backstage to talk about her knack for layers and addiction to sparkles, which glittered upon leggings and shoes. Hear all about it . . .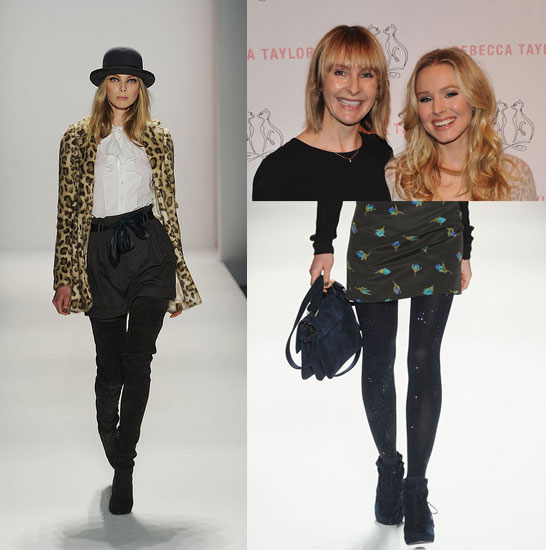 How are you feeling?
Better now. It's so wait, wait, wait, wait, wait, and then mayhem! And then it's done. But everything went fine. Very happy.
This is the season for layers.
Lots of layers. My Rebeca Taylor girl has been very loyal, and each season we have to present her with something that's new that can update what she's already wearing. We did new colors — olive, camel, soft pastel hues. And suits, little pantsuits that look really good.
For the entire collection and to read the rest of my interview, read more.
Can we talk about the sparkles?
Aren't they insane?! Everywhere, you know me. My stylist was like "A little less sparkle, Rebecca," and I'm like "Why, why less sparkle?" Everyone needs sparkle.
What can we expect from you this year?
We're opening a store on either the Upper East or West Side in the Spring. Launching our online commercial website — months and years in the making. Twitter and Facebook for all the young kids (laughs).
Don't forget to check out all of our New York Fashion Week coverage and follow my Fashion Week adventures on Twitter!