FabSugar Interview With Jewelry Designer Anna Sheffield
Fab Exclusive! Anna Sheffield Loves Silly Bandz, Tries to Be "Buddha" About Designer Knockoffs
Jewelry extraordinaire Anna Sheffield was in SF last week to promote her latest Bing Bang collection at Shotwell boutique. We're always curious about her cool girl aesthetic, so we sat down with the designer to talk about her jewelry inspiration, her latest obsession with Silly Bandz, and her thoughts on the latest design copyright initiative. Check out part one below.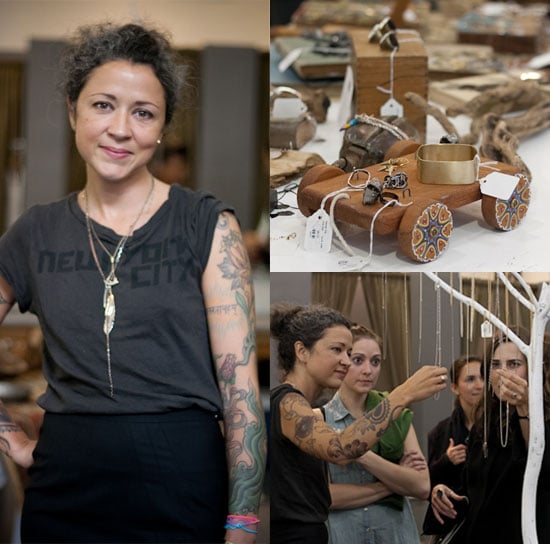 FabSugar: Tell us about your design aesthetic and inspiration for the latest Bing Bang collection.
Anna Sheffield: I sort of get on themes, I always have a few little inspiration points that I draw from. It's always a little bit punk rock, always a little bit Native American, there's always a little Victorian and then I'm absolutely influenced by New York Street or street fashion in general. So I take all of those elements and sort of jostle them around and come up with new themes every season but usually I get sparked by a shape, or a silhouette, or something. I've been doing a lot of things with the feathers so I created this collection that's been ongoing, the Cherokee collection within Bing Bang, so lots of things with the feathers, the pin-nibs, and I just keep doing them in new color ways. I've been wearing them like crazy.
FS: Do your collections have a spiritual meaning?
AS: Yeah, definitely. I think there's certain things that just innately have symbolism, so it's whatever culture, whatever age, whatever tribe, or whatever ethnicity you're from. There's certain things that are always relevant and beautiful and feathers are one of them. Hearts, I love hearts, I'll never be over hearts. I've been drawing hearts on myself, every note I've ever written, when I'm doodling, when I'm on the phone, on my knee, wherever.
To hear more from Fab's chat with Anna,
.
FS: You're wearing the Silly Bandz!
AS: Oh yes! I am a veritable addict, it's crazy, I'm so in love with these things, I talk about them incessantly, I blog about them incessantly, I'm like giving them out as gifts, I'm getting them as gifts. I got a ton of them for my birthday last weekend — the fruit package, the bugs and insects package, and they're so amazing. They're such a phenomenal little invention.
How do you feel about the latest design copyright protection initiative against fast fashion retailers like Forever 21?
AS: Yeah, they knock off like crazy. I try so hard to be Buddha about it, it's the sincerest form of flattery, right? As long as it's not somebody that you know personally, because that can be a little bit painful, but it's difficult because when you're a small company, it's difficult to keep up because when you have companies that are bigger than you who can produce more volume and quicker turnaround. It hurts a little bit, but at the same time, I think there's people that will shop that way and there are people that want the original. But I do think that it's something that should be implemented. At this point, it's really difficult to get a copyright for anything creative. I haven't been able to copyright any of my designs and it's really frustrating because you feel like if it's something that's vague, that's one thing — like copyrighting a charm on a chain. But if I do a certain treatment to it that I really invested a lot of time and energy into inventing, and coming up with a process that's important to me, it would be nice to keep those things signature to you, you know?
Photos courtesy of Alex Abriam