FabSugar Interview With Joe Zee About the Fashion Industry 2011-05-17 12:01:50
Joe Zee Dishes the Hard Truth on Making It in the Fashion World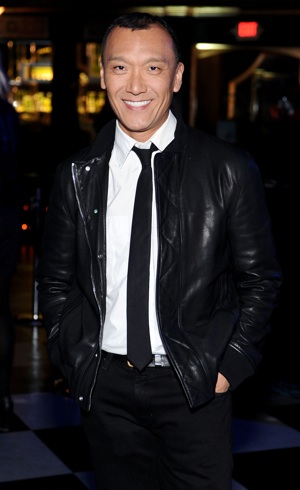 In the past couple of years, we've witnessed a number of talented designers forced to fold their business due to the ever-changing fashion industry and economic hardships. In times like these, it's always good to get some advice from someone who has been in the business for a while now — someone like Joe Zee. We recently chatted with the creative director of Elle Magazine and star/mentor of reality fashion show, All on the Line, about what to do, what not to do, and everything else in between. Listen up to what he has to say:
FabSugar: What has your experience been like on All on the Line and mentoring struggling fashion designers?
JZ: It's not the typical portrayal of fashion, it's something that feels real, genuine, and authentic. I was so moved emotionally. There were times when I was on the floor with them, jacket off, sleeves rolled up trying to help. There were also times when I was so mad at the designers, and there were other times when I wanted to hug them. I was so invested in their final outcome.
FS: Tell us why you think it's so important for designers to understand the business aspect, the balance between creativity and commerce, in the fashion industry.
JZ: People have to live in today, you can't just be an artist for art's sake, because you might as well live upstate with the doors locked with no computer, no phone, and just paint your heart out. Otherwise, if you want to do this for business, you have to start appealing to other people, that's the important thing.
More from Joe on why designers should take business classes, successful and unsuccessful characteristics, and more after the jump.
FS: Would you recommend new designers take classes in business school so they can better understand that side of the industry?
JZ: Absolutely! I think it's very hard today for students to just graduate from fashion school and start a line. They think it's easy; previous programming on television portrays it to be easy, the Internet can make it seem easy, and it's not. If you watch All on the Line, you see all of these designers struggle, and some of them are in their eighth or ninth season. You really have to bow down and work hard, and I always recommend fresh grads go work for different designers, understand how to do design, and understand how to run a business. People have written to me how the show is the perfect example of how FIT or Parsons, or Art Institute should offer or make it mandatory for design students to take business classes, and I absolutely agree.
FS: What is a current hot market in the fashion industry for designers to jump into?
JZ: I don't know if there is a magic sweet spot for designers right now, but as long as you're unique, strong, and focused on your vision, you can succeed — in whatever you decide to do. Contemporary will always be a lucrative market because every department store is always looking for the biggest bang for the buck. You want a bigger piece of the pie? You have to sell cheaper clothes. Every time I think fashion is a little saturated, someone pops out in the scene and surprises me.
FS: What are some characteristics that could make or break someone's career in the fashion industry?
JZ: I think being stubborn really puts you in a box that's ultimately not going to work. This is a very open industry and a very creative field. Yes, it's about art, but it's also about commerce. You have to be really open, don't box yourself in — get rid of those walls. Have a vision, have a focus, have an idea, but at the same time, be open to new ideas. You can't be your own island, you have to be able to work with other people.
FS: How can designers become more successful with their fashion line?
JZ: Do it slow and be realistic. A lot of people want that instant button of success, but that's not going to happen. There's no way to go from making zero to $10 million right away, other than robbing a bank. If you love what you do, the long road is not as long as you think. I'm not a millionaire, but I've far surpassed my goals but I've worked very hard to get there and it did not happen overnight.