Fall 2011 Milan Fashion Week: Moschino
2011 Fall Milan Fashion Week: Moschino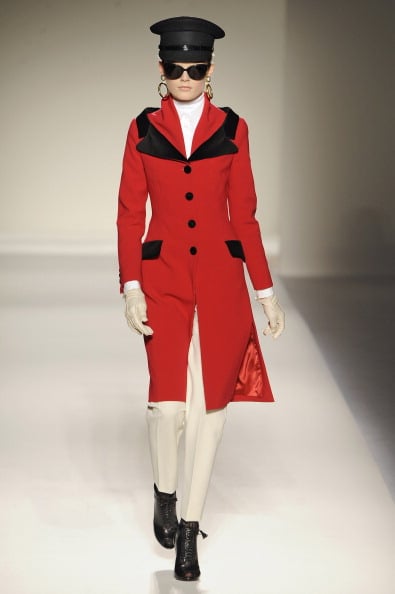 0
2011 Fall Milan Fashion Week: Moschino
Last season, Moschino gave us its irreverent take on the wild west; for Fall, it's all about the pomp and circumstance of military uniforms circa the Napoleonic era. Now mix that with tuxedo detailing, little black dresses, lamé, and pearls, and you have a typically cheeky Moschino show. Double-breasted jackets were threaded through with gold, which to modern eyes could pass for an old military reference or the costumes at band camp. More wearable were the tuxedos, with cropped pant silhouettes and sharply tailored jackets. Downright covetable were the little black dresses, one with ruffle detail. The most amusing part of the show? Coco Rocha strutting down the catwalk wearing a chicken hat.
Trends: Tuxedo, military, menswear, LBDs, lamé, floral prints.
Colors: Red, black, cream, white, gold, navy.
Key Looks: The sophisticated little black dresses and the gold tuxedo.
Accessories: Military caps, pearls, big gold jewelry, lace-up booties.
Who Would Wear It: Women who like to play dress-up or want to play with a certain theme.
Source: Catwalking