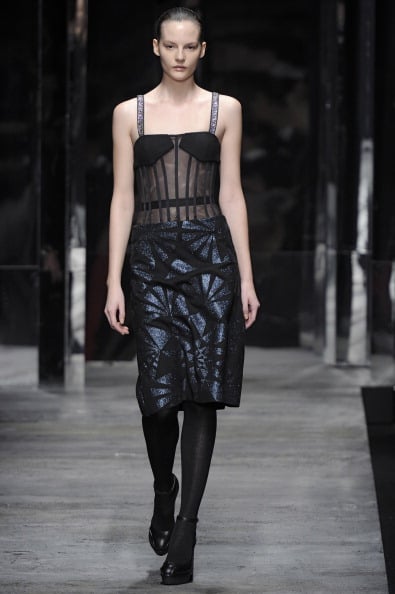 0
2011 Fall Milan Fashion Week: Versus
For Versace's Versus, Christopher Kane envisions a glittery Fall '11. Still, take that with a grain of salt, or in this case a helping of black leather, minimalist cuts, and sheer details to sober and balance what could be too youthful. Instead, the glittered, bold graphic prints meld easily with the more adult world — calf-length skirts, a bustier, opaque tights, and sheath dresses with sheer middles. He dabbles in the playful, neon-injected world of color that we see in his own namesake collection, but tones it down, adding more pants, separates, even knits — equal parts artsy and edgy with polish and restraint.
Trends: Graphic print, leather, sheer paneling.
Colors: Black, metallic green, silver, purple.
Key Looks: Sheer, corsetted top and metallic, graphic print skirt.
Accessories: Black opaque tights, ankle-strap closed-toe platforms, glittery box clutches and sandals.
Who Would Wear It: Artsy types who appreciate minimalist cuts with imaginative finish.
Source: Catwalking