Fall 2011 Paris Fashion Week: Givenchy
2011 Fall Paris Fashion Week: Givenchy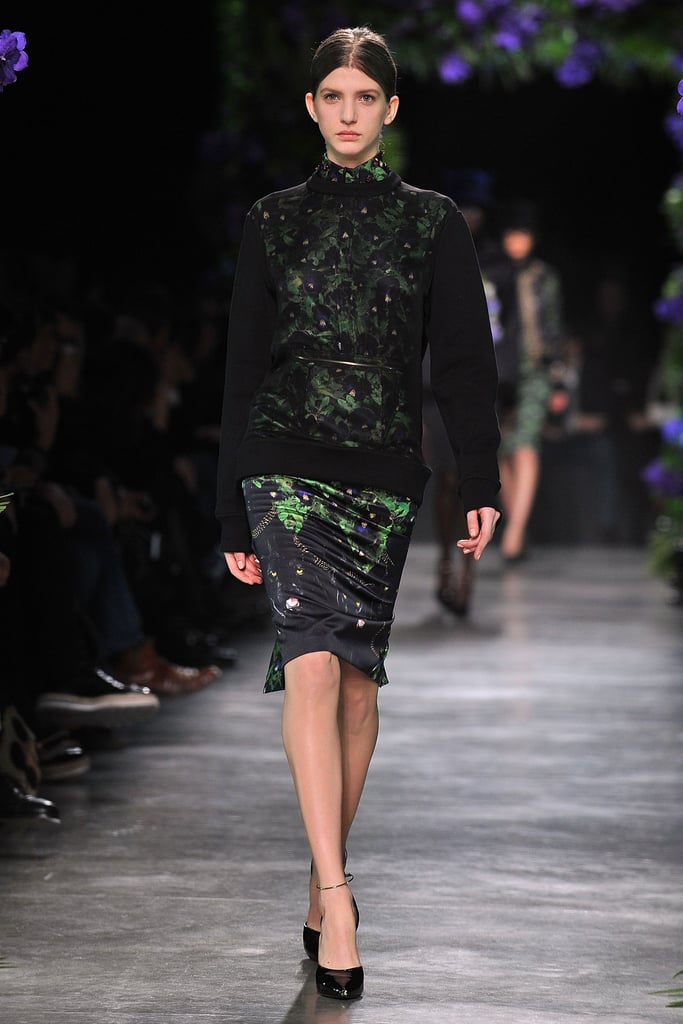 0
2011 Fall Paris Fashion Week: Givenchy
Riccardo Tisci showed a fearless Fall '11 collection today for Givenchy filled with growling panthers — both on-stage, via a menacing music soundtrack, and on the clothes — purple orchids, feline ear-tipped bowler hats, cat-eye glasses, and vampy satin pumps complete with thin bangle-like staps. The perfect juxtaposition between hard and soft, was also portrayed in Tisci's silhouettes. Lady-like pencil skirts were paired with Tisci's take on casualwear via satin sweatshirts, decorated with panthers and orchids, and cropped bomber jackets. Sheer elements also played a big role in Tisci's story, which were layered with structured ruffle miniskirts and even cut into a sleek button-up blouse adorned with black vinyl trim. Strong and menacing — just the way we like it.
Trends: Chic casual wear, sheer, pencil skirts.
Colors: Black, purple, green, yellow.
Key Looks: Satin sweatshirts paired with pencil skirts, layered leather and sheer skirt.
Accessories: Satin pumps, ear-tipped bowler hats, small clutches, cat-eye glasses.
Who Would Wear It: Edgy experimental types, like Florence Welch or Vanessa Traina.