Fall 2011 Paris Fashion Week: Isabel Marant 2011-03-06 11:58:41
2011 Fall Paris Fashion Week: Isabel Marant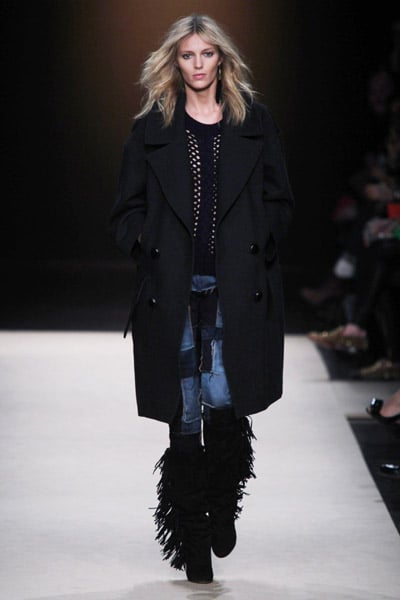 0
2011 Fall Paris Fashion Week: Isabel Marant
Each season, we look forward to Isabel Marant's effortless Parisian-chic, and for Fall '11, she shook things up with an overwhelmingly Navajo-inspired collection. Marant offered slouchy, feather-printed tees, superskinny white jeans, and blankety wool jackets — giving us a cozy, sexy, laid-back aesthetic for Fall. The rocker vibe wasn't lost on us either — the knee-high fringe boots and Winter-white Mongolian fur jacket are reminiscent of 70's-era Marianne Faithfull, and Marant's notorious artful layering makes this collection a truly fabulous mix of classic cool.
Trends: Chunky knits, fitted trousers, embellished mini dresses, slouchy wool coats.
Colors: Black, white, indigo, and charcoal gray.
Key Looks: Thick Winter-white turtleneck sweater dress; denim patchwork button-down with skinny jeans.
Accessories: Suede fringe boots, feather earrings and necklaces, skinny leather belts.
Who Would Wear It: Effortlessly cool girls who are sophisticated, but not stuffy — like Kate Bosworth and Sienna Miller.