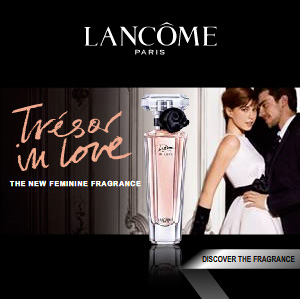 Fall head over heels for Trésor in Love, Lancôme's newest fragrance sensation that celebrates love's first moments.
The everlasting love story of Lancôme's iconic Trésor fragrance continues with Trésor in Love, a delicate interpretation of young romance. A fruity floral scent, Trésor in Love is simultaneously luminous and vibrant.
The new fragrance echoes the spirit of the original, including its signature rose middle notes. Crisp new notes, such as nectarine, bergamot, pear, and peppercorn, are warmed by hints of peach and violet.
The pink juice is revealed through the slim bottle with a flirty flower around its neck. Trésor in Love is youthful, modern, and flirty.
Discover more about Trésor in Love here.