Fashion Designers and the 2010 Winter Olympics
Rodarte Sport? Fashion and the Olympics Collide
There are two marathons coming up: New York Fashion Week and the Olympics. I don't know if you know this about me, but I have a sporty side and I get a bit Olympic obsessed. And I'm not the only fashion/sport hybrid. Ralph Lauren, Rodarte, and Dsquared are also gearing up for the games. First up, Ralph Lauren, who designed Team USA's opening ceremony navy puffer jackets, white pants, and cute Fair Isle knit hats. We will see these pieces — from the Polo Ralph Lauren Olympic collection — on the 150 athletes representing the US.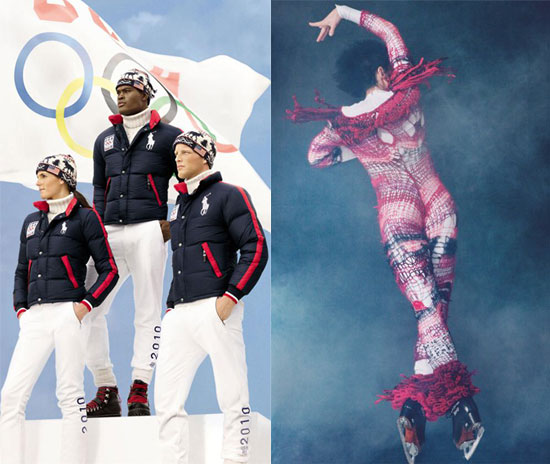 In The New York Times Magazine this Sunday, witness a Ryan McGinley portfolio, featuring 13 Olympians training in custom-made Rodarte knit garments. Here is figure skater Johnny Weir, mid-axel, in a full crochet knit jumpsuit — whoa. Other Olympians in the story include figure skaters Evan Lysacek, Rachael Flatt, and pair Keauna McLaughlin and Rockne Brubaker; freestyle skiers Jeret "Speedy" Peterson, Hannah Kearney, and Emily Cook; snowboarders Hannah Teter and Kelly Clark; and ski jumper Anders Johnson.
To hear what Dsquared's Dean and Dan Caten are up to,
The Canadian bros are clearly psyched for the Vancouver games. The twins are designing costumes for the headlining performers at the opening and closing ceremonies, running the torch the morning of Feb. 10 in North Vancouver, and hosting a party at the Vancouver Holt Renfrew Feb. 13 to launch a limited-edition fleece hoodie that will be available exclusively at Holt Renfrew stores. Let the games begin!