Fashion's Night Out Event Listings NYC 2012
Our Ultimate Fashion's Night Out Guide — Take Your City By Storm
Tonight's the night: with FNO on tap, we've done the legwork for you. All you have to do — other than promise to wear flats — is pick and choose the fashion events that most suit your fancy. It's like being a kid in a candy store. Rachel Zoe and Olivia Palermo will be on-hand to style and celebrate the grand opening of Piperlime's first-ever standalone store, Solange Knowles will be providing a seriously cool DJ-mixed soundtrack at Diane von Furstenberg's Meatpacking District spot, and H&M is employing a fleet of free double-decker buses to take customers to and from selected NYC locations. There's a lot more where that came from, so take a look at our Fashion's Night Out picks below (parsed out by city, no less), and if you're curious to see what else is going on in your city, then head straight to the source.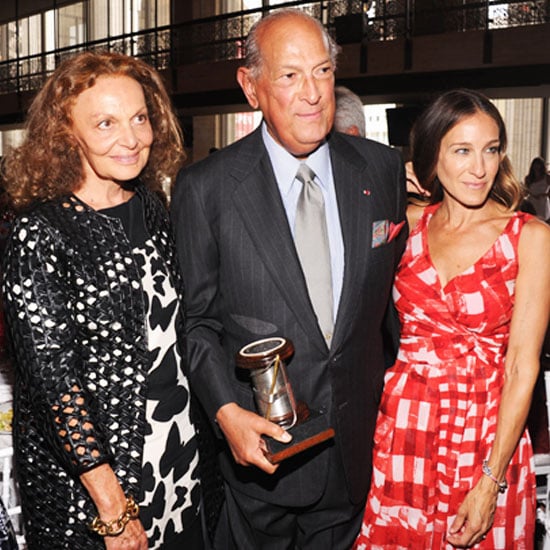 New York City
Alexander Wang — Leave it to Mr. Wang to capitalize on those very cool cages he's got set up in his SoHo flagship store — and that's where you come in. He asked FNO participants to get inspired by his Fall 2012 collection, then design an in-store cage installation sketch for an Aug. 22 submission. Since the submit date has passed, we're just excited to see the winning design, which will ultimately be revealed on Fashion's Night Out and will remain up through NY Fashion Week. (103 Grand St., 212-977-9683)
Alexis Bittar — Indulge in a little retail karaoke and complimentary cocktails at the brand's SoHo boutique. Those who are brave enough to take the mike will also receive a $50 gift certificate to shop — not a bad reason to sing, right? (465 Broome St., 212-625-8340)
Alice + Olivia — Whether you head to Stacy Bendet's 14th Street location, her midtown oasis, or her Madison Avenue spot, you'll be treated to the ultimate girls' night out. On the docket? You can dance along to awesome '80s jams, watch slumber-party chick flicks, get your hair braided, make a charm bracelet, and get your palm read — and that's just the beginning. (various NYC locations)
For more Fashion's Night Out listings by city, keep reading.
Balenciaga — We're totally excited for this one: Grace Coddington has teamed up with Nicolas Ghesquière to design a limited-edition accessories line called Pumpkin. Named for and inspired by Coddington's cat, Pumpkin, who will just happen to model some of Balenciaga's most iconic looks, the line will also feature whimsical drawings of her beloved feline. (542 W. 22nd St., 212-206-0872)
Bergdorf Goodman — If you're a fan of Rachel Zoe, Lela Rose, Thakoon, Michael Bastian, or Naeem Khan, then you should probably schedule in an appearance at this storied Fifth Avenue department store. These fashionable individuals will be on hand to party with you all evening long. (754 Fifth Ave., 212-872-8957)
Diane von Furstenberg — To see guest DJ Solange Knowles spin, sip on cocktails, get styled by Vogue editor Meredith Melling Burke, and receive makeup touch-ups from MAC artists, stop by the designer's Meatpacking District store. If you've been dying to see Oh Land, then head on over to Diane von Furstenberg's SoHo location for Oh Land's DJ set, desserts, and drinks. (874 Washington St., 646-486-4800; 135 Wooster St., 212-542-5754)
H&M — Shop with a little musical accompaniment (read: live DJs) and while you're there, enter to win access to a VIP H&M event that includes a private performance by Lana Del Rey. Oh, and did we mention that the mass retailer will have free double-decker buses making select pit stops at H&M stores around the city? Let's just say you can shop hop. (various locations)
Intermix — Shop the latest Fall designer collections with DJ duo The Knocks as your live retail-therapy soundtrack. Also on top? Free makeovers from Benefit Cosmetics. (812 Washington St., 212-480-5762)
Juicy Couture — Not only will model Karlie Kloss be on hand to take fun snaps with FNO-goers, but Vogue photographer Ivan Shaw will be the one capturing those moments. (650 Fifth Ave., 212-796-3360)
M.A.C. — At the beauty brand's SoHo location, rapper Azealia Banks will be performing around 7:45 p.m. and debuting a limited-edition lipstick. Get there early because we're pretty sure this one's going to be packed. (506 Broadway, 212-334-4641)
Madewell — You're in for a night of drinks, sweet treats, and a complimentary Birchbox with a purchase of $100 or more. (486 Broadway, 212-226-6954)
Magnolia Bakery — To fete the evening's shopping extravaganza, Magnolia Bakery has created a FNO Cupcake. It's a rich chocolate cake, topped with vanilla buttercream, crumbles of red velvet cupcake, and a hint of sparkle. Yum, convinced yet? The best part: $1 from each FNO cupcake sold benefits the New York City AIDS Fund. (401 Bleecker St., 212-462-2572, other locations)
Manolo Blahnik — Are you a fan of Cyndi Lauper? She'll be performing at the shoe designer's 54th Street boutique at 9 p.m. in honor of her new musical Kinky Boots. (31 W. 54th St., 212-582-3007)
Michael Kors — Every year, Michael Kors gets into the Fashion's Night Out spirit with a plethora of in-store celebrity appearances, fun festivities, and an endless supply of cocktails. This year will be no different. With the main event — Kors Karaoke — promising a good time, fans around the world are invited to enter to win by nominating their favorite YouTube singing sensation to perform in a live karaoke competition. The top three nominated performers will be flown in to compete in front of celeb judges Michael Kors, Nikki Reed, Kate Upton, and Nina Arianda. Whoever walks away with top honors also takes home a $5,000 shopping spree — and the "talent scout" who made the nomination will receive a gift certificate too. Intrigued? All the details are here. (667 Madison Ave., 212-980-1550)
Missoni — Meet Margherita Missoni and take part in the evening's cocktail and credité fare at the Madison Avenue location — there's no reason not to get say hello to one of our favorite cool girls. (1009 Madison Ave., 212-517-9339)
Milly — Style yourself in the Milly Fall '12 collection, hit the Milly photo booth in your autumnal best, and meet designer Michelle Smith all in one go. (900 Madison Ave., 212-395-9100)
Moschino — It girl Alexa Chung will be taking over DJ rites at Moschino's Meatpacking District store and we can't decide what's better: seeing Alexa's inevitable cool outfit up close or shopping Moschino's wares to an even cooler track. (401 W. 14th St., 212-243-8600)
Piperlime — In celebration of the online retailer's first-ever standalone store, the site's guest editors Rachel Zoe and Olivia Palermo will be hanging out and ready to lend a styling hand. (121 Wooster St.)
Prada — Brooklyn-based band Chairlift will perform at the SoHo store, and a percentage of the night's sales will benefit New Yorkers For Children foundation. So, who's coming with? (575 Broadway, 212-334-8888)
Rent the Runway — Just for the evening, Rent the Runway is taking its dress-filled closet — curated by the company's fashion director Lucy Sykes nonetheless — to W Hotels around the city. Plus, if you haven't found the perfect Fashion Week afterparty ensemble yet, this could be the perfect solution. (various locations)
Saks Fifth Avenue — Expect fashion's brightest and best to swing by. Oscar de la Renta will be on hand to celebrate his new fragrance launch; Max and Lubov Azria of BCBG will be there; and Erin Fetherston, Rebecca Minkoff, and Kimberly Ovitz will also appear. It's a who's-who of fashion designers, so don't miss out. (611 Fifth Ave., 212-753-4000)
Rebecca Minkoff — The designer will be hosting a girls' night out at Saks Fifth Avenue from 6:30 p.m. to 8:30 p.m. What exactly is on tap for the evening? A ponytail bar, a smokey eye station run by Rebecca's personal makeup artist Anthea King, a nail art station, and an arm-party bar. (611 Fifth Ave., 212-753-4000)
Resurrection NYC — For the vintage lovers, this one's for you. Juel Park, a notable Hollywood lingerie couturier from 1930 to 1970, will put more than 200 pieces of vintage couture lingerie on display. Re-create your own version of sexy Marilyn Monroe-inspired underthings with a little help from Juel's pieces and a complimentary glass of wine. (217 Mott St., 212-879-4320)
Saturdays Surf NYC — Leave it to Saturdays to make Fashion's Night Out just another excuse to kick back and use their chilled-out backyard to good use. Enjoy a low-key barbecue at their SoHo spot in between shopping expeditions elsewhere. (31 Crosby St., 212-966-7875)
The Shops at Target — For one night only, Target will set up shop near the High Line to showcase its Fall installment of The Shops at Target, featuring NYC's Odin and Kirna Zabete. We're pretty sure it will be one of the hottest FNO destinations of the evening, but since it lets New Yorkers shop the collection before it hits stores nationwide, we can see why. Now there's even more reason to queue up early — Ross Matthews aka Ross the Intern from The Tonight Show With Jay Leno will preside as the "line host," and will choose four lucky winners to win $250 gift certificates and shop the capsule collection first. (441 W. 14th St., 212-206-8280)
Ted Baker — Keeping with Ted Baker's iconic British theme and irreverent sense of humor, the brand will have its own fish-and-chips truck parked outside their just-opened Fifth Avenue flagship. The truck will serve traditional fish-and-chips, while inside, guests will be greeted by Ted's head maid and butler, and enjoy Brit-inspired cocktails, sticky toffee, and music courtesy of Brit DJ Kieran Taylor. (595 Fifth Ave., 212-317-1514)
Tracy Reese — We know you know what window shopping is, but do you know what window dancing is? On Fashion's Night Out, stop by the store for its dance-a-thon — yes, you have to dance in the store windows — for a chance to win some pretty amazing prizes. (641 Hudson St., 212-807-0505)
Victoria's Secret — Angel Alessandra Ambrosio will be at the SoHo location posing for photos and the PINK line will offer up limited-edition totes for $5. (591 Broadway, 212-219-3643)
Zara — Stop by the upper Fifth Avenue and SoHo locations for good music, delicious Spanish Cava, and Polaroid fun. You may even get picked to appear on the retailer's party pages — a bonus, really. (various locations)
Los Angeles
Alice + Olivia — Just like at its NYC sister locations, you can partake in the ultimate slumber-party rundown. From a braid bar to tattoo booths and palm readers, it's bound to be the girliest Fashion's Night Out event ever. (134 South Robertson Blvd., 310-659-4093)
Helmut Lang — With live musical performances slated, the evening should be a good one. To add to the fun, there will be Helmut Lang-inspired bites and spirits — yum. (8382 Melrose Ave., 323-951-0994)
Macy's — Have a guilt-free beverage at the Skinnygirl Bar and talk with Pretty Little Liars costume designer Mandi Line in the Impulse collection area. (8500 Beverly Blvd., 310-854-6655)
Rebecca Taylor — Stop in for a serious styling session courtesy of Rachel Bilson and Kristen Bell's stylist Nicole Chavez. (107 South Robertson Blvd., 310-734-0599)
Satine x Wren — Luxe retailer Satine and LA-based Wren will join forces with It girl Atlanta de Cadenet Taylor for an evening of custom Prevu cocktails, pop-up shop fun, photobooth antics, and 10 percent off your purchases all evening long. (8134 West 3rd St., 323-655-2142)
Tory Burch — We really can't seem to get enough of Revenge starlet and Ring My Bell blogger Ashley Madekwe. If you can't either, then stop by the Tory Burch on Robertson for a chance to chat with Ashley in person. (142 South Robertson Blvd., 310-284-2612)
San Francisco
Banana Republic — Enjoy an acoustic performance by Tristan Prettyman, delicious cocktails, and an exclusive gift when you purchase $75 or more. (25 Grant Ave., 415-788-3087)
Herve Leger by Max Azria — Sip on a glass of bubbly while you shop the latest Fall 2012 collection. There's really no better what to peruse. (845 Market St., 415-284-9168)
Kurt Geiger — On the short list of things planned? The brand will be debuting its Fall '12 line, outfitting FNO-goers with funky faux eyelashes and a 20 percent-off store discount, offering up complimentary champagne and signature cocktails by SF-based Distillery No. 209, and letting the music blast courtesy of DJ Aaron Axelson. (250 Stockton St., 415-399-1170)
Madewell — Stop in for treats, cool-girl denim, and a complimentary braid bar. (845 Market St., 415-644-0748)
Neiman Marcus — Get a makeover, step into the in-store photo booth meets red carpet, and snack on popchips and SMART Water when you hit up the Neiman Marcus on Union Square. (150 Stockton St., 415-362-3900)
Chicago
Bloomingdale's — Actress Ali Larter will be hosting the evening, aptly named Fame, Fashion, and Flavor. To kick things off right, the department store is offering a runway fashion show, beauty treatments, and snacks from Chicago's best restaurants. (900 North Michigan Ave., 312-440-4460)
Neiman Marcus — Shop the best of the Fall '12 collections, catch a fashion show on the fourth floor, and try a tasty range of locally based foods courtesy of Rosebud on Rush, RPM, Paris Club, and Ai Japanese. (737 North Michigan Ave., 312-642-5900)
Steve Madden — Snag a cool studded iPad case (with purchase) on Fashion's Night Out only; hey, maybe you can match the case to your sweet new studded Madden loafers? Just a thought. (108 North State St., 312-332-0572)
Miami
BCBG — The theme of its Fashion's Night Out? Shop, style, and win. Visit one of the handful of Miami locations, style yourself in head-to-toe BCBG, and post your look onto Instagram with the hashtag #BCBGFNO for a chance to win a $1,000 BCBG wardrobe. (various locations)
Nine West — There will be an in-store DJ while you shop; plus, you can take a look at Nine West's Runway Relief collection in support of Fashion Targets Breast Cancer. To top it all off, you can take $15 off any purchase over $100. (673 Collins Ave., 305-672-0330)