Fashion References in Hip-Hop Songs
Couture-Level Flow: Our 10 Favorite Fashion Name-Checks in Hip-Hop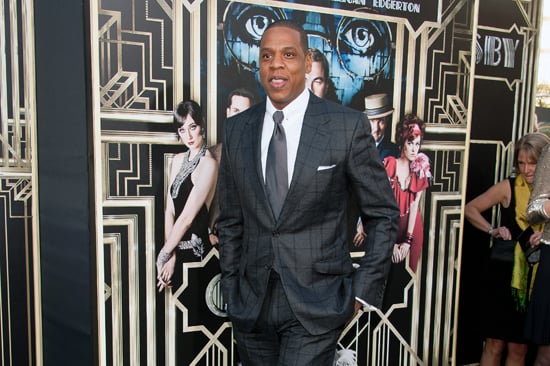 Jay-Z's newest album, Magna Carta Holy Grail, which made its retail debut on Tuesday, has no shortage of fashion mentions — track two, "Picasso Baby," mentions "Riccardo Tisci Givenchy clothes." But this album also includes an entire song dedicated to one of the rapper's favorite designers, Tom Ford. (He's wearing a suit by the designer in the photo above.)
"I am completely flattered," Ford said of the song, which is simply titled "Tom Ford," in an interview with Billboard. "I mean, come on, who would not want a Jay-Z song named after them?"
And while name-checking a brand isn't a new trick for a musician, dedicating an entire song to a designer doesn't happen every day. So in honor of Jay-Z's epic tribute to Ford, we're taking a look back at some of our favorite fashion allusions in modern music.
"Suit and Tie" by Justin Timberlake and Jay-Z


Not surprisingly, Jay-Z has mentioned Ford in other songs — most recently in his Justin Timberlake collaboration, "Suit and Tie."
Lyrics: "This is truffle season/ Tom Ford tuxedos for no reason/ All Saints for my angel/ Alexander Wang too/ *ss-tight denim and some Dunks/ I'll show you how to do this, young!"
"Fancy" by Drake and TI


In "Fancy" — a paean to educated, independent, and stylish women the world over — Drake and TI describe the wardrobe of the women their song is about.
Lyrics: "Independent with the demeanor of an R-and-B singer/ Naked ring finger (check)/ M3 beamer (check)/ Champagne range/ Triple white Jag/ Closet full of brand new clothes and hand bags/ Alexander McQueen, Prada, Gucci, Chanel/ D&G, BCBG, Versace, Louis and BeBe"
"Lost" by Frank Ocean


The lone fashion reference in Frank Ocean's "Lost" does double duty as a nod to both fashion and a scene in Rush Hour 2. In the movie, Chris Tucker asks a Versace sales associate for help finding clothes and says, emphatically, "Nothing touches this body but pure silk."
Lyrics: "Got on my buttercream/ Silk shirt and it's Versace"
"Fashion Killa" by A$AP Rocky


Proving that quantity and quality aren't mutually exclusive, A$AP Rocky drops the names of nearly 30 brands in his song "Fashion Killa." A sampling:
Lyrics: "'Cause everything designer, her jeans is Helmut Lang/ Shoes is Alexander Wang and her shirt the newest Donna/ Karan, wearing all the Cartier frames/ Jean Paul Gaultiers cause they match with her persona"
"Rich Girl" by Gwen Stefani and Eve


When Gwen Stefani and Eve partnered to overhaul Fiddler on the Roof's iconic song "If I Were a Rich Man," they were sure to include a few references to the sorts of brands they'd buy with their newfound wealth.
Lyrics: "Think what that money could bring/ I'd buy everything/ Clean out Vivienne Westwood In my Galliano gown"
"Otis" by Kanye West and Jay-Z


When you're as talented an artist as Kanye West, comparing your writing to the high-quality wares of couture designers or the artisans in the Hermes ateliers is, well, appropriate.
Lyrics: "I made 'Jesus Walks,' so I'm never going to hell/ Couture-level flow is never going on sale/ Luxury rap, the Hermes of verses/ Sophisticated ignorance, write my curses in cursive"
"Van Vogue" by Azealia Banks


Azealia Banks became a bit of a fashion darling last Spring when she was invited to perform for Karl Lagerfeld, Nicola Formichetti, and the crowd at the Met Gala. She often returns her love of fashion with lyrics like these:
Lyrics: "Bang, pop, pop, this thing go pow/ Dolce crop top, my play clothes now/ Those Céline wedges are way downtown/ Best dressed up, better, you best dressed down"
"Around the Way Girl" by LL Cool J


Ladies love cool James — but in 1990, the rapper specified that the kind of girl he was interested in carried a particular sort of purse.
Lyrics: "I want a girl with extensions in her hair/ Bamboo earrings/ At least two pair/ A Fendi bag and a bad attitude/ That's all I need to get me in a good mood"
"Labels or Love" by Fergie


Who can forget the multiple labels Fergie nodded to in the main titles of the first Sex and the City movie? More importantly, who would want to?
Lyrics: "Love's like a runway but which one do I love more?/ No emotional baggage/ Just big bags filled with Dior"
"Blazin'" by Nicki Minaj


Nicki Minaj's eccentric style brightens up the front row during Fashion Week, and her lyrics tend to nod to the runways and her personal style, too.
Lyrics: "I just took your whole life and redesigned it/ I think I'm Marc Jacobs, I think I'm Lagerfeld/ I think, without makeup you still bad as hell"